Hyper-Efficient. Mobile-First.
By Paul Berry
Update: read about our release in Gigaom, The Next Web and Fast Company.  
Here at RebelMouse, we're obsessed with creating the best ways to showcase your ideas whether they be lists, animated GIFS, lengthy blog posts, Instagram photos or anything in-between. We've come a long way since launching last year as a social aggregation and curation platform, and over the last few months, we've gradually added a suite of new offerings that give you the ability not only to curate seamlessly from social but also now to do more with original content.
That's why we're excited to introduce a New RebelMouse. Expanding our original platform, we bring you the next step in our vision of what a site, a blog and a media company should look like. This includes:
The most beautiful and easy way to showcase content
Mobile-first always
Hyper-efficient editing experience
The Most Beautiful and Easy Way to Showcase Content
At RebelMouse, we believe your content - web, social or original content - should look stunning across all the platforms it's viewed on. By offering a fully immersive content experience, we can help increase the engagement around your content and provide an environment optimized for viral content. This is the goal we've been striving towards as we continue to improve our product and focus on our redesign - not purely on aesthetics (although we think it looks pretty too) - but on getting our users and clients the experiences they want. That's why we've introduced a new set of features that will help content creators produce at the speed of conversation including:
Gorgeous full-width headers to make any site or post instantly draw more attention and higher engagement.
New dynamic layout that updates your header with each post, producing a real time feel to your site, while still keeping the finished design feel of wide screen images.
Customizable sidebar zones featuring your most popular content. You can feature your site's best content or content from any of your sections in your right rail.
New left navigation bar that balances being easily accessible without distracting from the core user experience.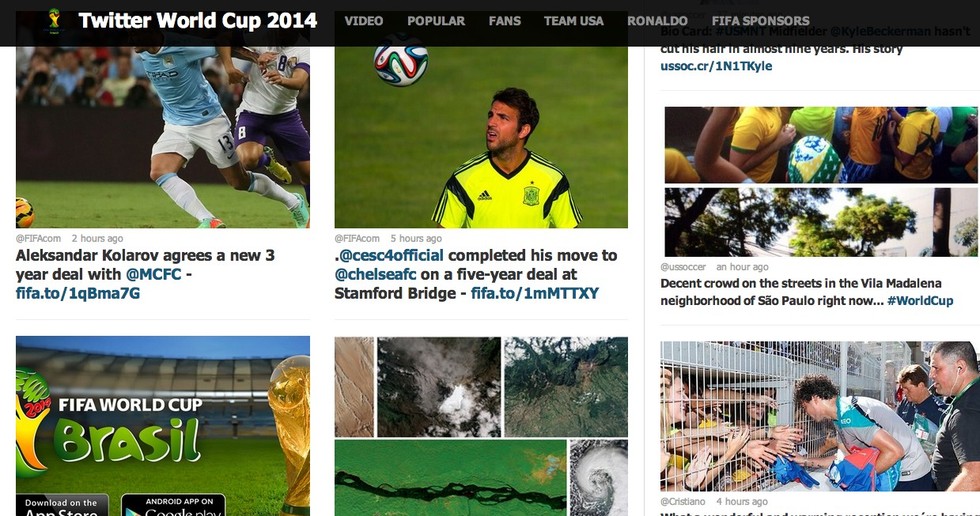 Here are some more examples with the new layout:
Mobile-First Always

Social platforms like Twitter, Facebook and Pinterest have set the bar for mobile experiences, but it's not enough to be a part of someone else's social stream. For those looking to generate their own mobile-first content, RebelMouse is here to help you create a beautiful experience on your own terms with enhanced mobile features such as:
Next Generation iPhone and Android apps. Android launches today to our Beta Community and iPhone will roll out in the next few weeks.
Mobile-friendly navigation and layout. Everything from your dashboard to the navigation on your site will adjust to mobile without any effort on your part.
Mobile web, tablets and any screen size. We focus on more than just mobile apps (which we also have) and dynamically work on any screen size.
Manage your site on-the-go. Update your site live from an event, a meeting or while enjoying a summer day in the park. We've got your back.
Making Anyone an Amazingly Efficient Editor
We want to help you produce great content - and lots of it - at the rapid speed of conversation. We've therefore completely revamped our post editor to make it the most effective and efficient way to create and curate content. You can now:
Pull in the best image or GIF automatically. Type your headline and RebelMouse will automatically help you find the perfect photo to go with it to make your post pop. Just type a headline and a related GIF or image will populate the post, making your post stand out with stunning full-width photographic images.
Dynamically add content, videos, photos and more as you're typing. Expand any link into a rich media addition to your post. Bring in Tweets, Facebook posts, Instagram pics, YouTube and Vine videos and just about anything by pasting the link in the post.
Smart cropping of photos to work in every screen size and placement. Our cropping algorithms choose the right crop size for images in different window sizes and placement. Then, to top it off, our crop tool lets you change these crops to fit perfectly with your image.
See a live, gorgeous preview as you're editing your post. As you're typing, you'll see the post just the way it will look live on your site. Our new post aesthetic makes your content look as good as it deserves to.
Easily share your post anywhere. When you're done creating content, we make it easier to share it anywhere on the social web and your site.
RebelMouse is now a content management and distribution platform with comprehensive blogging and original authoring tools to make your content creation process as seamless as possible. Our amazingly efficient platform will make your ideas look stunning to more people, on more devices, more of the time - really, really fast. Try it out for yourself and see how easy it really is!
See What Everyone's Saying about RebelMouse
To switch to the NEW layout, simply go to the Design section and click on NEW.