Google Redesigned How They Measure Page Speed. Here's What to Do About It
Performance scores are dropping dramatically for top sites.
In October 2018, publishers received warnings via Google Search Console that their sites were performing too slow. Then, in November 2018, the search engine debuted a redesign for their widely used PageSpeed Insights tool. Among other updates, PageSpeed Insights now includes new data from Google's Lighthouse platform. Lighthouse is a tool built into the latest version of Google Chrome that helps you determine how well your site is performing, and tells you which pages on your site need improvement.
---
Google Spares No One: The Redesign Has Decreased Speed Scores Across the Web
Google's latest update to PageSpeed Insights has markedly decreased Lighthouse scores across major sites, and Google hasn't spared itself from the scrutiny. The search engine has set a high bar for the open web on what top performance should look like, especially on mobile. The following are some examples of major websites with speed scores that might surprise you.
It's important to note that Google calculates every desktop score with a WiFi connection in mind, while every mobile score is based on access to a site via a 3G or similar network to simulate suboptimal connectivity. Equally important to consider is that these scores shift on a regular basis as sites improve or decline and Google continues to refine its scoring algorithms. The results we've chosen to display below were taken on December 11, 2018, and updated throughout February 2019. Additional case studies from November 2019 have been added as well.
The Scores Are Very Mean — Even Google's Own Home Page Doesn't Score 100
First, let's set an initial benchmark and take a look at how Google's own home page performs against the new PageSpeed Insights tool on mobile:

Google's own logged-out home page — which famously tries to do very little — doesn't achieve a perfect 100 score. Ouch.
So what about Google's news aggregator and app instead? Here's a look at how Google News performs on mobile:

Now we're getting some interesting results. Google News doesn't perform nearly as well as our initial benchmark, receiving an average rating overall. Google's emphasis throughout 2018 has been on getting publishers to improve mobile experiences for users, and its middling score for its very own news platform shows that it's not so easy to acquire a respectable grade in the category.
The result isn't too much different when you analyze Gmail for mobile performance:

Notching a place just over the border into average territory, Gmail on mobile — which is a heavily optimized platform — continues the trend of Google's mean page speed scores. But again, like with Google's home page, Gmail is not the same as a typical publisher. So let's move on to how other publishers compare to the bar Google News has set.
Major Media Companies: Does a Custom, High-Cost CMS Pay Off?
For sites with heavy traffic, page speed is a do-or-die factor when it comes to audience growth. It's part of the reason why major media powerhouses invest in hyper-expensive CMS options, customized to both host their content and hopefully set them apart in the saturated digital ecosystem. But do the inflated costs really justify the results?
Starting off with a major player in the new media space, here's how an article by The Washington Post scores on mobile and desktop:

With a score of 26, The Washington Post scores well under our bar of 60 for mobile. And its desktop score sits a bit under average territory.
Moving on, Vice has long been considered one of the top-performing new media sites around. But does its PageSpeed scores match its reputation?

Vice's desktop score barely improves upon what The Washington Post posted, but it drops an equal amount of points when it comes to mobile performance. Overall, it's a very average showing among the results we've collected so far.
So what about The New York Times? Well, on desktop its score doesn't quite match up to The Washington Post or Vice:

But when it comes to mobile, it barely squeaks ahead of the candidates shown so far, once again proving that incredibly expensive tech doesn't necessarily equal matching performance.
Here's how BuzzFeed stacks up:

BuzzFeed ranks just into average territory on desktop, and barely has the best showing on mobile of the four major publishers we've taken a look at.
And WordPress-powered Time continues the trend we're seeing. It serves up the lowest desktop score thus far, and its mobile score is on par with The Washington Post.

How Do Less Well-Funded WordPress and Custom CMS Solutions Do?
Let's switch gears and look at some WordPress-powered properties that are relatively small in comparison to the previous five publishers, but still experience a lot of traffic.




It goes without saying that these are abysmal scores overall, and we had difficulty getting scores from Radar Online because PageSpeed Insights kept timing out.
So what does this all mean? In a nutshell, it's very difficult to achieve a high mobile score under Google's new page speed standards. Desktop isn't much easier, either. And none of the sites we've analyzed come very close to matching the scores put forth by Google's own properties.
A Premium, Lean Tech CMS: How Do RebelMouse-Powered Properties Compare?
Let's start with the desktop score of an article on GZERO Media. Due to the highly optimized nature of our platform, the page outranks the new media companies we tested above by a considerable margin, almost notching a perfect score:

With a mobile score of 92, the site easily outperforms Google News and Gmail, and it leaves the other publishers as a distant memory in the category.
Other RebelMouse-powered properties perform along the same lines:

The Big Think it its current incarnation scores very high in the average bucket on mobile, and improves on GZERO Media's desktop score. Motherly gets top marks in the desktop category while still scoring well ahead of the other new media sites we tested on mobile, despite a complex ad setup. And both outperform Google's properties on mobile, too.

It's not just RebelMouse-powered media companies that are experiencing gains either. Mikkeller Brewing NYC, a craft beer brand based out of Denmark with operations in New York, has upped their content game since joining RebelMouse. Their scores speak for themselves.

United Airlines is another brand — and a long-time RebelMouse client — with premium content published to a massive content hub that greatly benefits from the page speeds our platform provides.

More recently, we launched new media company The Fulcrum, which has seen equally excellent speed scores since going live. (Editor's Note: PageSpeed Insights changed the display format of their test results since the previous case studies were taken in early 2019. The following results were captured in November 2019.)


When the AMP version of the same URL was analyzed, The Fulcrum's mobile score improved to 91 and desktop remained steady.


As we mentioned at the beginning of this quick study, PageSpeed Insights scores are fluid, and RebelMouse-powered properties are constantly improving theirs as we continue to make great strides in optimizing our overall platform.
Performance as a Pillar: Understanding RebelMouse Culture
Many publishers are shocked by this latest update from Google. But for us, it's not that surprising. We've taken Lighthouse scores seriously for years, and have leveraged them to ensure our sites are constantly high performing. Site speed has been a pillar of our culture since we launched in 2012. It's why we outperform some of the biggest sites on the web. And like with any building block of a company's culture, optimizing for high performance is never a one-time effort. Our engineers have been crafting and tuning our platform to address these new standards long before they surfaced.
RebelMouse culture is not only about site optimization though. We highly prioritize all the pivotal elements of site success such as security, ad configuration, how we code CSS and JavaScript, configure CDNs, and scale servers. It's why we're a high-performing platform that's more than a CMS.
A Deeper Look Into Google's New Metrics
Before Google's update went live in November, the warnings issued to publishers in October came from the new Chrome User Experience Report that covers three new metrics:
First Contentful Paint: The point immediately after navigation when a browser renders pixels to the screen.
Time to Interactive: The time at which a page is visually rendered and capable of reliably responding to user input.
First Input Delay: The time when a user first interacts with a site, to the time when a browser is able to respond to that interaction.
Metric descriptions from Search Engine Journal.
According to Search Engine Journal, these new metrics may not be familiar to a lot of web developers, but it's worth getting more acquainted with them since Google is clearly using them to monitor page speed. Remember, it only takes a few seconds of a slow load experience to turn a reader away forever.
Leveraging Google's Structured Data
Google rewards sites that have well-structured data. The search engine even has its own support and integration guidelines around it. By following these rules, you're giving the search engine explicit clues about the meaning of a page. Structured data is a standardized format for providing information about a page and classifying its content. For example, on a recipe page, these classifying components could be ingredients, cooking time, temperature, and nutritional information.
Every RebelMouse site automatically populates key structured data so that Google can better understand your site. This, in turn, optimizes your page to win in the search results. Our out-of-the-box integration populates all the standard schema data with information about article content. This works not only on desktop and mobile web, but the data also gets populated to Google Accelerated Mobile Pages (AMP).
Here's a live example of just how organized a RebelMouse article page is right from the start.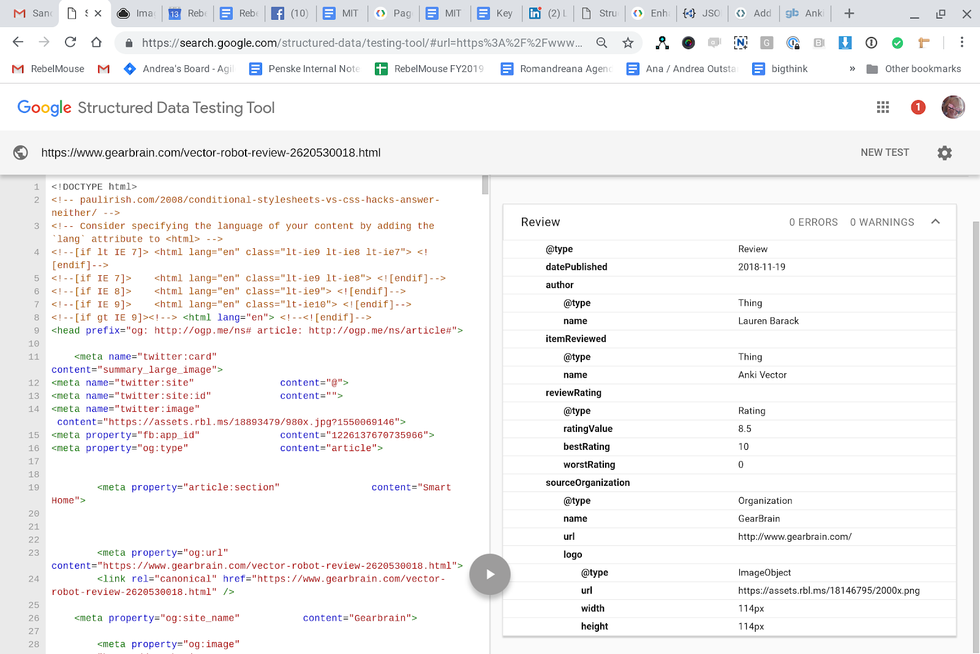 How We Can Help Your Site Load Faster Than Google
The tricky thing about digital publishing is that you can exhaust all your resources on creating quality content, but it all means nothing if you don't have a fast-loading website. So even if your content is worth reading, it's vulnerable to failure if the right technology and strategy aren't in place. Let's make sure this doesn't happen to you.
In the warnings delivered by Google in October, there were three suggestions on how to fix a slow-loading site:
Use Lighthouse to audit your pages
Fix low-performing pages
Update your sitemap
The first two can be tackled together. At RebelMouse, we can help you update your sitemap in Google Search Console and track keyword wins using our Entry Editor.
If you're interested in optimizing your current site's page speed, in addition to addressing your Lighthouse audit, Google Search Console setup, and SEO strategy, request a proposal today and let's start working together. Don't fall victim to slow page speed in 2019.