How to Set up Google's Publisher Center
In late 2019, Google merged Google News Producer and Google News Publisher Center into a single tool. Officially called Publisher Center, Google has created an enhanced user experience and expanded set of functionalities that easily allows any publisher to manage content across multiple properties on Google News.
One of the many great new features Publisher Center offers is the ability to manage multiple sites simultaneously under one organization, as well as the ability to switch between more than one organization.
This makes managing many sites across multiple organizations a snap.
---
It's important to note that whoever sets up a new publication within Publisher Center must have ownership of the site where that content is published within Google Search Console.
How to Set up Google's Publisher Center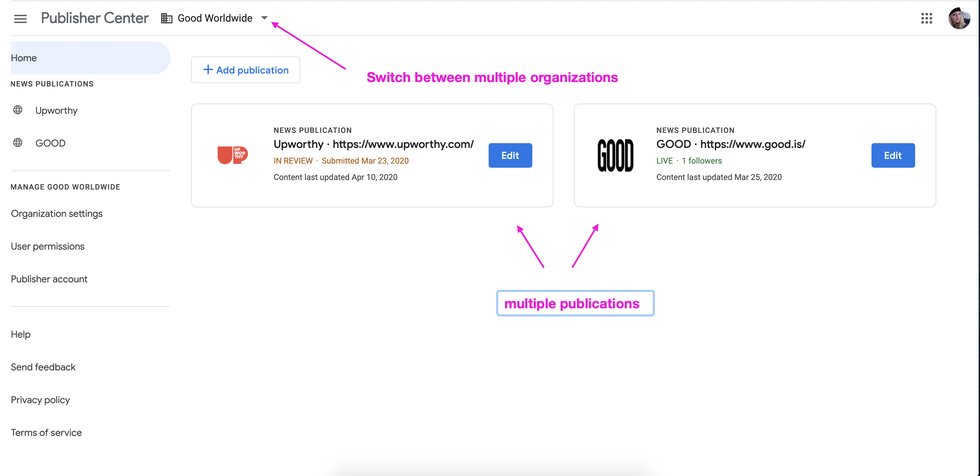 Setting up Your Organization
Make sure you are logged into your Google account and navigate to the home page for Publisher Center.
If your organization was previously set up to publish on Google News, you may already see your site listed. If this is the case, click Edit to begin the process of optimization.
If this is your first time ever setting up your organization to publish content on Google News, click + Add Publication in the left-hand menu.
Setting up Your Publication
Once you've created a new organization, you will be taken to the following page where you will be prompted to fill out general information about your publication.
General
Publication Name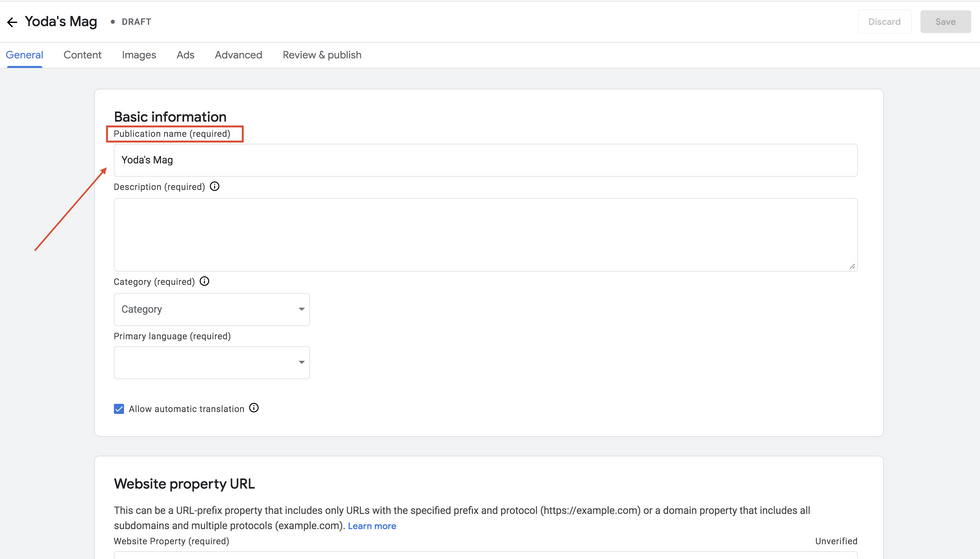 Here you will provide the name of the site.
Description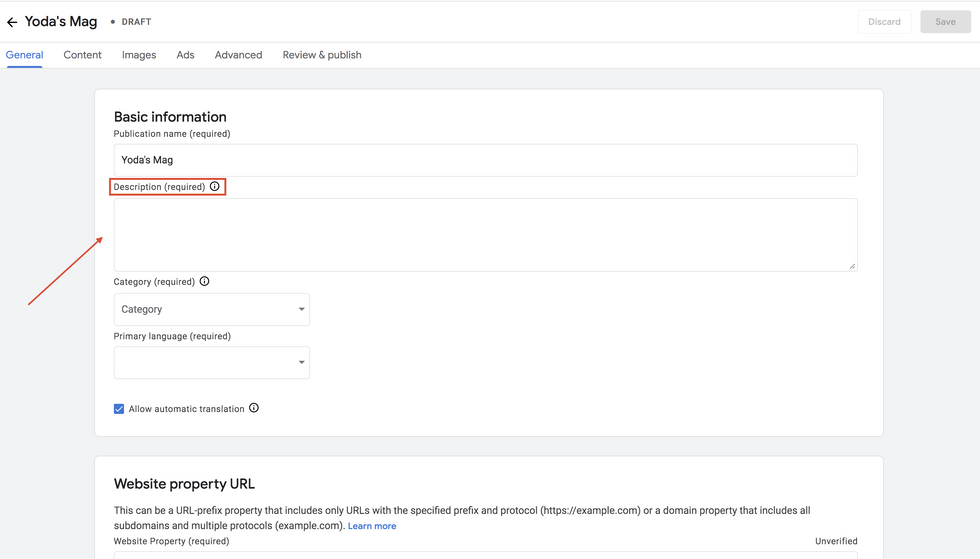 Here you will provide an overall description of the site.
Category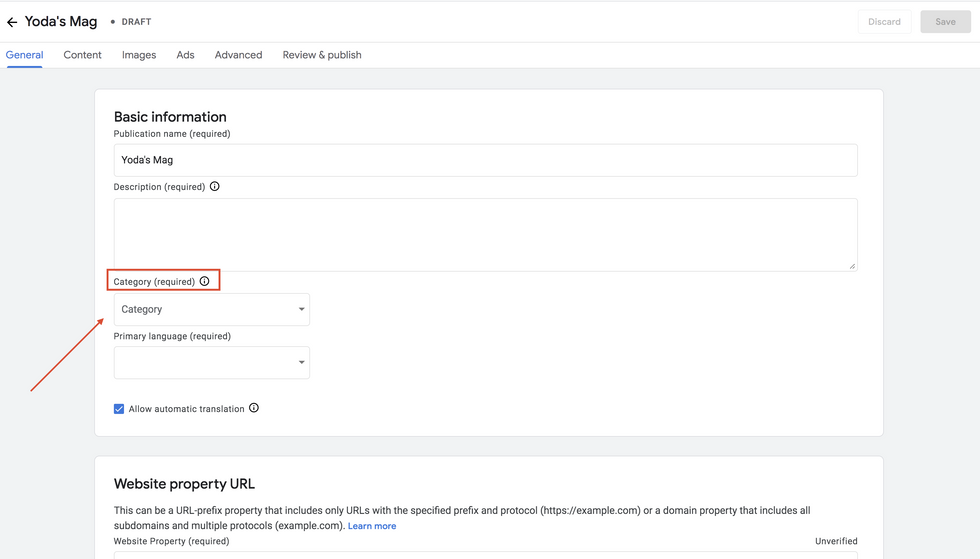 Here you will need to categorize your site by the type of content it offers using the provided drop-down menu.
Primary Language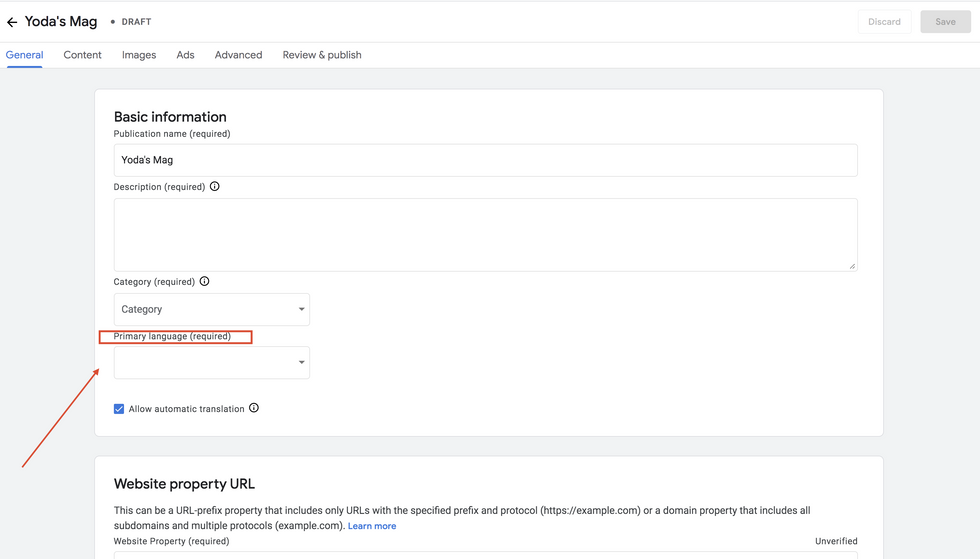 Here you will need to set the primary language. This is required to later be eligible to add a location.
Allow for Automatic Translation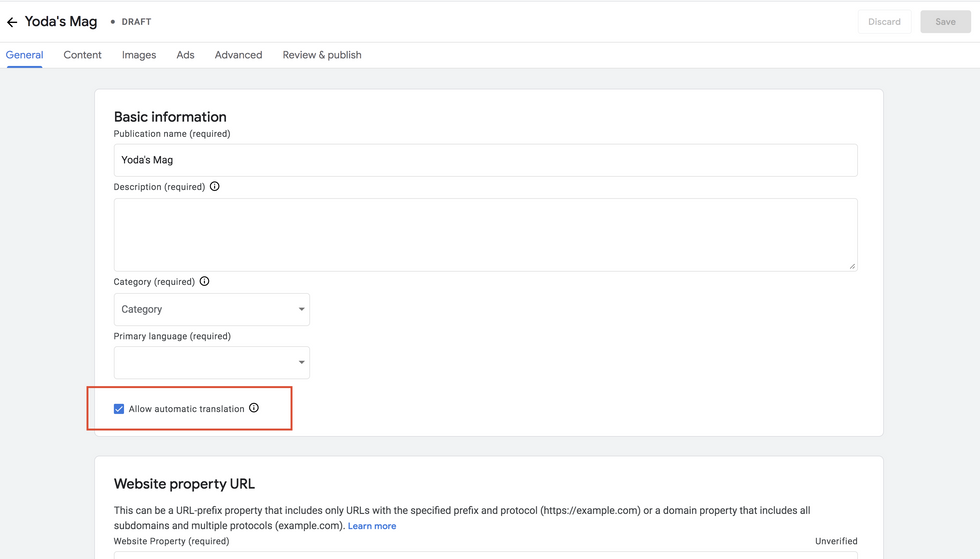 Here you can select whether or not a site can be automatically translated. We suggest that this be selected as it allows readers to consume content in their preferred language.
Website Property URL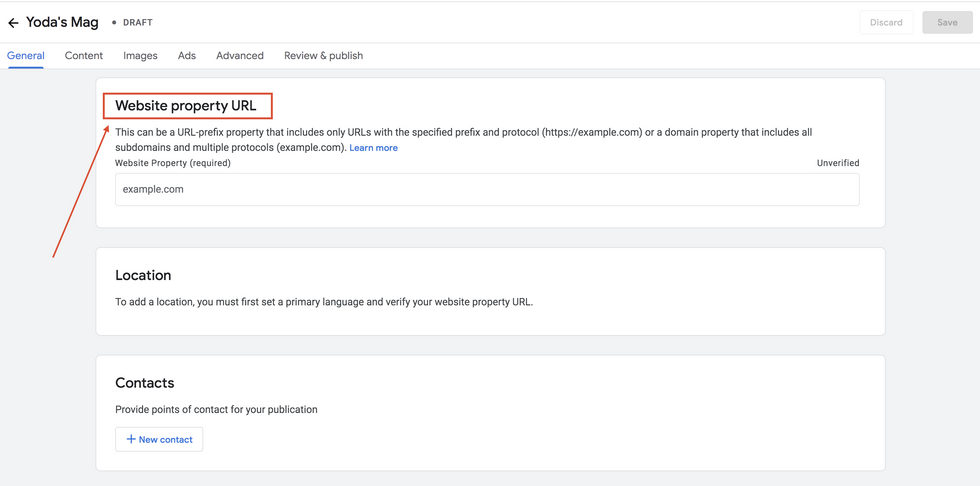 Here you will need to enter the website's URL. It's important that you have Google Search Console ownership in order to become verified.
Location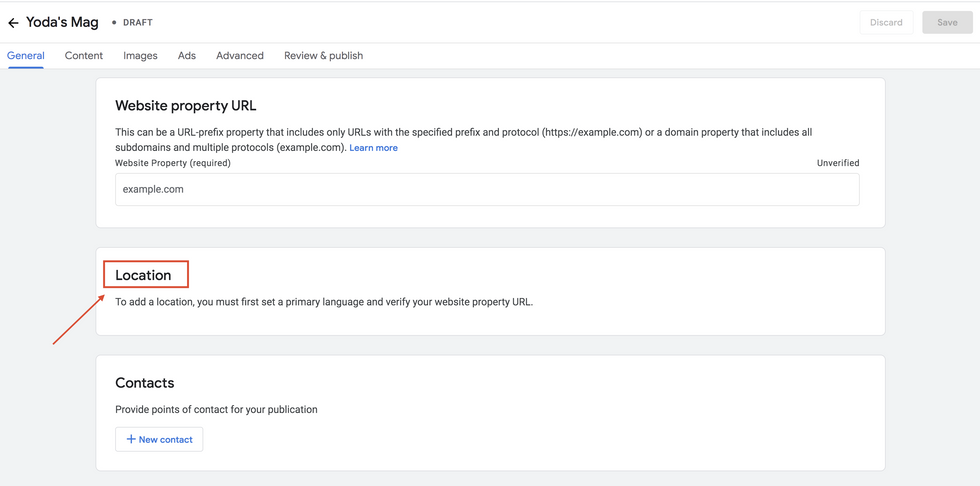 If this is your first time setting up your site for Publisher Center, this will be unavailable until your URL is verified.
Contacts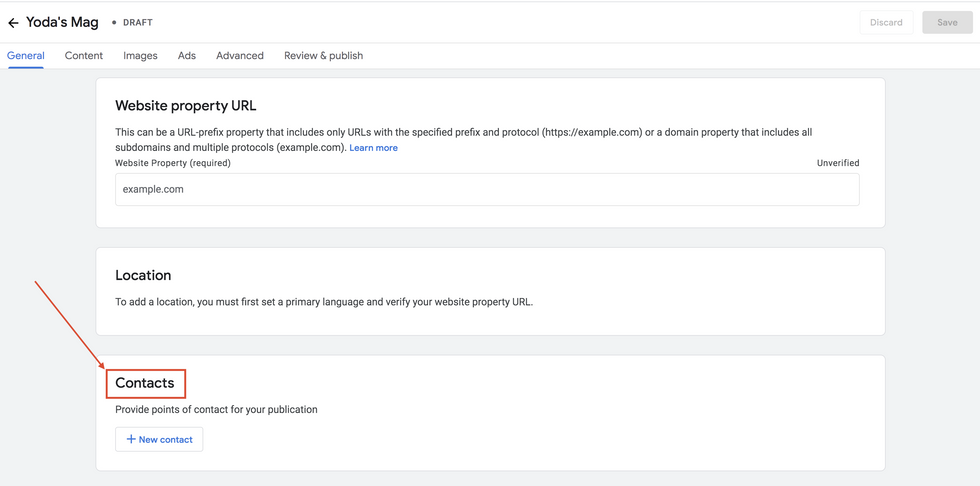 Here you can add contact information in the event that Google needs to get in contact with someone at your organization about your site's content on Google News.
Distribution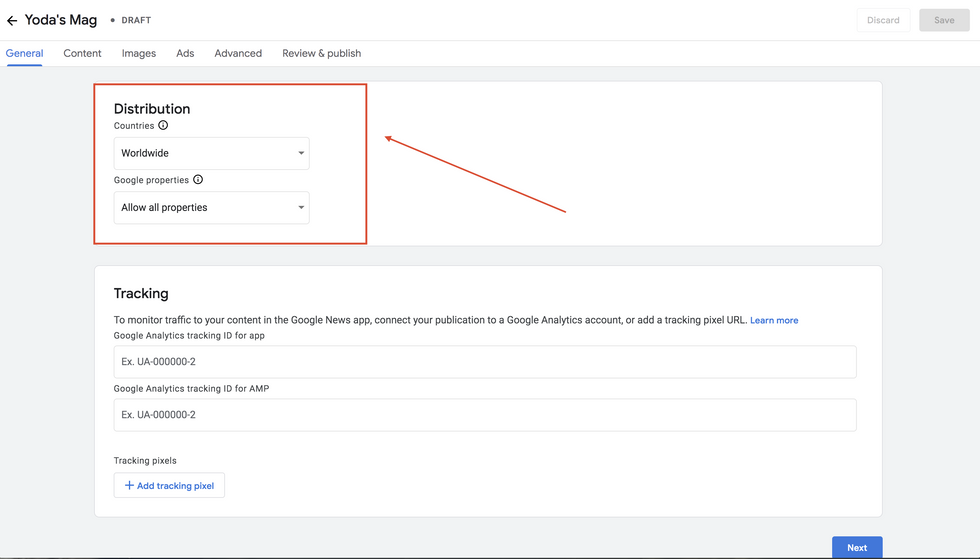 In the first drop-down menu, you can specify where you would like your content to be distributed in the world. For example, if there are specific countries or regions where you would like your content to be restricted on Google News, this is where that can be configured.
The second drop-down menu lets you choose whether or not you want your content to appear on all Google products (e.g., Chromecast, Google Play, etc.), or just a select few.
Tracking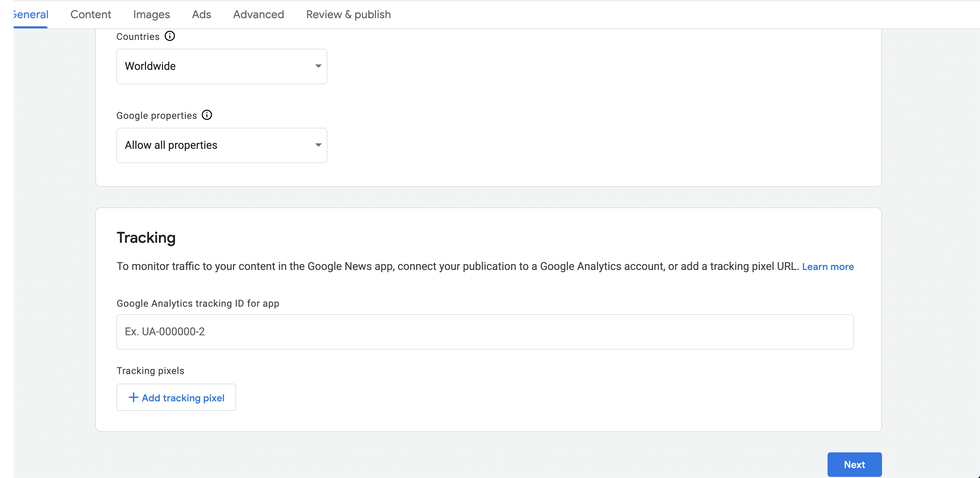 Here you can add Google Analytics tracking information for both your app and for AMP. You can also add third-party tracking pixels.
Once you're finished adding all of your general information, click Next at the bottom of the page.
Content
Sections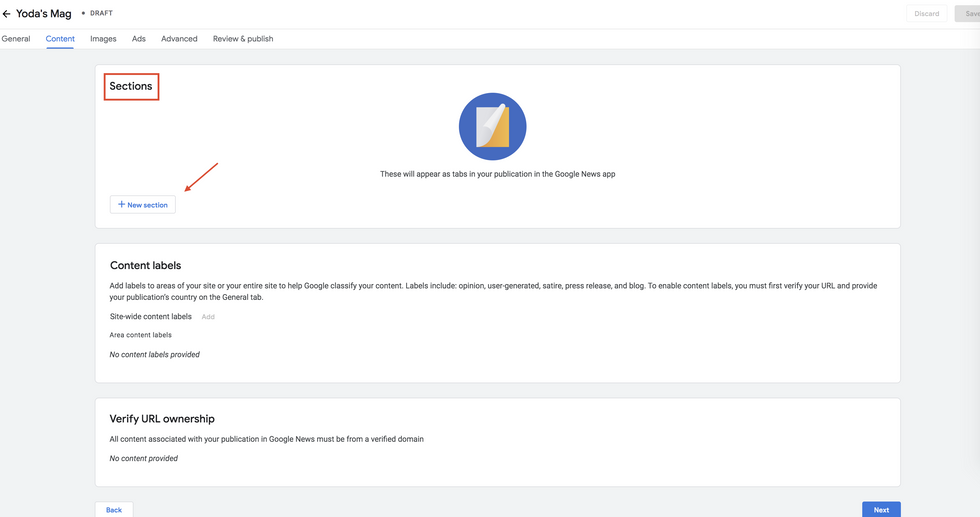 To add a section, click + New Section. From here you will need to fill in all of the relevant fields depending on your needs.
Based on the sections you provide, Google will create a top navigation for your site, so it's important to choose the top 3–5 section titles that you would like users to access content from.
Feed Options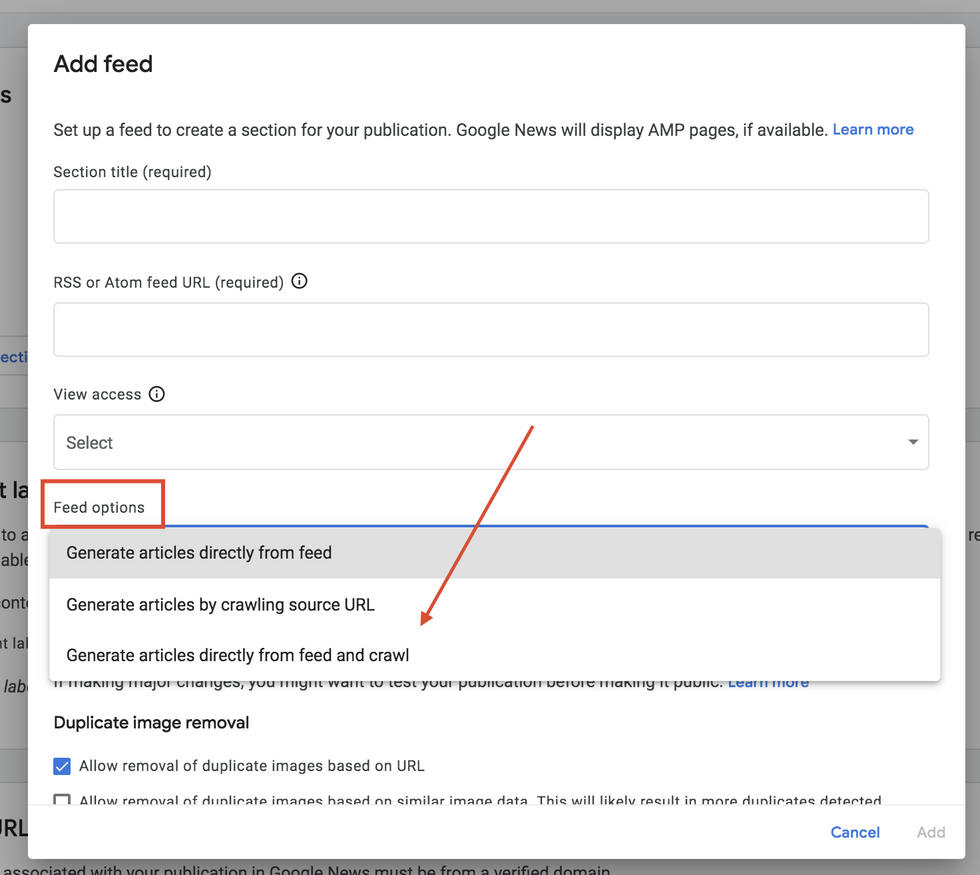 For feed options, we recommend "Generating articles directly from feed and crawl" since this provides the most coverage.
Content Labels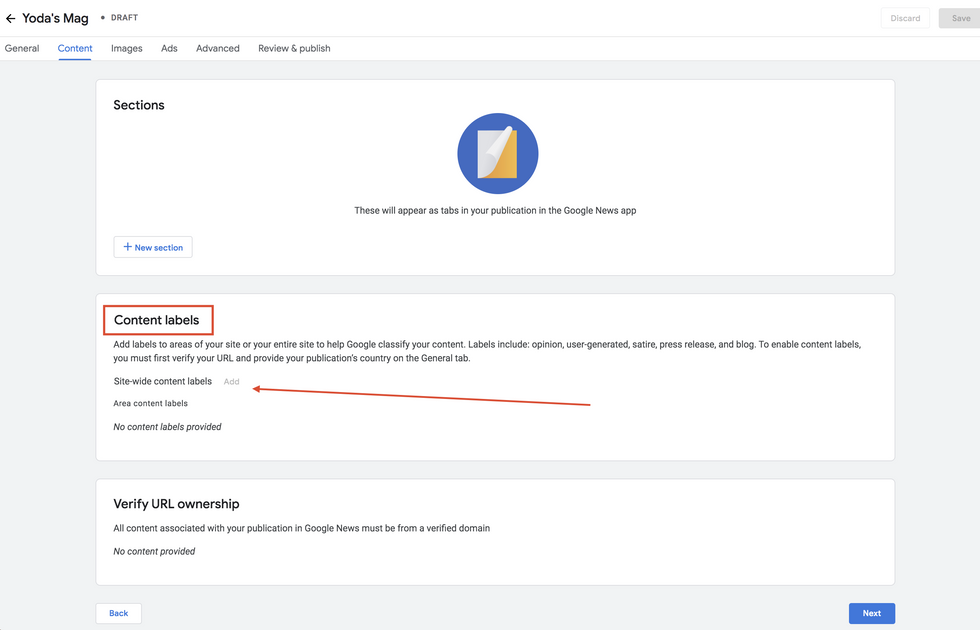 Once you've determined what your sections will be, you will need to add labels to them. These content labels add greater context to what type of content that section contains.
It should be noted that not all sections will need content labels, and that they should only be used if they accurately represent one of the provided content label options.
Also be aware that you must have your URL verified in order to enable content labels.
Verify URL Ownership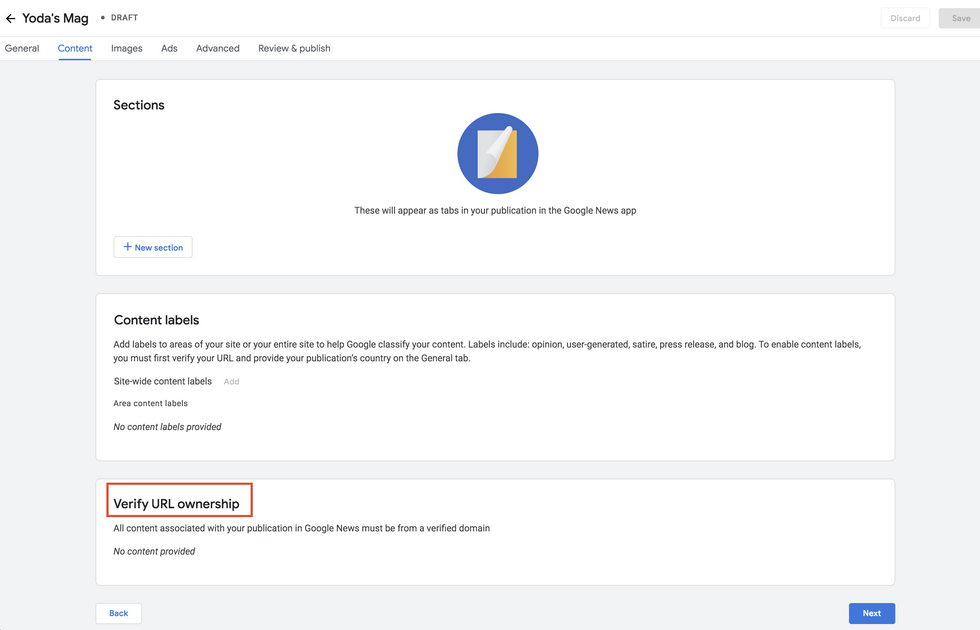 As for other steps needed to set up Google News, you must be able to verify URL ownership since all content associated with your publication must be from a verified domain.
For more information on this, please see Google's documentation on verifying your content and verifying your site in Google Search Console.
Images
Here's where you will need to add the logos that will be shown around the site.
Square Logo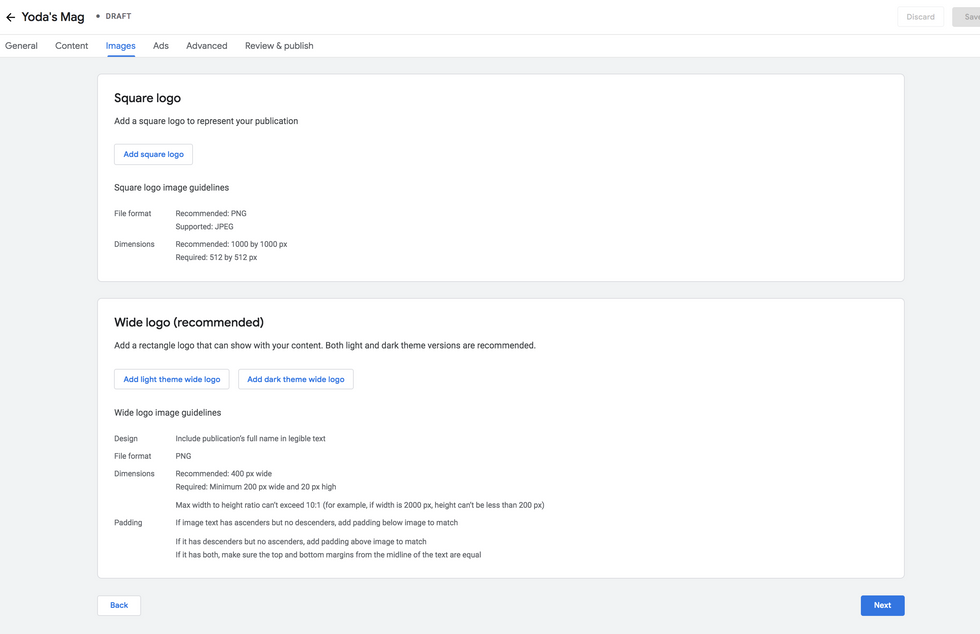 Publisher Center recommends using a 1000x1000 pixel PNG for the main logo, although it will also accept a JPEG down to 512x512 pixels.
Wide Logo
Although not required, it is suggested that you also add a wide (rectangle) logo that can be shown with your content. Two designs should be made, one each for light and dark mode.

The logos are recommended to be 400 pixels wide (but no less than 200 pixels) in PNG format. They need to include the publication's full name in legible text with a max width-to-height ratio that doesn't exceed 10:1.
If the logos require padding, the following points should be taken into consideration:
If image text has ascenders but no descenders, add padding below the image to match.
If it has descenders but no ascenders, add padding above the image to match.
If it has both, make sure the top and bottom margins from the midline of the text are equal.
If you have any questions or concerns about creating the logos, please reach out to your account manager or support@rebelmouose.com to get help from one of our designers.
Ads
Earnings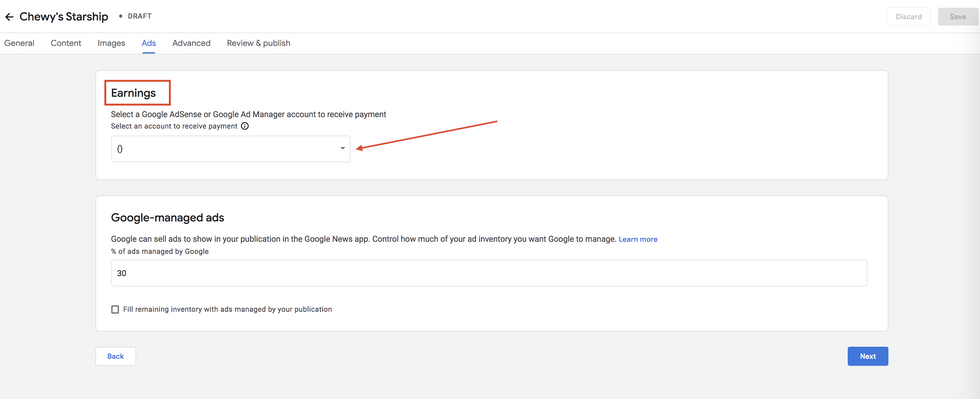 Here's where you can connect a Google AdSense account. The options that will appear in the drop-down menu will be the Google AdSense accounts associated with the Google account you are signed in with.
Google-Managed Ads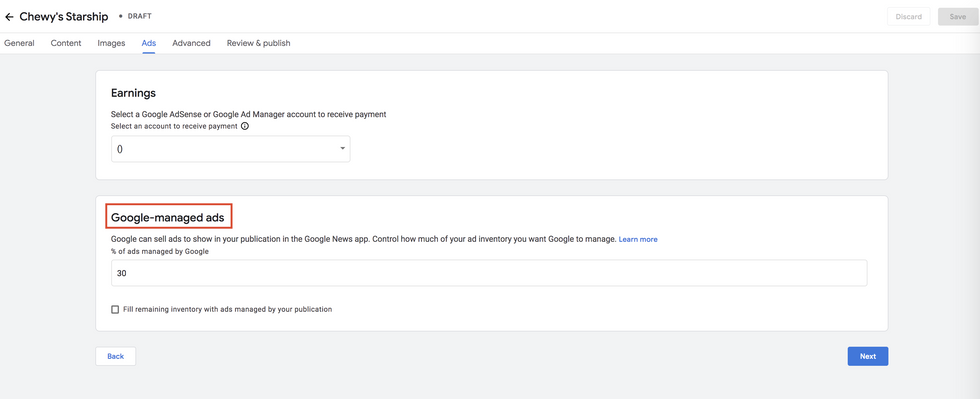 Here you can control how much of your ad inventory you want Google to manage. Google can sell ads to show in your publication in the Google News app.
Advanced
Access Groups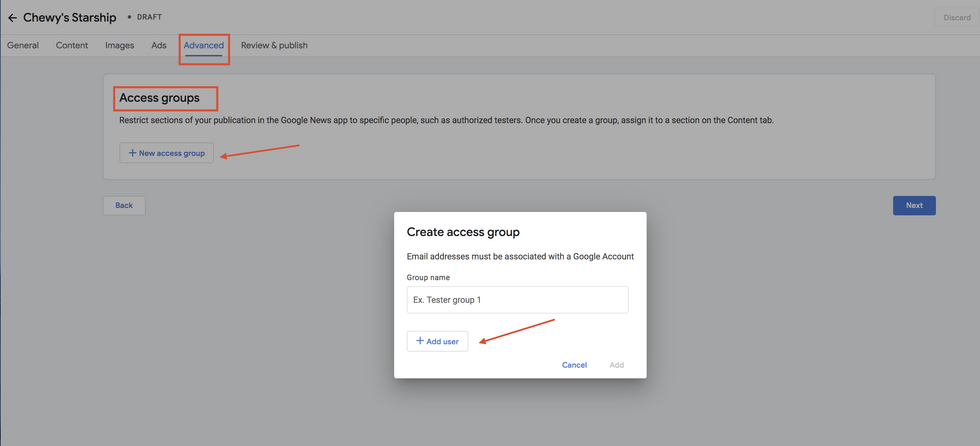 The Advanced tab allows you to set up access groups via emails associated with a Google account. This allows you to restrict sections of your publication to specific people, such as authorized testers.
Once you create a group, you can assign it to a section in the Content tab, accessible in the top navigation bar.
Review and Publish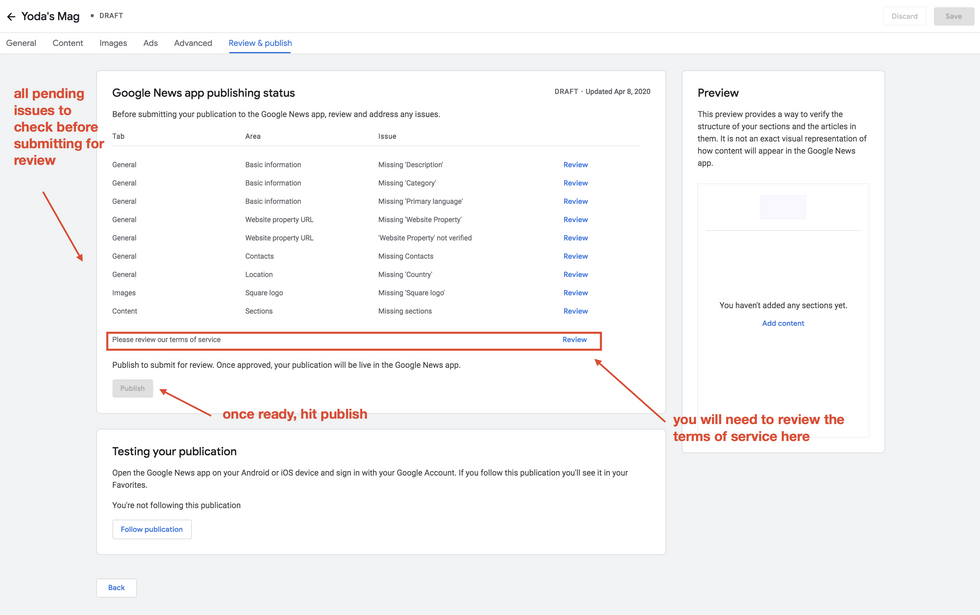 Once you've finished filling out all of the tabs, you will have a chance to review any missing items, as well as test your application.
The last step before submitting your publication for review is to sign off on the terms of service.
Once this has been done and you are satisfied with your application, click Publish. The application review process can take as little as two weeks, although it generally takes longer.
Setting up Multiple Organizations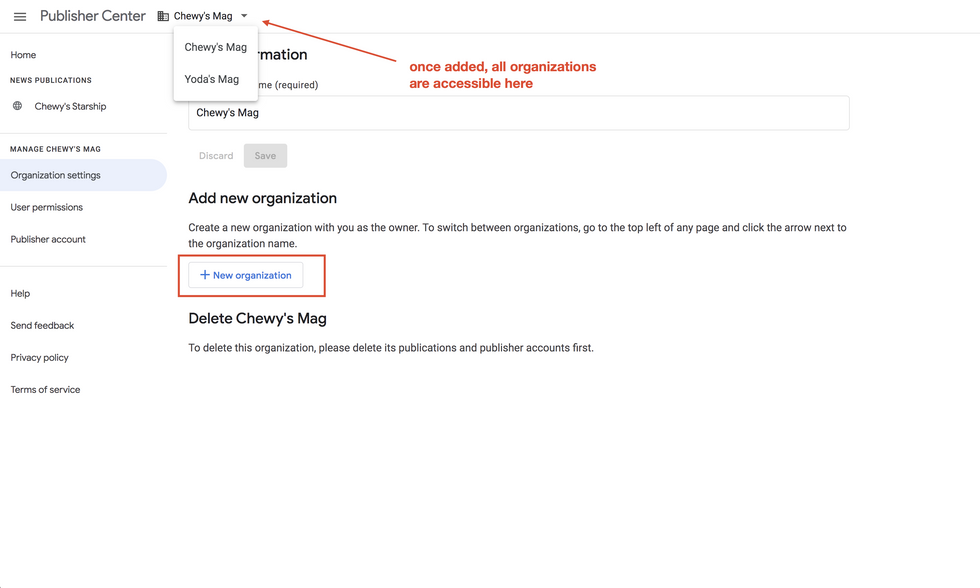 With Google's new Publisher Center, it's possible to have multiple organizations set up under one Google account, and navigate between them.
To add a new organization, select Organization settings from the left-hand menu. Then, click + New organization and enter in the corresponding information. Once everything is saved, you will be able to switch between organizations using the drop-down menu in the navigation bar located in the top left.
User Permissions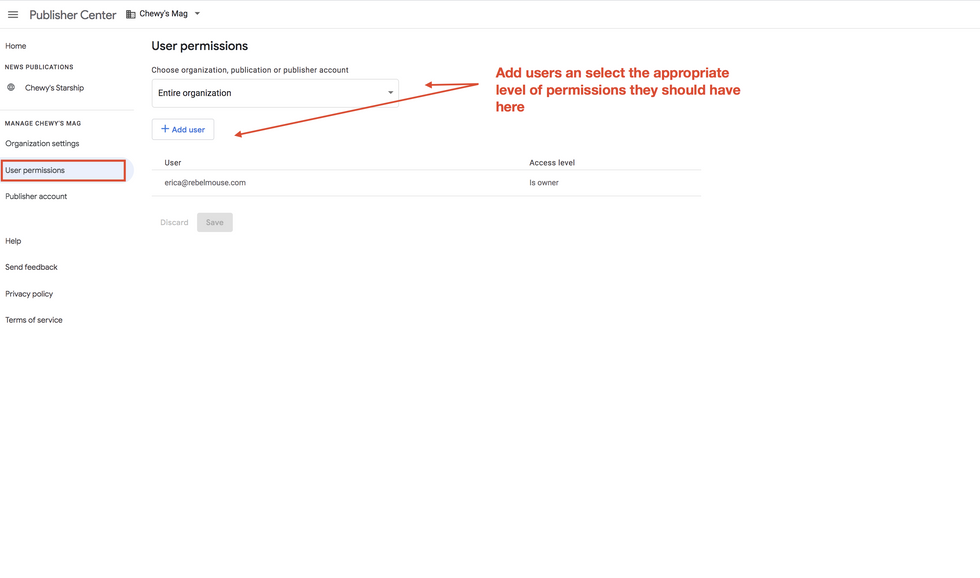 Individuals can be granted access at an organization, publication, or publishing account level.
To grant access, click User permissions in the left-hand menu. Once there, you can enter the person's email address and select the level of permission they need.
You can also review which users already have access and at which permission level.