Apple News: Getting Started
"Apple News collects all the stories you want to read — so you no longer need to move from app to app to stay informed."
Apple News is the perfect news feed -- customizable, easy to read and addictive.
Here, we want to do a break down on how to treat content once you are in Apple News.
If you want information on how to get accepted to Apple News, please take a look at this guide and this News Publisher sign up page.
---
What is the Apple News Format?
Apple News Format is the custom JavaScript Object Notation (JSON) document format that lets you create signature content for News publishing.
The most fascinating element of Apple News is how it structures the feed for each user -- a personalized stream where the user can pick which topics and media publishers fill it.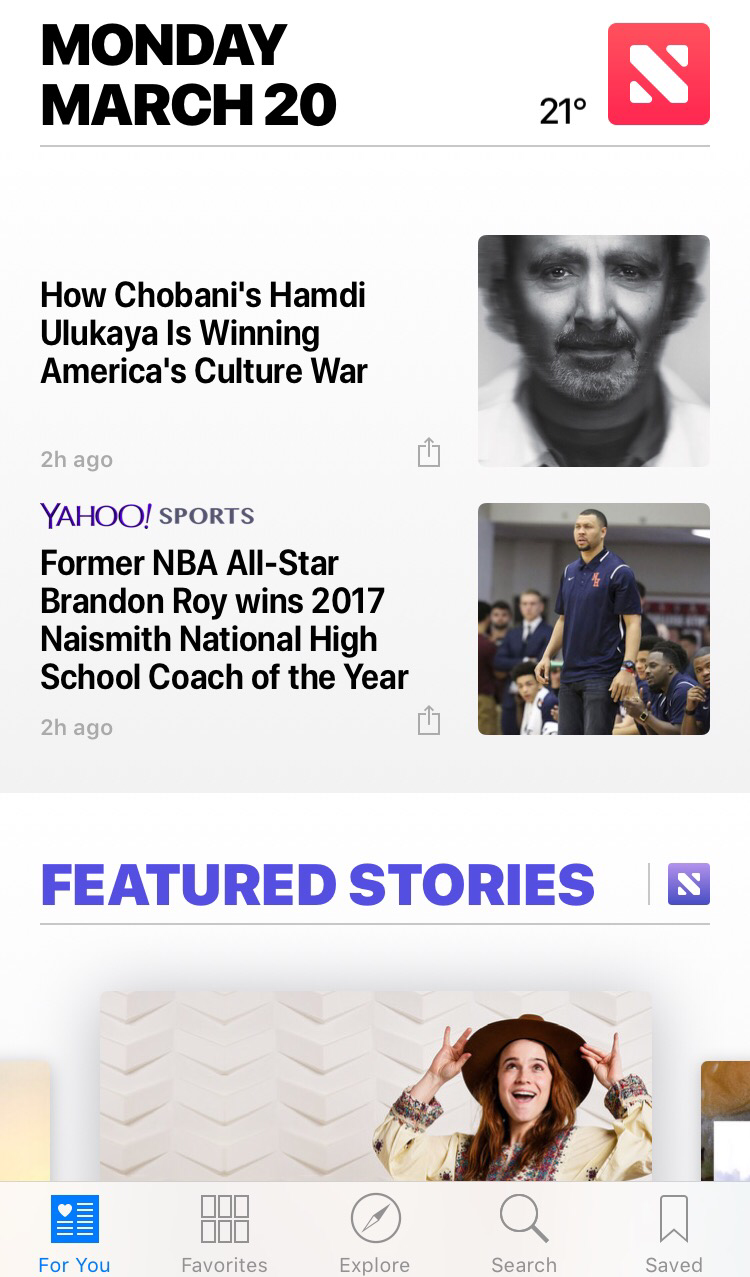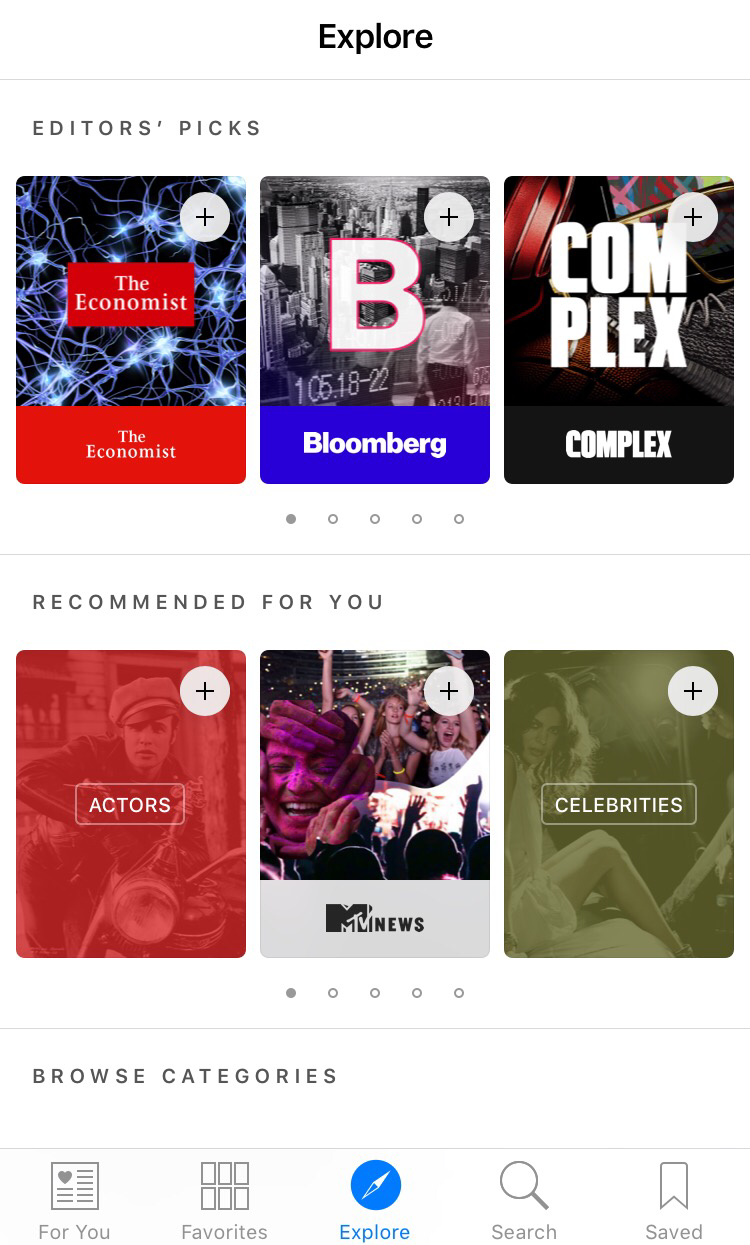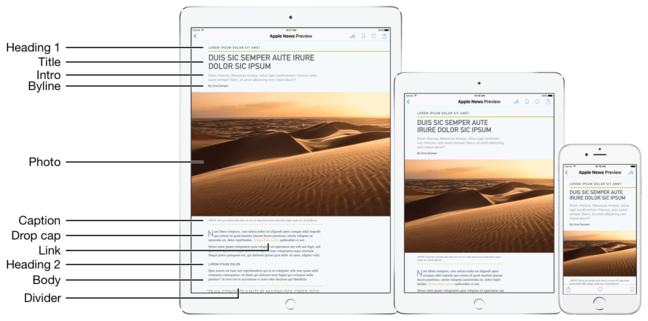 What layout do I have out of the box from RebelMouse?
We do our Apple News Format with HTML Markup (not Markdown syntax, which is also an option), and this is roughly how the out of the box version looks like: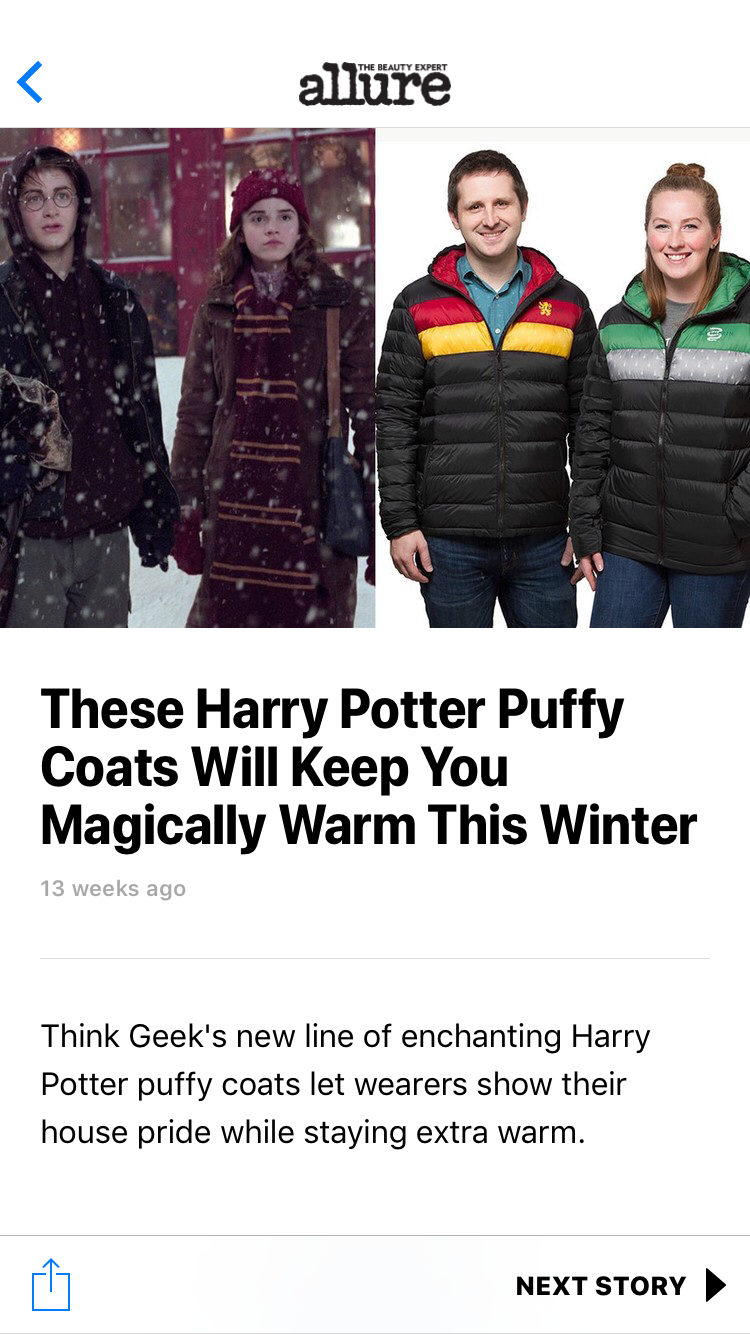 If you'd like a more personalised version please contact your Account Manager so we can discuss implementation.


How do I start publishing to Apple News?
1) Sign in to News Publisher
You can do so by going to http://www.icloud.com/newspublisher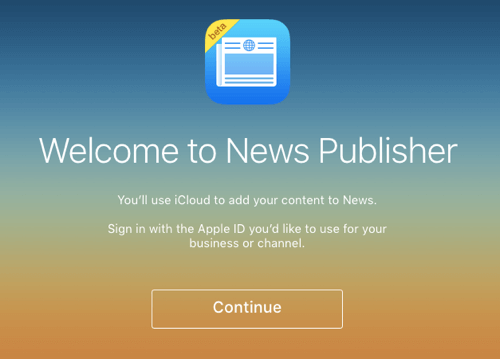 2) Provide publisher and channel information

You'll also need to provide additional information to set up your channel. When you're finished, click Next.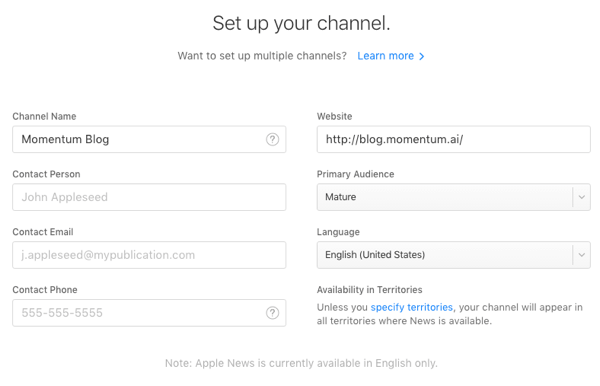 3) Upload a Logo
You now have the option to upload a channel logo and cover image. (Note: You can skip this step.) Make sure your logo is a PNG file with a minimum size of 256 pixels square. The file size limit is 2MB. Click here for more details about logo specifications.
The cover image appears in the Discover view in Apple News. You can find it in the Apple News Settings: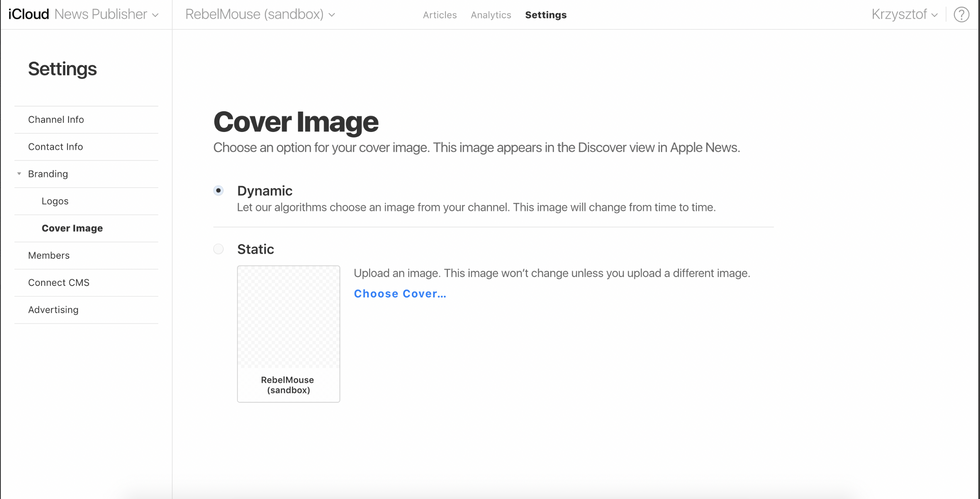 You can update your channel logo in the same Settings interface: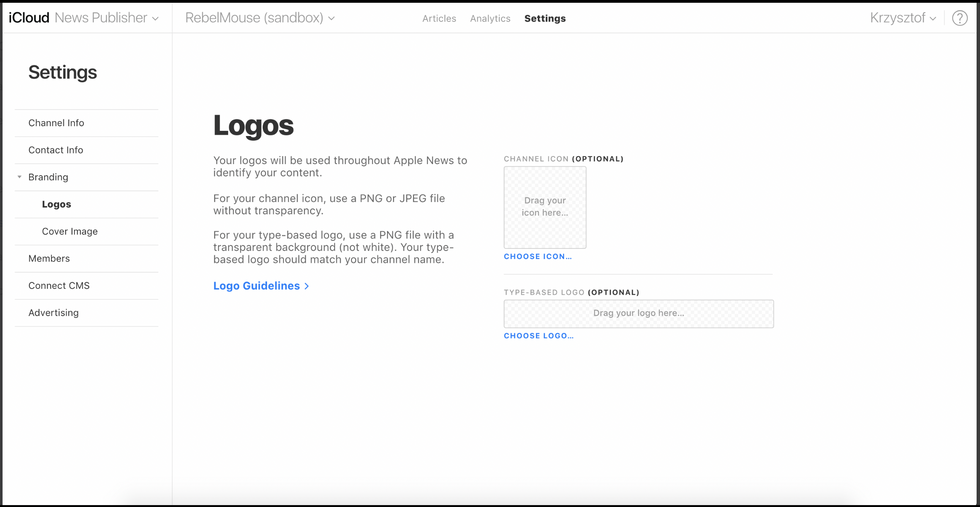 4) Choose a Publishing Format
Next, you can choose from two different publishing methods: RSS feed (there's no change in user experience, which means you can't use Apple's article format) or the Apple News Format, which optimizes your content for iOS devices.
Please choose Apple News Format.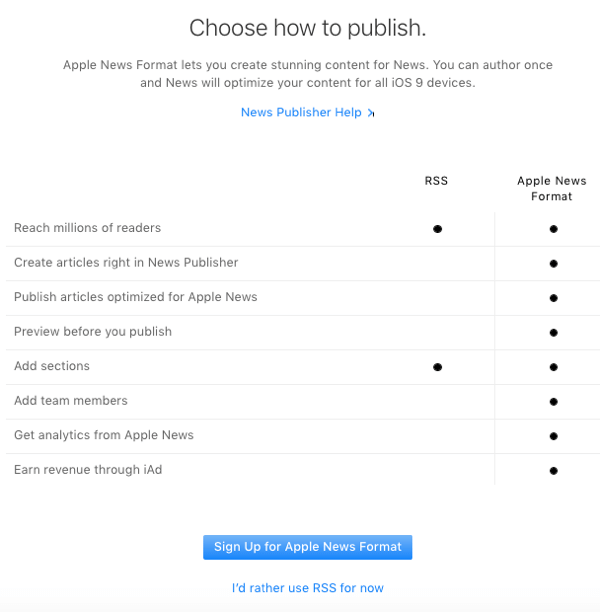 To use Apple's News Format for your content, all you have to do is to click Sign Up for Apple News Format. Once you click the button, your application will automatically be sent for review.
5) Submit Articles for Approval
After you're approved as a publisher, you're required to submit some articles for review. To do that, you can either create an article in News Publisher or use your existing content management system (CMS).
In the RebelMouse DCMS, you can choose any of the articles you have already created and choose to submit them to Apple News. See below for more details.
In each case, Apple reviews your articles and notifies you as soon as your content is approved. After that, you can publish without further review.
6) Enter Apple News info into Global Settings
You will need to insert Apple News API key, Apple News API secret, and Apple News channel id in your site's backend. You can find this information in your News Publisher account.
To do this, first navigate to the Layout & Design tool, then go to Global Settings. Scroll down and enter the information: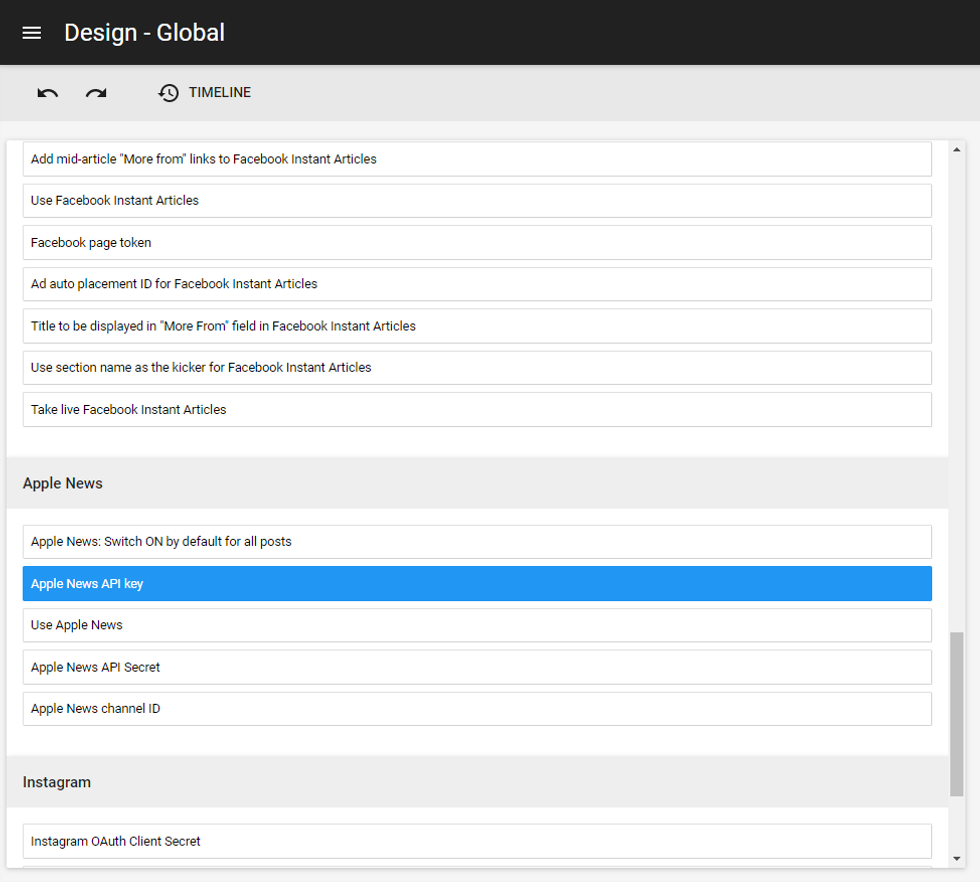 How to enable Apple News per post from the Entry Editor:
When you add a new post or edit an existing one, you can choose whether to publish it to Apple News or not.
In the Entry Editor, you'll find a tab on the right that says Social Copy. There you can find the toggle on/off button for Apple News.

If it's the first time you publish to Apple News, the content you choose to toggle ON in the Entry Editor will be sent for review. All articles will appear on your iCloud account and Apple will notify you once they are approved and good to go.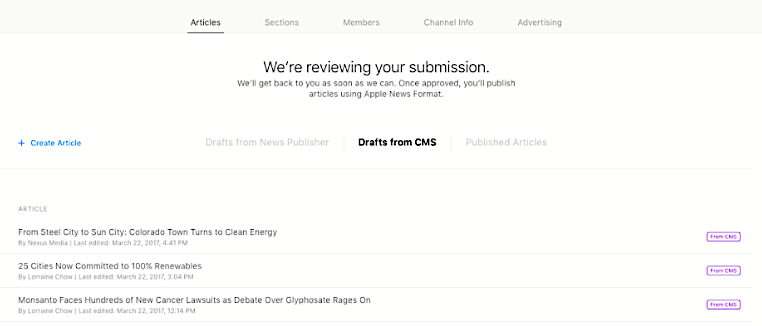 Guidelines for content: what is okay to publish in Apple News and what isn't
Not all embeds are supported in Apple News, a breakdown below:
- FB video embeds are not supported.
- Facebook post embeds are supported.
- Youtube embeds are supported, but please bear in mind that are not included in Apple News' native metric tracking.
- Tweet embeds are supported too.
- Instagram post embeds can also be used because they are supported.
- JW Player is partially supported: if you use our native integration, we can output it properly and track stats within Apple News for those videos. If you do not have it connected through our platform, it's possible it won't be supported by the Apple News format.
- Ads in your articles that you may have added via the Ad Manager are not supported. (for more information on ads please see below)
Apple News' Native Stats
Please bear in mind that Apple News' native stats do not count video plays from 3rd party providers.

When you click on the videos section in the JW Player Admin Dashboard and scroll to the very bottom, they mention: "These metrics do not include videos hosted on third-party websites such as YouTube and Vimeo."
- How to monetize Apple News
Apple has their own monetization and ad setup, Native Ads.
For more information please check out their guide here.