Primary Tags: Structure Your Site for Success
Dynamic taxonomy improves usability and propels SEO strategy
It's not a surprise that quality content can easily be spoiled by a poor site experience. This is why we're extremely proud of the lightning-fast sites we power. But speed is only the beginning of the user experience.
The temperature on platform dependency has cooled in recent years, revitalizing the value of site visits and search strategy. This is good news for both users and publishers who need site stability to survive. Because of this shift, RebelMouse focuses on three primary key performance indicators (KPIs) to measure site usability and health:
Sessions per User: The average number of site sessions that each user has in a given time period.
Pages per User: The average number of page views that each user has in a given time period.
Time per User: The average amount of time spent on site by each user.
In order for these metrics to shine, a site's architecture must be organized in a way that increases every user's time on site. The logic is simple: If a site is easier to navigate, the user will likely stick around longer. This is the gateway to user loyalty.
One important way we support these KPIs is through our intuitive tagging structure for content. Let's take a look at our primary tag functionality and how it can set up any site for success.
What Is a Primary Tag?
On RebelMouse, we give you the ability to use as many tags as needed on every article to help keep you organized. But there's also an option to assign one primary tag to a post. A primary tag is built on the same principle as a primary section. One tag lets you assign higher importance to certain pieces of content when processing and organizing your posts.
Click here to learn more about how primary tags function on the RebelMouse platform.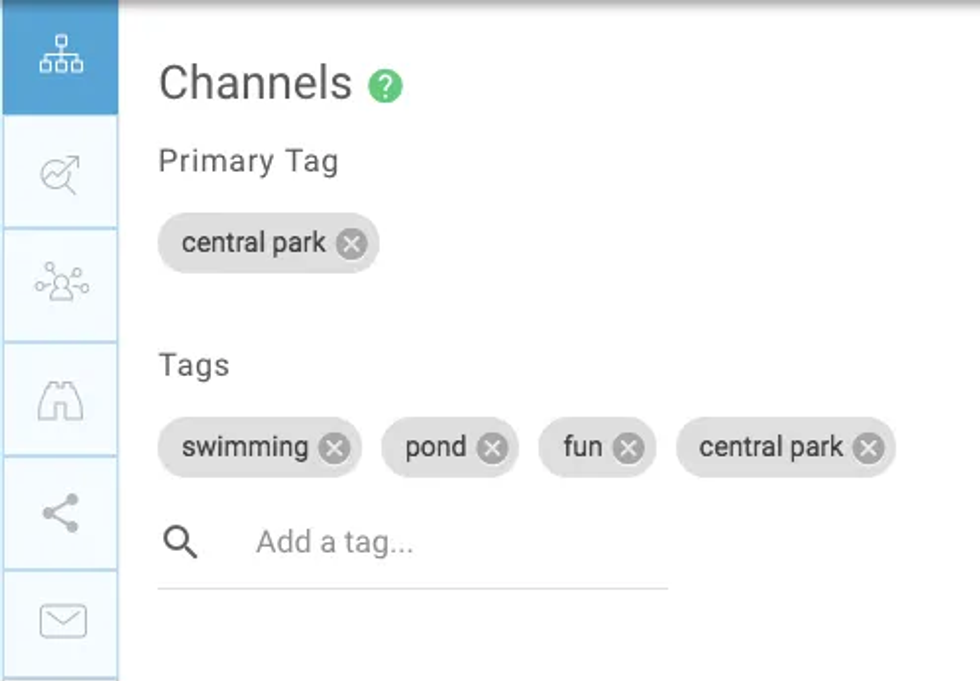 The Primary Tag and Tags sections in RebelMouse's Entry Editor.
The Benefits of Primary Tags
Dynamic Taxonomy: One of the primary benefits of using a primary tag is that it exposes the depth of content available to your users. Many publishers do this through the use of sections, which often turns out to be redundant and, in turn, ignored: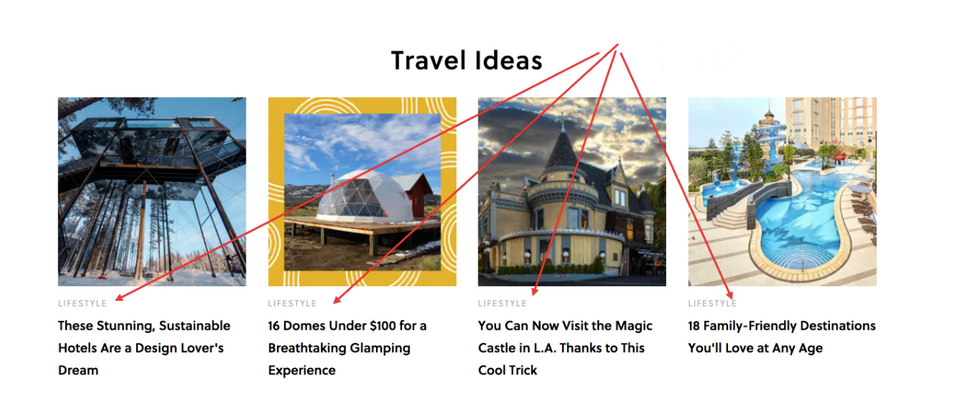 Sections can often be annoying to navigate and repetitive.
Using a variety of relevant tags for every article, rather than just repeating the same handful of sections, opens up more opportunities for targeted descriptors. For example, instead of using "Recipes" as a section over and over again, a primary tag can be used to create specific content flows for topics like "Vegetarian," "Soups," or "Cocktails."
Richer SEO: Since a primary tag exposes more information about your article, it also supplies more relevant data to Google's algorithm. Surfacing content in usable ways supports Google's mission to serve content based on audience behavior and intent instead of outdated and frowned-upon SEO methods like keyword stuffing. This approach is called white hat SEO, or ethical SEO.
By targeting specific interests, your dynamic tag structure will allow Google to more accurately understand your article's content and rank it accordingly. On RebelMouse, this creates a trickle-down effect, because users can click a tag and quickly get directed to more relevant articles, which boosts your SEO efforts further.
Here's how the site experience looks on RebelMouse-powered EcoWatch when viewing their primary tag "Plastics."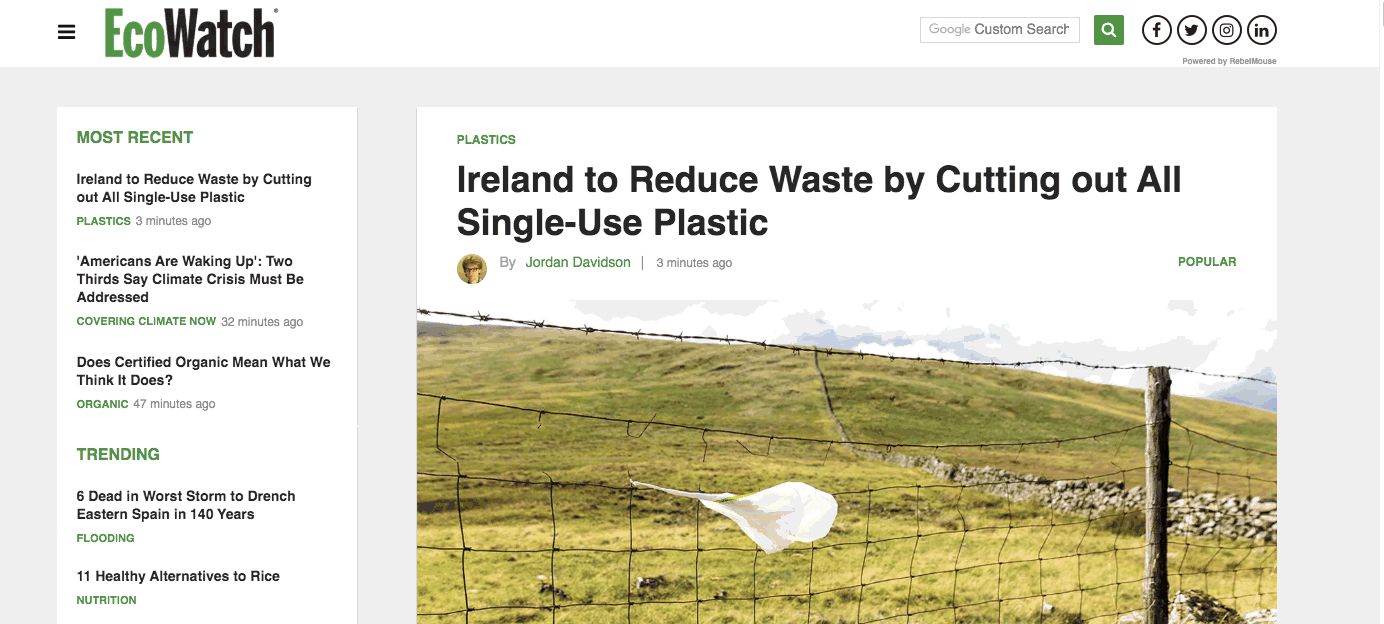 RebelMouse-powered EcoWatch takes advantage of a primary tag construct.
Improves Crucial KPIs: As mentioned before, RebelMouse traffic experts are constantly focused on improving the three KPIs that matter most to site usability and building audience loyalty. These metrics answer the following questions:
Frequency: How often are users coming to the site?
Depth: How many articles does each user consume?
Duration: How long is each user staying on the site?
Looking again at EcoWatch's use of primary tags, it's important to note that a primary tag is exposed on every one of their articles. They're also used in a left-hand navigation module that features the latest stories and trending topics: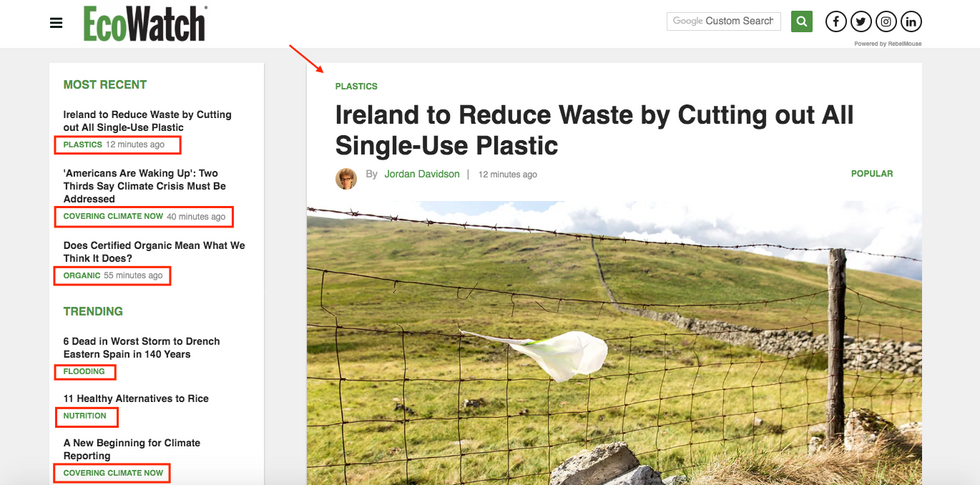 Start Leveraging Primary Tags on RebelMouse
If you aren't on RebelMouse yet, request a proposal today and let's start working together to make sure your site is optimized for user growth. If you're already publishing on RebelMouse, and want to learn more about tagging best practices, contact your account manager or email support@rebelmouse.com.