The Future of Food + The Culture + The Occasion
Taste Talks is a national series of festivals celebrating the future of taste through symposia, tastings, dinners and parties. They bring together thought leaders and luminaries from around the world together with everyday food enthusiasts to engage in great conversation, amazing food and one-of-a-kind experiences.
They believe food is a true medium that can bridge the gap and engage all people through experiences shared across digital and social. They came to RebelMouse for the platform to make it all happen.
From GIPHY
The Vision
Raise overall awareness of Taste Talks and their festivals
Drive users to signup for updates about the 2016 festival series
Drives users to share articles featuring the one-of-a-kind food dishes
What Happened: Rebel Runner Platform
The team leveraged our easy-to-use, agile Rebel Runner platform to:
Build engaging stories paired with eye-catching images
"Everytime a Burger Saved My Life," by Lien Ta
Weave in social media feeds and bold CTAs
"Glassware or Artwork? For These Designers, It's Both," by Nicole Schnitzler
Organize content into sections, and use actionable insights to make smart curatorial decisions
"Urban Foraging in Los Angeles: Weird or Worth It?" by Carly Silverman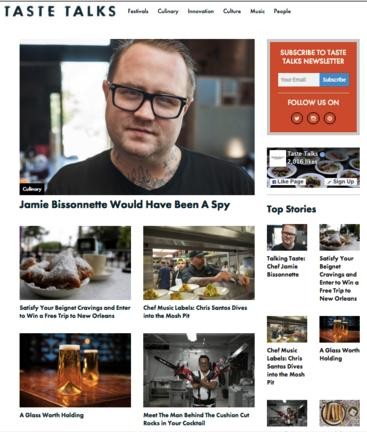 Why They <3 RebelMouse
Beautiful, dynamic platform that is (almost) as pretty as the food
Engaging + intuitive polls + quiz features to keep the conversation going
"With RebelMouse, we can easily showcase and share the food and culture content we love across a huge range of social platforms. RebelMouse's super helpful tools allow us to optimize and organize our content in a way that makes sense for our brand, and, most importantly, the end result is gorgeous." -- TasteTalks
From GIPHY
Cheers to living that #FoodLife. Power your publish with us. Send us a quick note to get started.