Customize Your Content Editor in Layout & Design Tool
Design your own content experience
The modern content lifecycle looks different for every publisher. This is why we're constantly updating our editorial suite to cater to the needs of every team. Most CMS platforms have a one-size-fits-all approach to their Entry Editors, but this requires editorial teams to work around the confines of those systems. Instead, what if you had the power to fully customize your Entry Editor for your team and organization in a way that best suits your workflow?
Now, on RebelMouse, it's possible. We've extended our Layout & Design Tool to include the ability to customize your Entry Editor experience. Here's how it works.
---
There are several elements in Layout & Design Tool that you can use to personalize your Entry Editor interface:
Right Rail Element: Use this element to choose which tabs you would like to see in Entry Editor's right-hand navigation rail: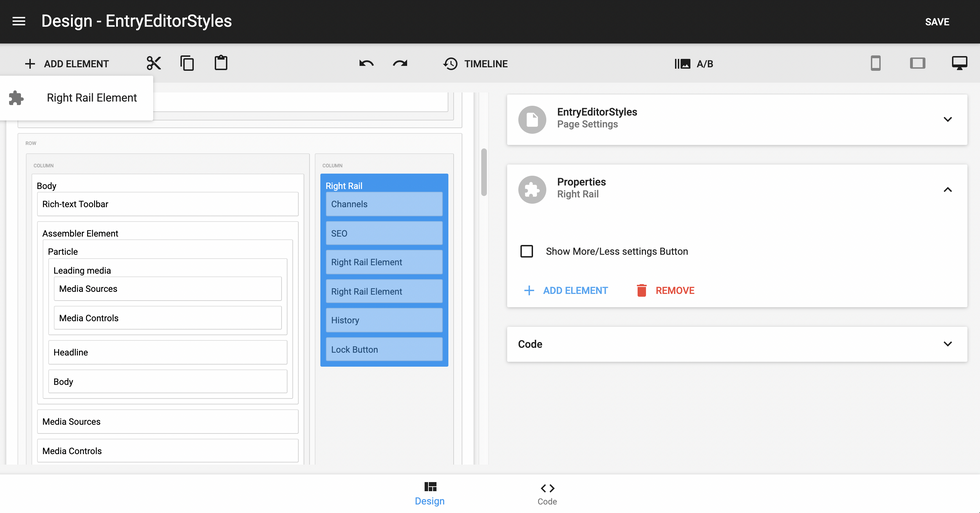 Body Element: This element allows you to choose what media controls your users have access to. In the following example, users can see the Add Media Bar, as well as the different media types they can add to a post: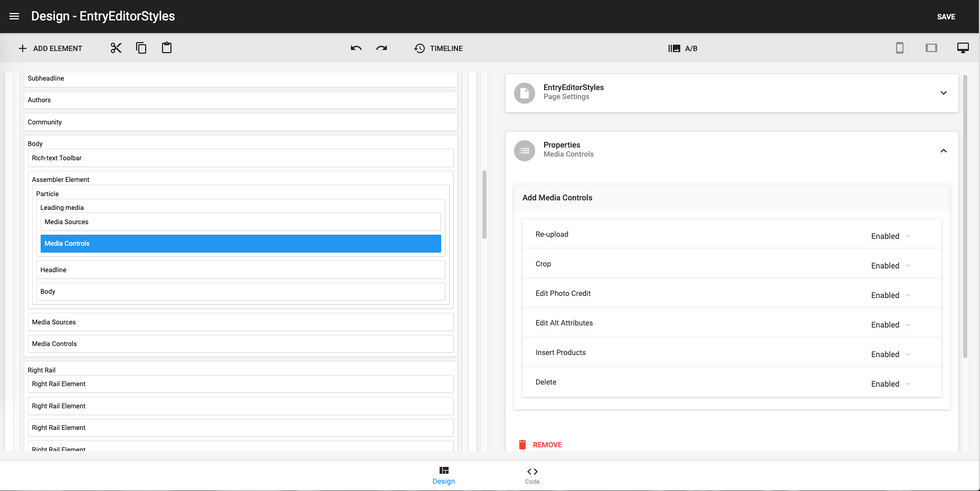 Additionally, you can choose which media types (or sources) they can add: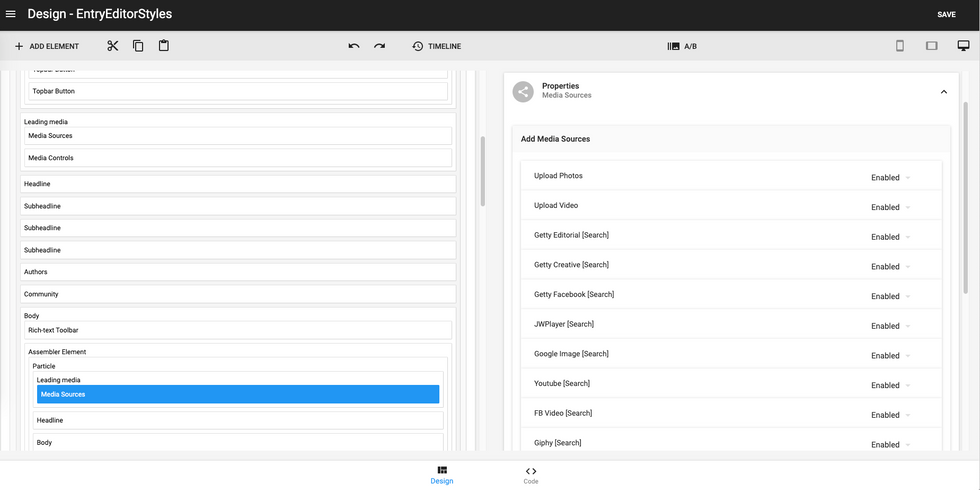 Assembler Element: You can use this element to decide if you would like users to be able to add or remove Assembler particles: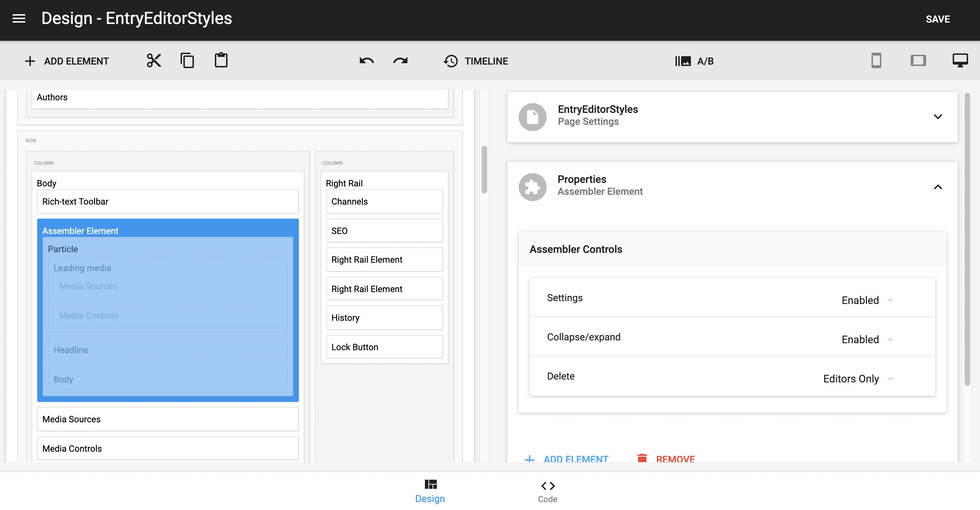 Additionally, you can control what types of media content can be embedded into particles: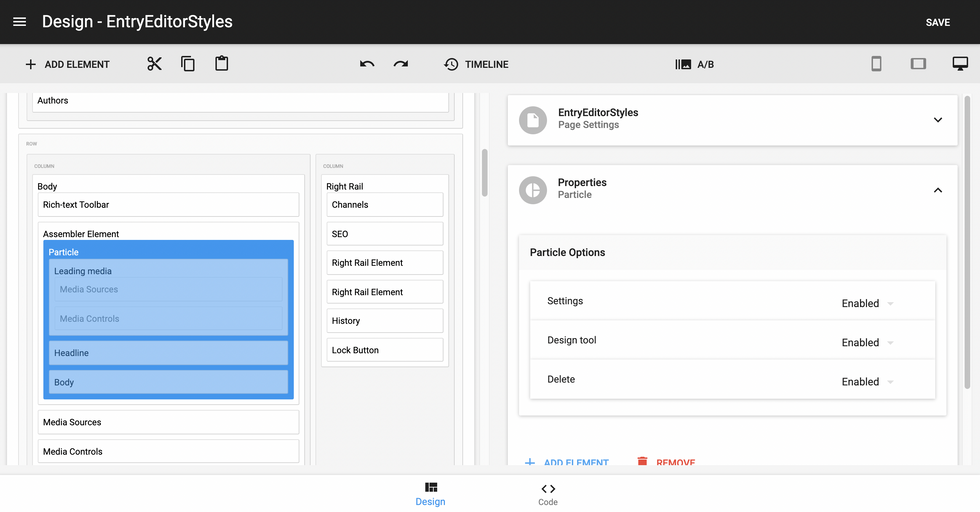 You can also use the Assembler element to enable HTML formatting for particle titles. To do this, enable the checkbox Enable Support for HTML in Headline.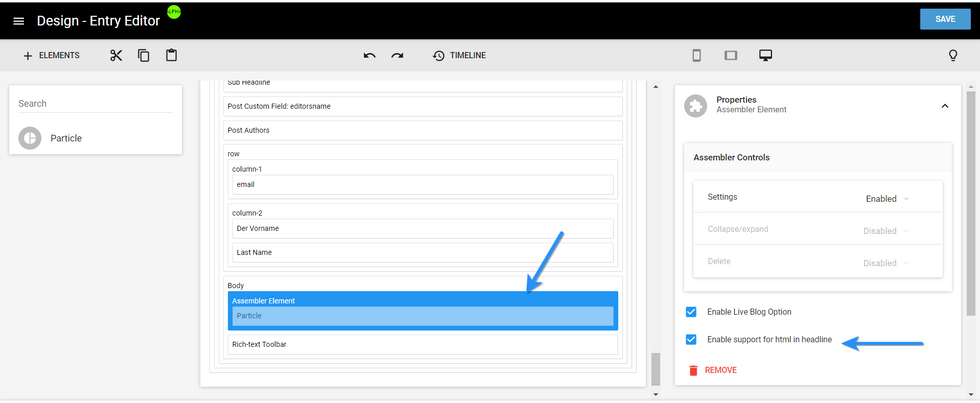 Once selected, you should see a formatting toolbar appear in Entry Editor that allows you to adjust any part of a particle's title:

Turn Articles Into Particles: By adding the following line of code to an Entry Editor layout in Layout & Design Tool, you can easily turn previously published articles into new particles.
<ee_sidebar_search limit="11" is_body_allowed="true"/>

Once this code is added, you will have the ability to search for articles within Entry Editor. From there, you can drag and drop those articles into new particles. Here's a screencast of how this works:
This feature will pull the entire body of the post into a new particle. It can be handy tool if you plan to turn a post into a newsletter. Read more about this here.
Top Bar: This element allows you to control what fields, tabs, and media options are displayed, including the action buttons users have access to: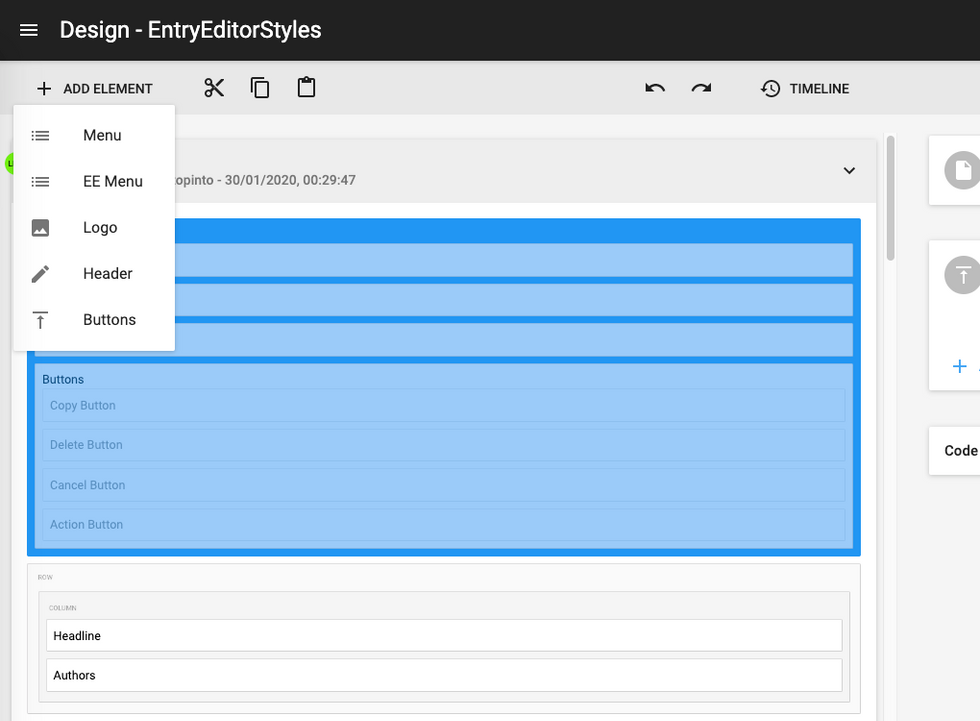 Action Buttons: These buttons allow you to customize your users' experience after they publish an article. There are five different options:
Default: This will publish the article and redirect the user to the live article page.
Stay on the Same Page: This allows the user to publish or update an article and remain in Entry Editor instead of getting redirected to the live article page. This is helpful for writers and editors that need to continuously update a particular post.
Open New Dialog: This will redirect the user to create a new article.
Go to Permalink: This will redirect the user to a link you've specified.
Go to Dashboard: This will redirect the user to your Post Dashboard.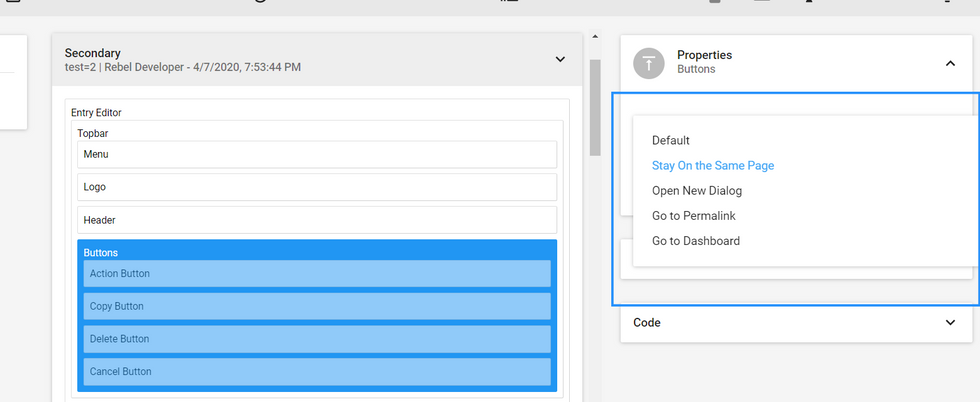 Text Validation Rules: This allows you to customize limits on words, characters, and lines in your articles. You can set the parameters for these rules using the Properties card of an associated element.
For example, here's how you would set the character count for the headlines of your articles: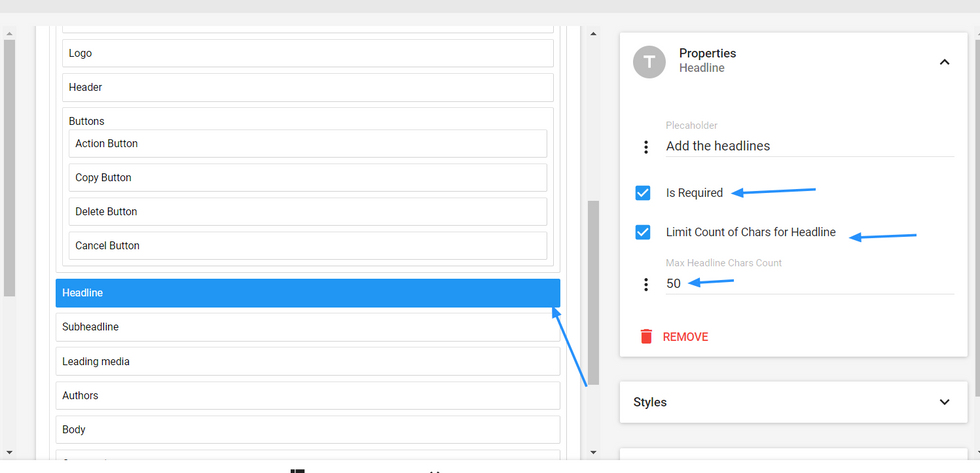 Here's a screenshot that shows how to set the character, word, and line counts for the body of your articles: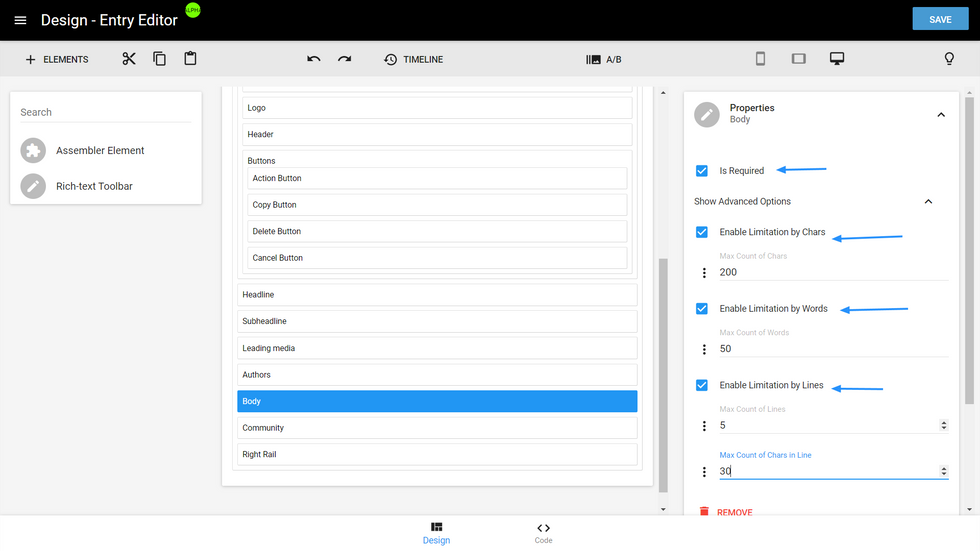 And here's what the text validation warning can look like in Entry Editor when all set rules aren't met: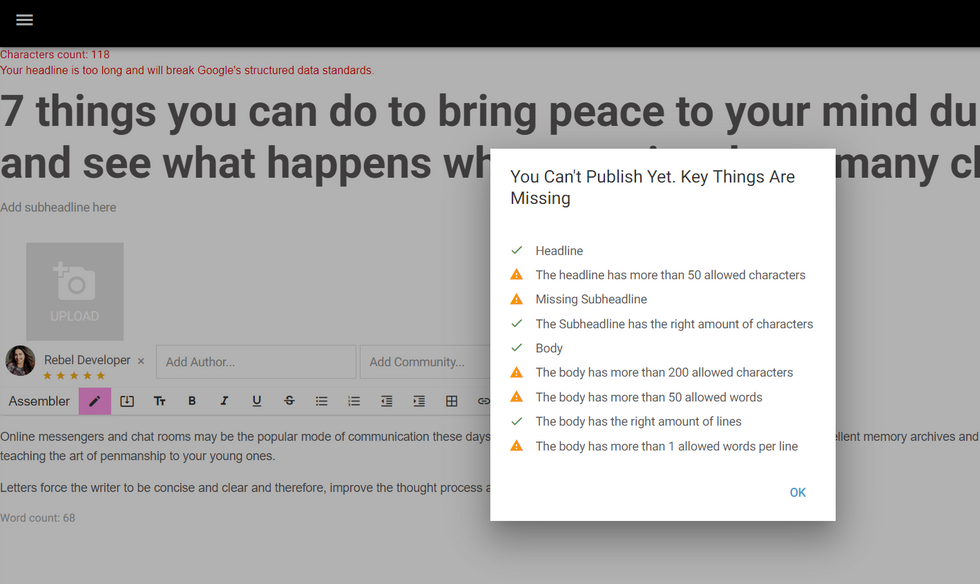 These Entry Editor warnings aren't just suggestions, either. They prevent your writers from publishing articles that don't satisfy the conditions you've preset to help ensure that your content meets your editorial guidelines.
Hide Sections: You can choose to only display sections that are relevant to a specific post type in Entry Editor. For example, if you're writing a recipe, you may not want to see any sections that are related to animals.
To make this functionality possible, we've implemented classes for all sections:

You can hide or show sections using simple CSS. This is done using a Custom HTML element in Layout & Design Tool: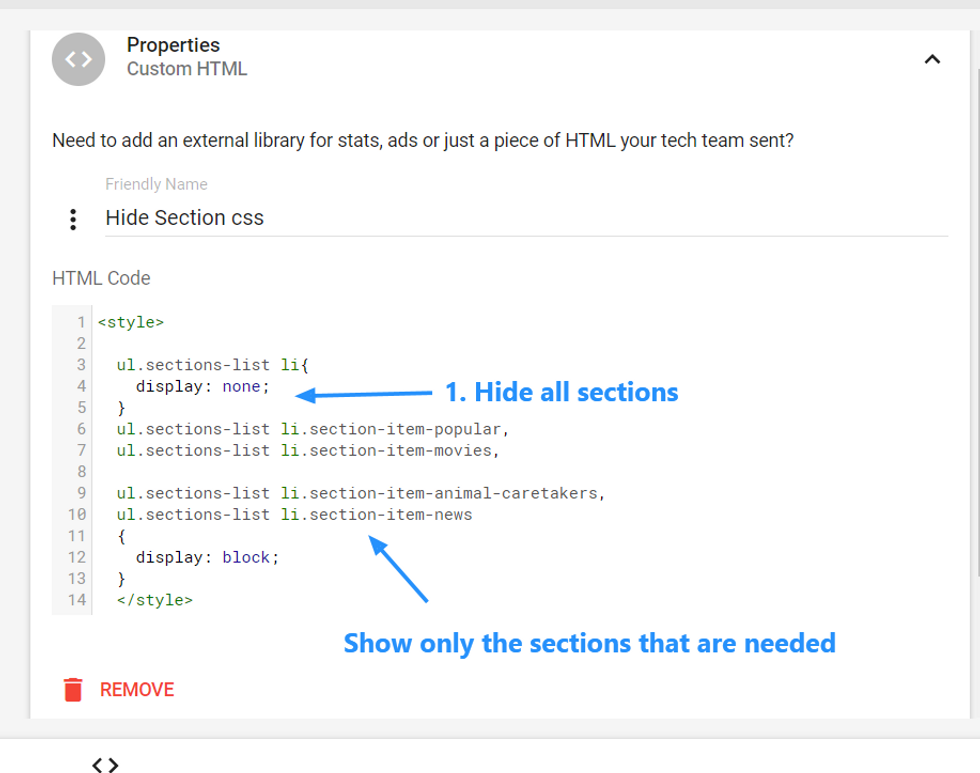 Here's a screencast that shows how some of the above elements function:
s3.amazonaws.com
We also allow you to choose which Post Page layout should display for a specific customized Entry Editor by giving you the option to select from A/B-test Post Page layouts that you've previously set up. This means your users can publish different types of articles with corresponding layouts depending on what version of Entry Editor they're using. Here's what the setup looks like in Layout & Design Tool: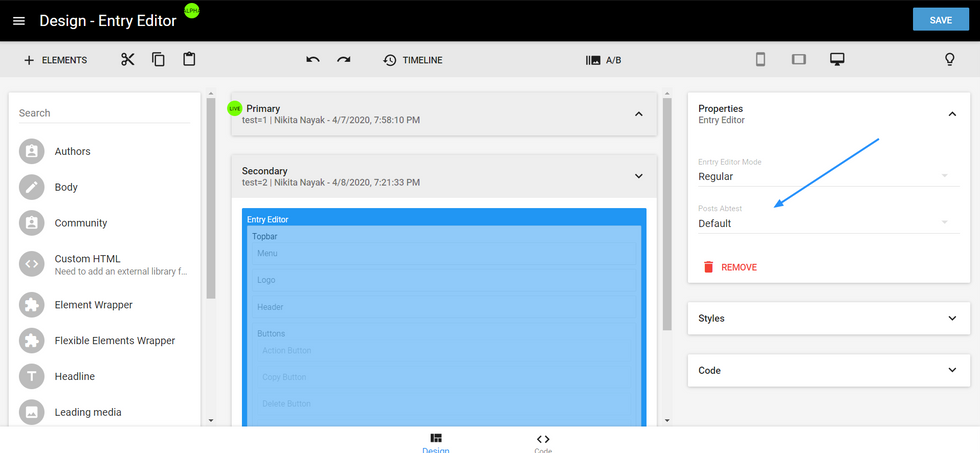 And here's a screencast of how it works:
s3.amazonaws.com
These new options will show up in the hamburger menu (☰) of your Dashboard. Up until now, these modifications needed to be implemented by our Client Services team upon request. But with this latest update, you're empowered to take control of your users' editorial experience.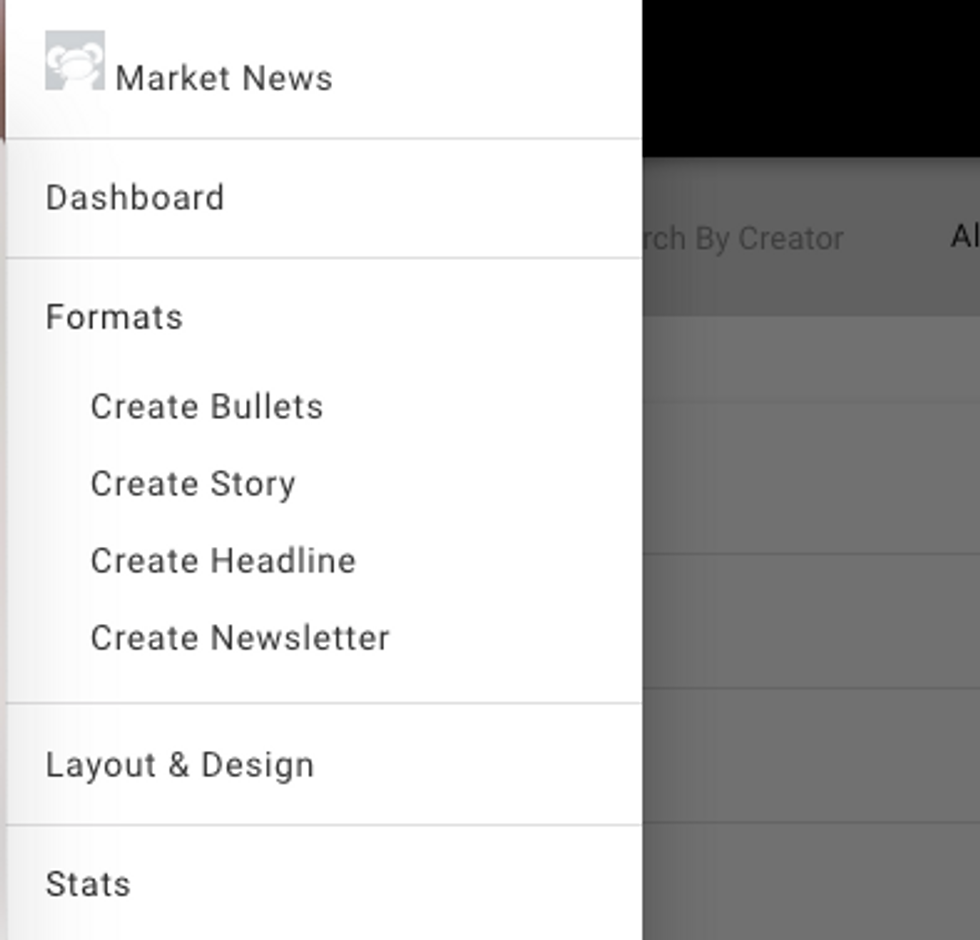 Examples of Custom Entry Editor Views
Headline Only: For one of our clients, we customized their Entry Editor to only show the headline of a post so that their content team can focus on populating it with keywords and a code. Here's a screenshot of their simplified right-hand rail:

Here's another example of an Entry Editor that's used solely for sending out newsletters: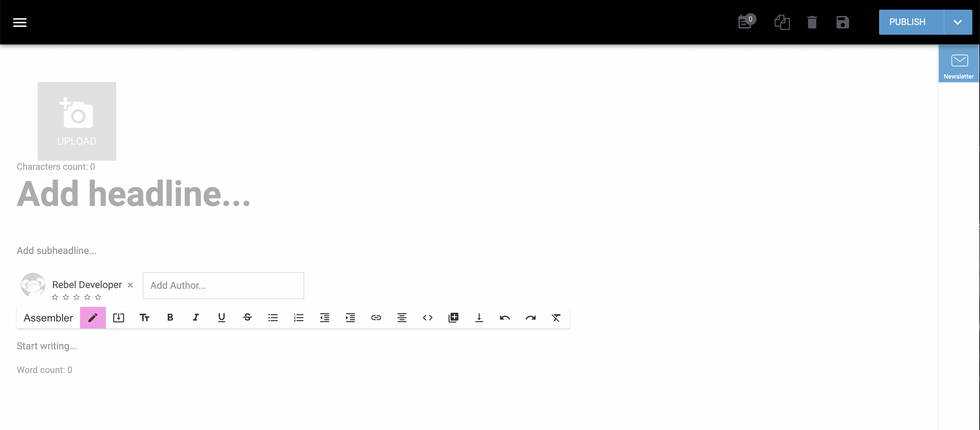 If you have any questions about customizing your Entry Editor experience, email support@rebelmouse.com or talk to your account manager today.