Tour the Newsletter Dashboard
An email newsletter is a great extension of your site's content and one of the most effective ways to convert casual visitors into loyal subscribers. The RebelMouse Newsletter Dashboard makes it easy for you to set up and manage your newsletter to keep audiences engaged with your content.
We offer out-of-the-box MailChimp, Sailthru, and WhatCounts integrations so you can customize the frequency of how often you contact your subscribers.
---
MailChimp, Sailthru, and WhatCounts Integration
We use the APIs of these providers to connect them directly to our dashboard, as a way to facilitate newsletter automation for you.We support:
Daily newsletters to your subscribers with customizable day and time selections.
Weekly enterprise newsletters to your subscribers. If the "Send a daily newsletter to my subscribers" option is not chosen, you use the same day and time pull-down menus to select the perfect schedule for your weekly newsletters.
Sending posts as newsletter campaigns straight from the Entry Editor. Keep reading for more details.
Here is a look inside our newsletter dashboard:
CSV subscriber info download
Before integration with MailChimp, there is an option to download a CSV of subscriber information.
However, after you connect to MailChimp you no longer see this CSV download option. The reasoning is that when you're using the native RebelMouse newsletter we're storing the sign ups in our internal database and provide the option to download a CSV of subscriber info. After connecting to MailChimp, you have to go to the native MailChimp dashboard to download any contacts / lists, etc.

Send Posts as Newsletter Campaigns

Within the Entry Editor, there's a "mail icon" tab where you can schedule your posts as newsletters! Check out the video below to see how it works.
You can also set up automated newsletters that collect the most popular posts from sections and send them to the right groups. Click here for more information.
Send Out a Newsletter Alert for a Post That Is Going Viral!

Do you have a piece of content that is performing exceedingly well? Quickly edit that post to send it out as a newsletter — that way your subscribers will never miss a great piece of content again. We have stats per post and Velocity Alerts to let you quickly know when an article is going viral. Take full advantage of these features by sending out a well-thought-out newsletter to the right targets.

Where Do I Manage My Lists and Templates?
Subscriber lists and newsletter templates are managed from MailChimp, Sailthru, and WhatCounts' own dashboards. We pull that information from their API, but we can't modify them from your RebelMouse Newsletter Dashboard.
Keep Track of Your Scheduled Campaigns
Once you've got your campaigns set up, we can track if anything happens to go wrong. You can customize it so you know exactly what the issue is right away.
When you send a post as a newsletter or campaign, and an email is not verified in Sailthru, an email is sent to you about the issue. When a user subscribes to your site with an incorrect email address, an email will be sent to notify you. When the API Key is no longer valid for MailChimp, Sailthru, or WhatCounts, you will receive a notification: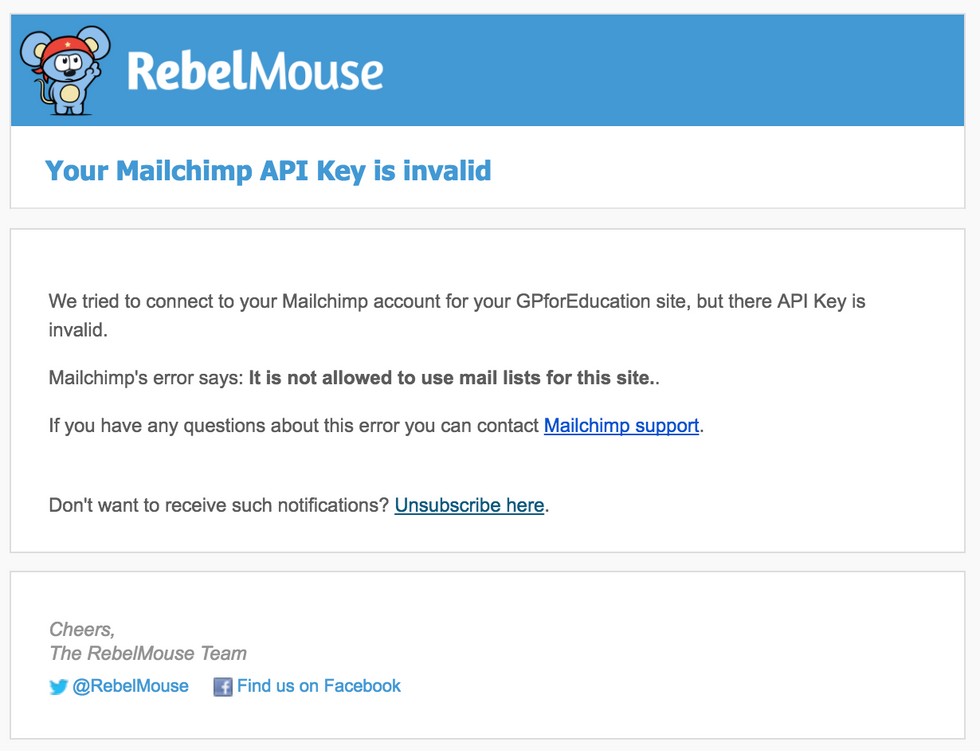 When a campaign is not created (due to an error with an ad source), the MailChimp/Sailthru/WhatCounts API will be temporarily unavailable: