Content Feeds: connecting feeds to your site
---
+ where to find your automatically generated RSS + JSON feeds
You can find a link in your left nav called 'Content & Feeds', where you can integrate an ample variety of social networks, RSS feeds and even do a full WordPress import.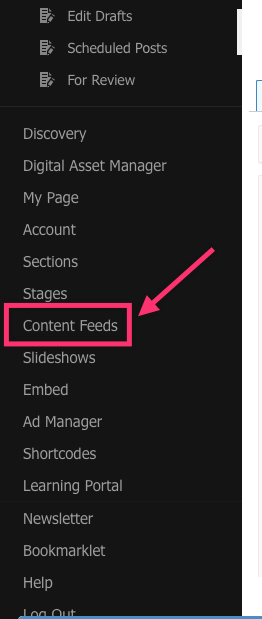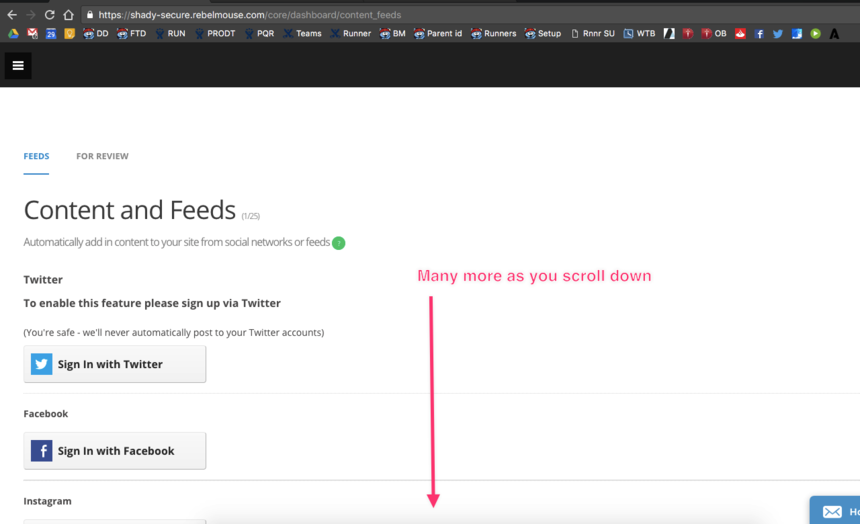 If you keep scrolling down, you'll see this field that lets you add RSS feeds:

Once you add one, it will let you choose between Publishing the content or Saving it for drafts: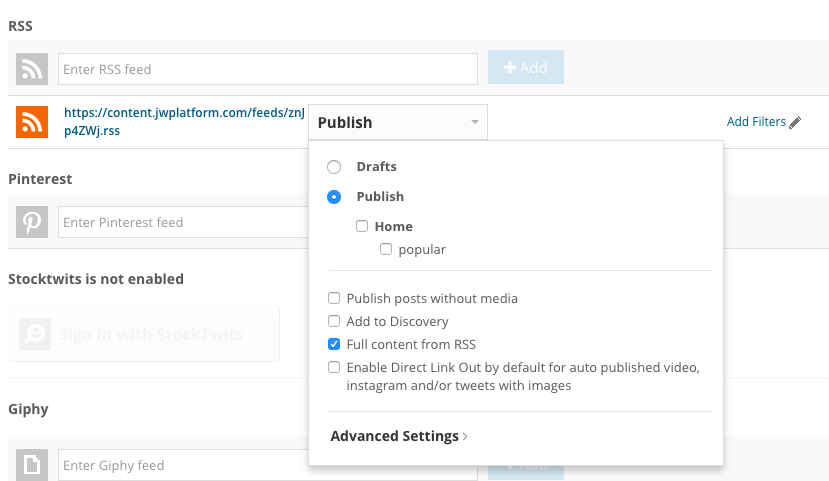 By default it will publish the content and it will do so in the homepage, but you can select other sections if you wish to.
So, as you can see you have 4 extra settings below that: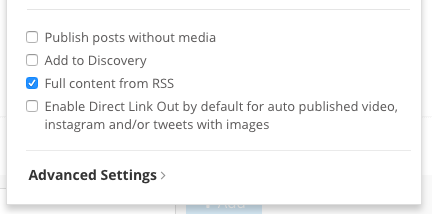 1) Publish posts without media: it will publish the posts that are only text.
2) Add to Discovery: all the content from this feed will be added to your Discovery dashboard. More info on Discovery here.
3) Full content from RSS: if this box is unchecked, it will link out to the source of the content instead of creating a rebelmouse article on your platform.
If you check this box, the content from the feed will be imported like an actual full RebelMouse post.

Example of a full article imported (box checked): http://shady.rebelmouse.com/healthy-holiday-recipes-from-twin-sisters-who-care-2120331244.html
Example of content imported without selecting 'full content' (box unchecked):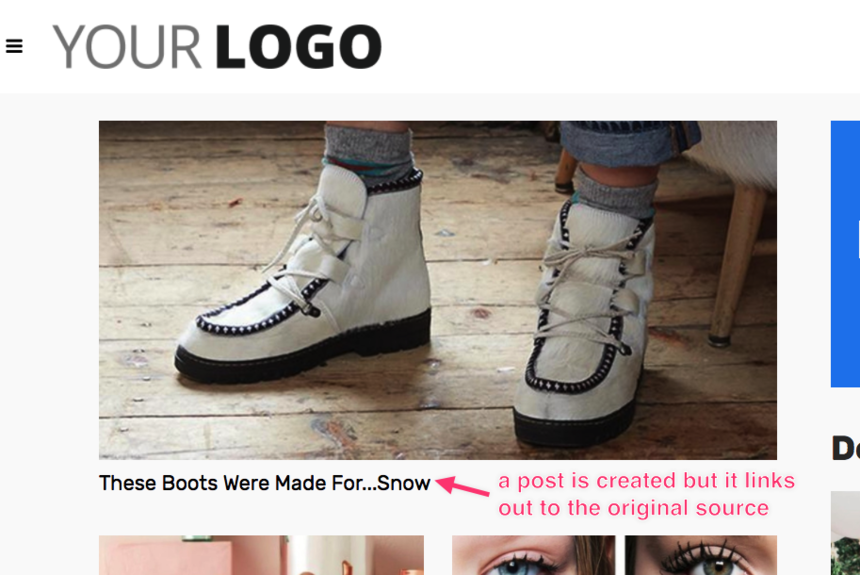 So when you click on that post, it links to this original source: http://www.likelycrush.com/designer-snow-boots-2116779391.html
4) Enable direct link out by default fo auto published video, instagram and/or tweets with images: this means that if your RSS feed includes published instagram, videos and/or tweets, if you check this box it will link out those articles to the original source.
Much like what we explained in the item above.
5) RSS summaries as subheadlines: if your RSS feed includes summaries for posts, it will be displayed as the subheadline when ingested to the RM platform.

6) Autogenerate RebelMouse authors from RSS authors: this means that we'll ingest the authors your RSS feed has for each post and create a new author profile for them in the RM platform.
Okay, got it. But where do I find my RebelMouse site's RSS feed?
Go to your site's homepage and add "/feeds/feed.rss" to the end of the URL.
For example: http://doitforthedemo.rebelmouse.com/feeds/feed.rss
This is the complete feed. But if you want a particular section's RSS feed, it would look like this:
http://doitforthedemo.rebelmouse.com/feeds/news.rss

In case you're wondering, we don't provide video hosting in our RSS feed, but we do work with embeddable players.
Also we highly recommend you use Facebook native videos and YouTube videos just like TheDodo.com does, it's been a great strategy for them to make content viral.
How can I find my JSON feed?
1. For full site you add this at the end of your site's URL: /feeds/feed.json?page=1
Example:
http://doitforthedemo.rebelmouse.com/feeds/feed.json?page=1
2. If you wish to see JSON for section you insert /feeds/section-name.json?full=1 at the end of an URL.
Example:
http://doitforthedemo.rebelmouse.com/feeds/technique.json?full=1
*in this example technique is the name of the section