In 2019, Publishers Take Back Control with Subscription Success
The Rise of the Mature User
In 2019, readers got clued into the tug of war between publishers and platforms that had been stewing for years. The year began with users all over the world harboring disdain toward the platforms following the fake news fallout of the 2016 U.S. presidential election and Facebook's data-misuse scandal. This damaging shadow prompted Facebook to launch its so-called "family and friends" algorithm update in January 2018 to rebuild trust with its users. But it's been an uphill battle ever since.
---
Release from platform dependency meant that content diversification, new monetization strategies, and audience development became a top priority for publishers big and small throughout the year. The good news is that the chaos made user experience a top priority, too. Just like publishers, the modern content consumer has grown tired of the platforms and, in turn, is willing to find content elsewhere. And thanks to the saturation of content we all battle in the digital realm, readers are all too wary of the ways publishers and marketers use cheap tricks to garner clicks.
Users are ready to consume quality content in a way that's quick, efficient, and less obtrusive than ever before. Still, publishers need to generate revenue. Which is why 2018 didn't just shake up the platforms. It also brought back a resurgence in search, inched us even closer to a world without ads, and ushered in the rise of subscription models.
And it all makes perfect sense. The subscription model eliminates the middleman — such as the platforms — so readers get the experience and content they want, and publishers get the cash they need.
We can count this as a win for digital publishing when looking forward to 2019. Because as the modern user matures, so does technology. And with more control being put back in the hands of publishers, the way we monetize advances in maturity as well.
The Success of Subscriptions
In the past, there was a stigma around paywalls that signaled they were only sustainable for large publishers with massive audiences already in place. But with today's users maturing, subscription models are more attainable for a variety of emerging media properties and legacy names alike.
In the UK, publishers felt their own pressure in 2018 over the uncertainty of the newly instated General Data Protection Regulation (GDPR). Even so, subscriptions served as a driving force of growth for digital revenue, accounting for a 15% increase in revenue over the previous year according to the Association for Online Publishing.
At RebelMouse, our clients are experiencing success with subscriptions as well. The Italian newspaper La Verità, has seen tremendous growth using RebelMouse's paywall system. In August 2018, their returning visitors increased by 74% and new visitors increased by 115%! La Verità is averaging 14 pages per visitor, far above the industry standard.
DiversityInc, which is also powered by RebelMouse, has increased their traffic and captured B2B revenue behind a subscription paywall. This model works well because people want to be associated with brands by virtue of what they stand for. Within 30 days, DiversityInc was able to increase returning visitors by 76% and new visitors by 25%.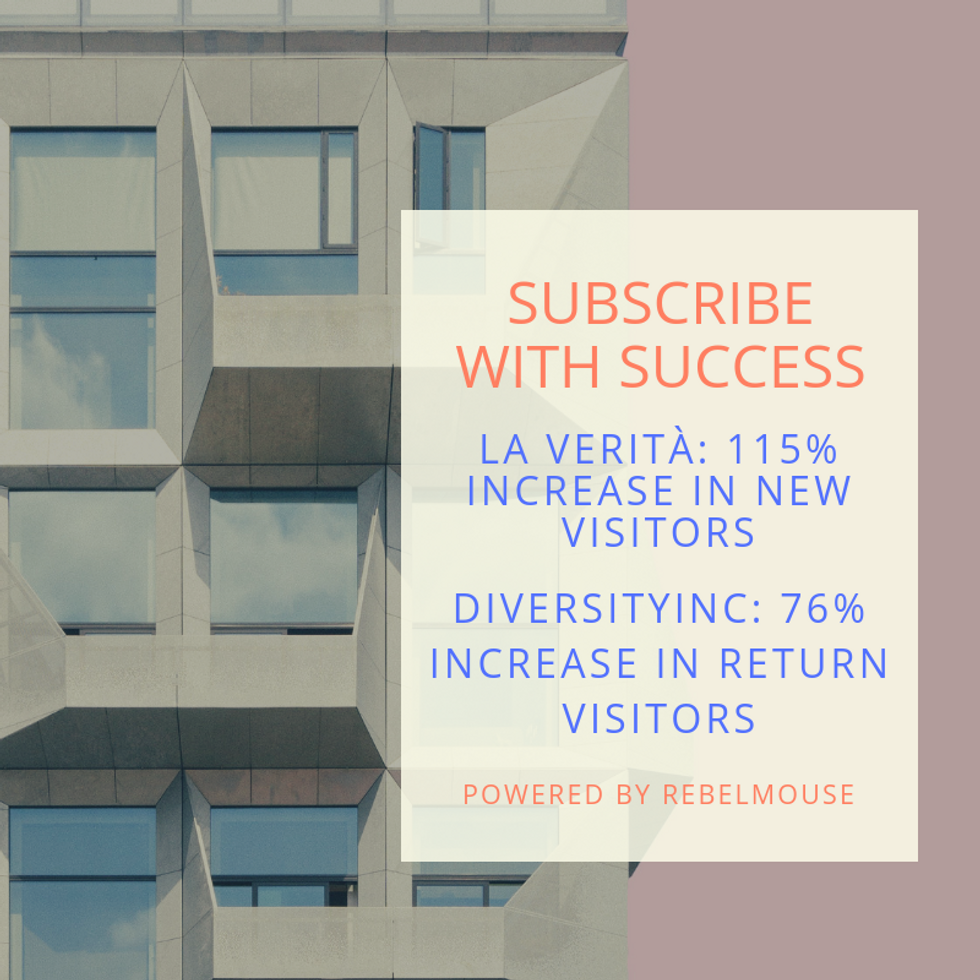 In late 2018, The New York Times made headlines at the end of its third quarter with a 200,000+ increase in paid digital subscribers, bringing their grand total up to three million. They also announced a content bundle partnership with Scribd, which could be an interesting trend to follow as subscriptions become more popular. Much like cable networks began to bundle channels into packages, digital subscriptions could follow suit.
Subscriptions and the Platform Puzzle
It's no surprise that the platforms are anxious to get their hands in the subscription game too. Both Facebook and Google debuted features in 2018 to make it easier for publishers to sell subscriptions. In April 2018, Google launched Subscribe with Google with a few partners, which allows a user's Google account to manage several different subscriptions.
A look at Subscribe with Google, from Digiday.
Facebook began testing subscription sales within Instant Articles, and reported in June 2018 that the beta program resulted in a 17% increase in signups. Facebook also held a boot camp throughout Spring 2018 with local news publishers on how to build a successful subscription business. So far, publishers' feelings about these programs have been mixed. While the new integrations may only bring about a slight lift in subscribers, there's a greater appreciation among publishers in knowing (and seeing) that the mega-platforms are making a conscious effort to help them out at all.
Is a Subscription Model Right for You?
When the digital publishing industry first emerged, there was an unspoken truth that content should be free. While this sentiment has definitely changed, the fear of losing users by gating content can be nerve-racking to publishers even in 2019.
It's important to strike the right balance between free content, subscriber revenue, and ad strategy. This is a lot to juggle for publishers who are already maxed out trying to create quality content worth reading.
An example of a subscription environment on DiversityInc.com (powered by RebelMouse).
Paywall API
RebelMouse's paywall API is available to developers to make it easy to manage subscriptions. Access to paid content is managed via subscriptions attached to email qualifiers. Click here for more information on our Paywall API.
Get Started Today
At RebelMouse, we can help you determine if a subscription model will benefit you, and then build a custom, easy-to-use paywall system that works for your site. If you're not publishing on RebelMouse, we also operate as a world-class creative agency that can help you navigate either the subscription business, or any other content strategy you may be building toward. Either way, request a proposal today and let's start working together.