Love, Hate, Belief, Disbelief: What Drives Shareable Content?
Curating viral content isn't easy. If it was, we'd all be doing it and there would be an infiltration of (even more) salt baes and polarizing political GIFs.
But there's a reason why certain types of content get the viral engagement every publisher craves. And it's not as simple as post and pray. Meaning you can't just post something and hope to the social gods you go viral. There's more data behind it. First, you have to understand what makes content viral. Then, how it spreads.
---
And at its core, it boils down to emotions.
Take a minute to think about the type of content that makes you want to click that "Share" button. You're definitely feeling something — maybe it's just amusement, maybe you're inspired, or maybe it's even rage. But it's enough emotion to make you want to share it with your own followers, so they too can experience what you have. This domino effect yields those crazy-high engagement numbers.
The emotions that perpetuate this notion to share lie somewhere on the quadrant of virality, where love/hate and belief/disbelief are strong enough to trigger some sort of actionable measure. It may seem like a simple idea, but mastering this is what truly takes your content from cute to sexy, and from shared to virally shared. It's what prompts new audiences to engage and become obsessed with your brand.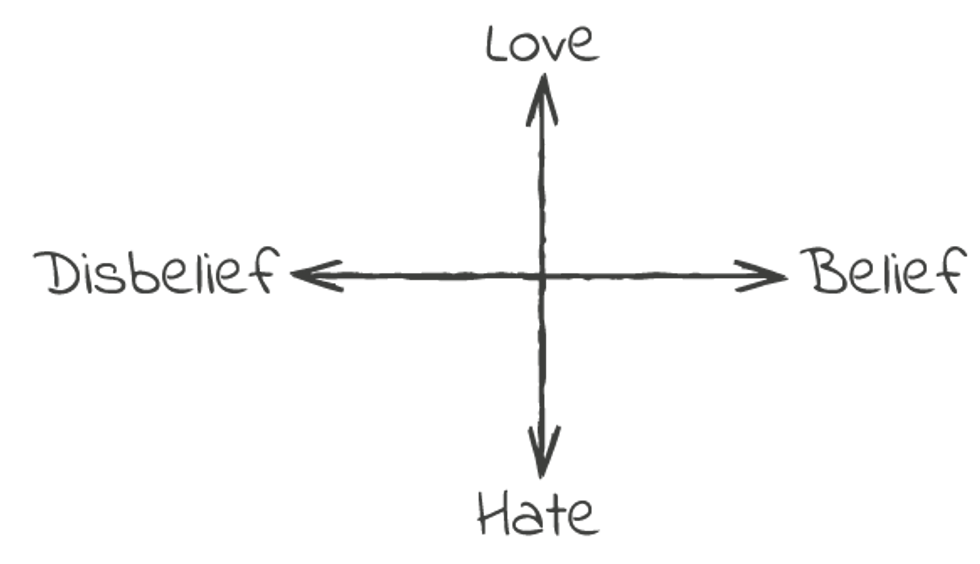 Quadrant of virality.
There's a reason why companies like BuzzFeed + UNILAD get thousands of shares on Facebook. It's not because they're guessing. They've tapped into our emotions, even if it's just pure distraction. Each of BuzzFeed's properties caters to a specific niche audience who's addicted to the content they post.
Even BuzzFeed's home page is categorized into "lol," "wtf," "cute," and "omg" — essentially slang terms for love, hate, belief, and disbelief. Here's a look at how each one of these emotions spread on social.
Love
Negative news seems to dominate the feeds. After all, it's naturally more attention-grabbing and fear-invoking — the same reason why your local news station's daily lineup leans more toward the grim side of things. It's easy to get caught up in the negative news phenomenon, but too much negativity can turn off your followers. Which is why there's been a recent pull toward positive storytelling, and an audience that's asking for it.
Virality and social sharing have a close relationship with positivity. Research presented by Fractl revealed love, happiness, and admiration as the top emotions that generate higher social shares.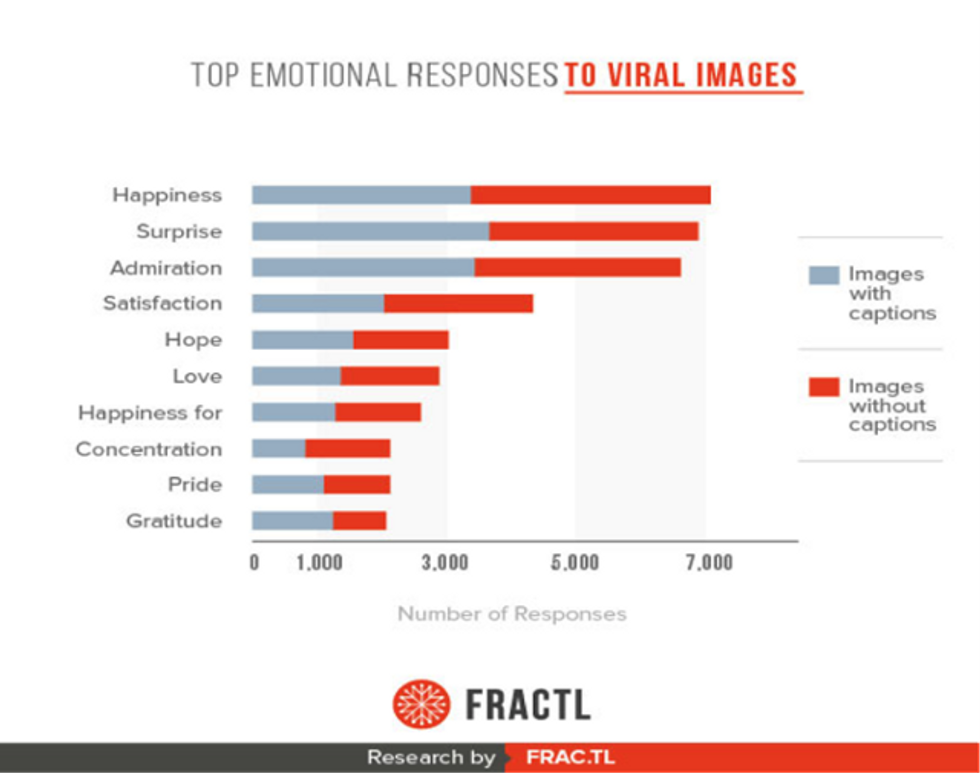 Fractl's study shows positive emotions drive social shares.
RebelMouse-powered Upworthy has adopted this appetite for positive, solution-focused news. So far it has granted them stellar engagement and a loyal following. The video below, titled "Fill My Basket," has over 32 million views.
Hate
We've all seen what happens when strong negative emotions take a front seat. The good news is that feelings of negativity can often fuel campaigns with a positive message. For example, the controversy surrounding The Academy Awards' lack of diversity has become a topic of discussion and a motivator for activism for years. A negative reception to the Oscar nominees being mostly white started the #OscarsSoWhite hashtag and sparked a years-long movement for change. This might not be a case of "any press is good press" for the Academy Awards, but it's certainly an indicator of how quickly a concept backed by passion can gain traction in the digital ecosystem.
It's been 5 yrs since I first tweeted #OscarsSoWhite, and not much has changed. Listen to my interview w/… https://t.co/4EJNwKvjuO

— April (@April)1581293147.0
Disbelief
Leave it to political news to best tug at our emotions of belief/disbelief. RebelMouse is proud to have launched Axios, a new media powerhouse has changed the way we digest political news. Their mission is to provide a clear, unbiased perspective which they deliver through snackable microposts. Each of these microposts taps into some sort of emotion of disbelief, key to grabbing the attention of their readers and leading to a substantial decrease in bounce rate and an increase in pageviews.
JUST IN: Troy Price, the chairman of the Iowa Democratic Party, has resigned. https://t.co/oS2Ys91YVP

— Axios (@Axios)1581548170.0
Belief
Belief can be just as powerful of a driving factor, as seen in the addition of the "Fearless Girl" statue on Wall Street. The statue was part of a greater push to pressure companies to add more women to their board in honor of International Women's Day. It gained widespread attention overnight, where pictures of women and young girls emulating the statue went viral. It started trending on Facebook, appeared all over Instagram and Twitter, and even got powerful influencers, like Chelsea Clinton, to weigh in. It restored hope and belief in change at a time when many believe women's rights are continually compromised.
"Sometimes, a symbol helps us become whole, and I think the 'Fearless Girl' is having that same effect. She is inspiring everyone at a moment when we need inspiration." —Bill de Blasio, Mayor, New York City
How Does Content Spread?
56% of all online adults use more than one of the five most popular social media sites regularly. Which means people live in various places across the social ecosystem. This is why your content should not only live on the platforms, but also be able to easily cross platforms, too. We live in a universe of creators who are passionate about every topic imaginable. It's up to publishers to tap into these passions to create environments of sharing.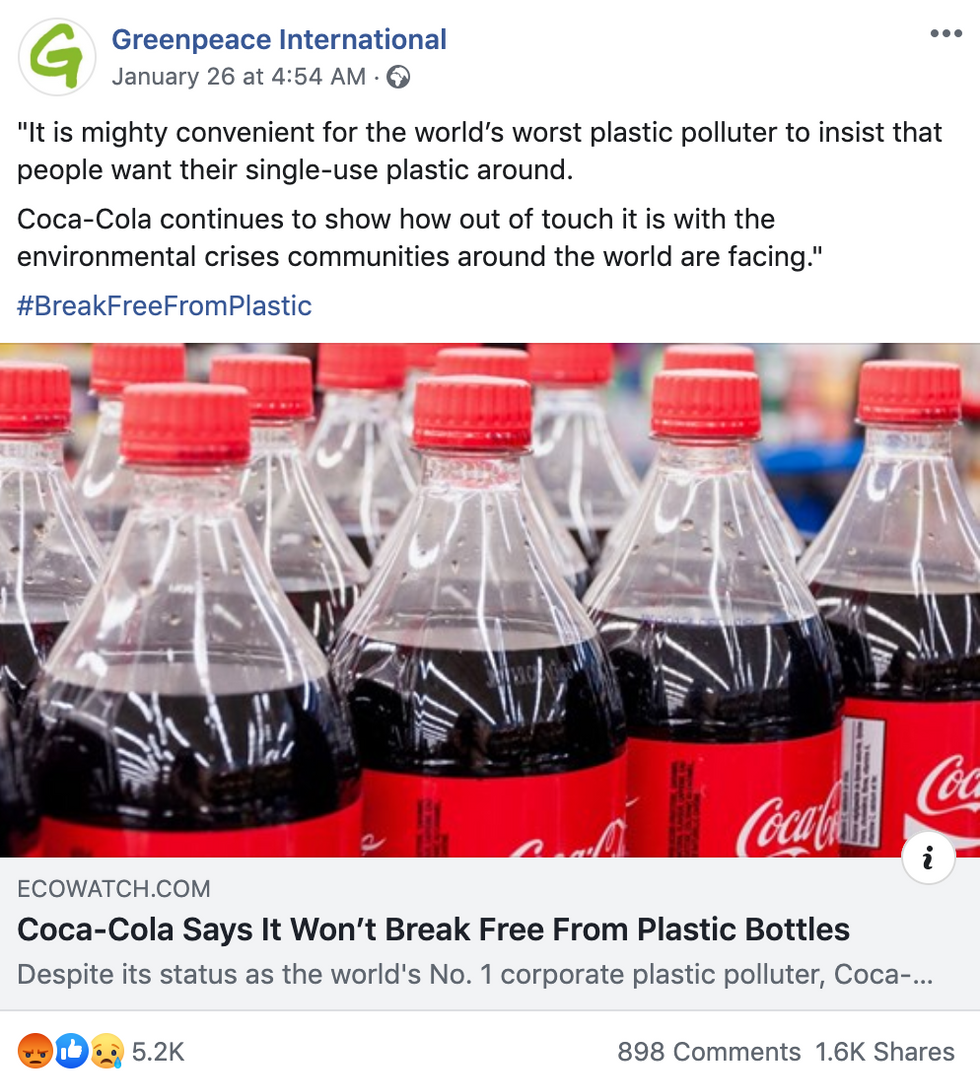 Above: Greenpeace International shares RebelMouse client EcoWatch's content. The passion around environmentalism fuels sharing and engagement.
The ability to cross platforms with ease requires a greater understanding of the current state of distributed publishing, as well as how to reach your maximum audience without sacrificing everything to third-party platforms. In an interview with Vanity Fair, Axios founder Jim VandeHei talked about the importance of prioritizing your audience's behaviors:
"The lust for really good content is rising, not falling, so that indicator tells me that if you can build a big, smart business and understand your audience, things are going to get better for you." —Jim VandeHei, Founder and CEO, Axios
Tapping into the emotions of your audience is only half the battle. It's not enough to publish great content. One of our RebelMouse mantras is, "If you put out great content, but nobody sees it, does it even exist?" This is why it's crucial to understand how content spreads. First comes feelings, then comes the data and tech to properly support its growth. Because harmony means your followers are happy. Happy enough to drive your engagement. Our RebelCMS blends next-generation technology — that launched properties like Axios and The Dodo — with a modern creative agency that designs content strategies built for growth and revenue.