Introducing Social UX for Media
RebelMouse doesn't just build ordinary websites. We're rethinking the role that websites play in today's dynamic infoscape. The feed has dominated social media for years now, but the website has never caught up. Now, RebelMouse gives you the toolset to not only distribute your content across platforms, but also ensure that users can easily move across platforms too. We call it Social UX for Media, and it's an absolute game changer.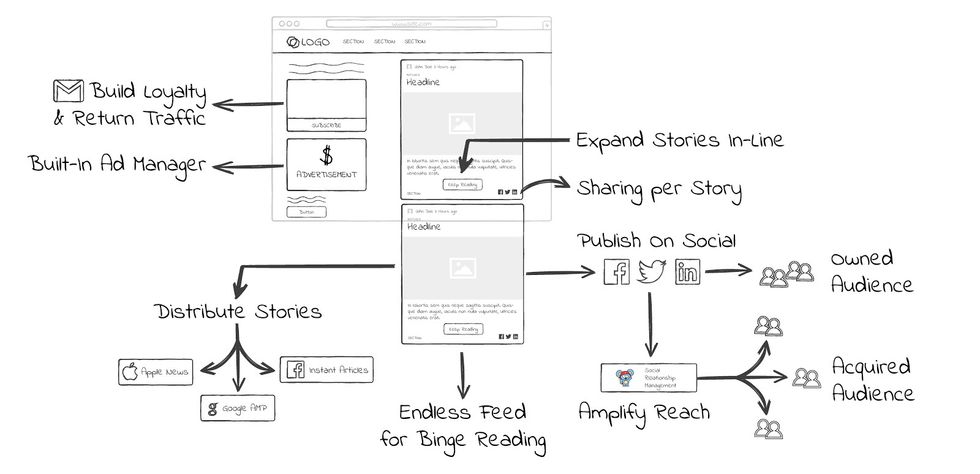 ---
The Infinite Scroller
The core of our Social UX for Media is the concept that a feed should be its foundation. Much like a user would scroll through their feed on Facebook, they should be able to feel immediately comfortable in consuming content on your site in the same way. Rebels Axios.com and Ecowatch.com are already benefiting from this new layout with profound impacts on stats like bounce rate, pages per session, social shares, and time spent on site.
To display editorial content in a feed, we use a few techniques to make it a seamless experience for your readers:
1. Endless Stories
Let your users binge your content. By serving up an endless feed of stories, they're more likely to read more than just the article they originally came for.
2. In-Feed Article Expansion
Expand/Collapse stories to bring the jump into the feed. Readers can consume an entire story without leaving the page.
3. Asynchronous Page Views
Take full advantage of binge reading with our SEO-friendly Asynchronous Page View functionality. This function loads post URLs as the reader scrolls from story to story without ever clicking through to an individual post.
4. Topic-Specific Sub Feeds
Further encourage post binging by linking to topic-specific sub feeds in each post. Providing a pathway for similar content will ensure that a user will consume the maximum amount of content per visit.
5. In-Feed Article Sharing
Share stories directly from the feed. Activate your readership to engage directly with your content to maximize reach.
6. Smart Newsletters
Build loyalty and return traffic using smart newsletters to add personalization to your site with little effort. Built right into your normal workflow, we provide you with the tools necessary to get the right content to the right sub-audience with a simple, fast opt-in process for readers.
7. Frictionless Monetization
The RebelMouse platform supports core monetization approaches that integrate into and enhance your site's user experience. Naturally integrate native ads and sponsored posts into your post feed to provide a smooth, unobtrusive ad experience for your readers.
Interested in learning more? Contact us or request a proposal today.