Summer 2017: 5 Social Trends of the Season
Platforms, users + publishers have a need for speed.
The world of digital has gotten so much more complex. As social bleeds into sites and vice versa, the ecosystem between digital and real life has become even more intertwined. It's even impacting elections.
If there had to be one word to summarize this summer on social it would be speed. Platforms are getting better about delivering content in non-intrusive formats that load before you can blink. Websites are also following the trend of usability and personal experience more than ever. Gossip sites that once delivered articles oversaturated with ads now publish on Instant Articles.
---
At RebelMouse, clients like Axios are melding the fast + content-friendly social experience with their own site and newsletters. It's a refreshing need for speed that can only continue into the next year.
Here are five trends that marked the summer for us:
---
1. Twitter: Time to Get AMP'ed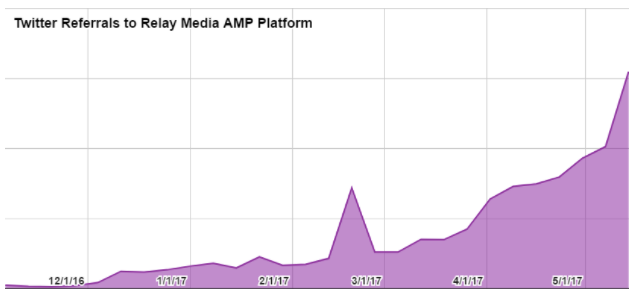 Relay's Twitter referrals spiked once the Google AMP rollout on Twitter was completed.
This summer, Twitter's rollout to Google AMP was completed. Twitter's native app now uses Google AMP links exclusively, eliminating the platform's previous, slower mobile viewing pages. AMP articles load two times faster than other links returned from Google search — and now Twitter is reaping those swift load times too.
Relay Media, a strictly AMP-based platform, reports that since the switch to AMP, sessions have spiked from 4% in December 2016 to 20% in June 2017. They also found that since the shift to AMP, 10–15% of their AMP visits are not sourced from Google search, but rather from platforms like Twitter.
The dramatic shift to a faster-loading experience means that publishers who aren't publishing on AMP are missing out on vital traffic. If your brand or media company can't iterate on AMP pages to learn how to effectively send traffic to your full site, you are increasingly crippled. We can help you integrate Google AMP for your content and optimize the feature to its full potential.
2. Facebook: Fighting Fake News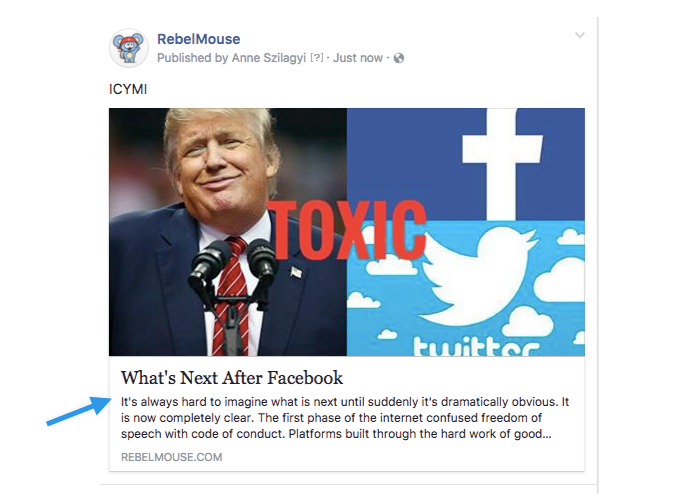 Facebook's metadata is no longer customizable.
Nobody has felt the brunt of being immersed in our complex digital ecosystem more than Facebook. Now combatting the fake news fiasco of the 2016 election, Facebook is taking steps to make sure that fake news doesn't ever spread as quickly as it did this past year.
Facebook changed the rules this summer for media on its platform. Facebook's latest update eliminated the ability to change an article's metadata — in other words, you have to keep and use the Open Graph (OG) metadata and image that was set up when the post was originally written. It's a way to ensure that misleading or polarizing information isn't inserted into the metadata causing it to be shared and spread incorrectly.
This change means your CMS matters more than ever. Our Facebook meta data is customizable right from our platform's Entry Editor.
3. Facebook: Instant Article Improvements
Also this summer, Facebook prioritized enhancing its own fast-loading experience: Instant Articles. Despite having a bit of a rocky start, Facebook made meaningful tweaks for publishers to get the most out of the feature. There is now more ad flexibility for publishers, and the platform announced that it will start prioritizing faster-loading experiences in the feed.
At RebelMouse, we're reaping the benefits of these positive changes to Instant Articles with every publish. We have clients experiencing up to $25 CPM — and even $35 — on Instant Articles now. They're achieving those numbers not through a sales team, but rather with effective content on sites that are perfectly optimized for social — and this absolutely includes a seamless Instant Articles configuration. Across the board, we're seeing sites hold a healthy $5 CPM a day, and some even regularly come in at $10.
We can share our monetization secrets with you anytime. We are a creative agency that offers Facebook Instant Articles configuration, implementation, and strategy services.
4. Instagram: The Kingdom Is Real
The days of only uploading beautiful pictures of your brunch and hiking trips are long gone. What started as a simple, social photo-sharing app has turned into a daily staple in the lives of 400 million people. Instagram continues to shatter new benchmarks and establish its dominance in the age of social, with no signs of slowing down.
Instagram's success hasn't gone unnoticed. Influencers, advertisers, and brands are going all in, capitalizing on all the eyeballs using the platform as yet another means of monetization. Publishers are piling into Instagram video, too. 2017 has certainly been the year that businesses take notice of Instagram.
The best part of Instagram is that it can be easily managed, optimized, and, most importantly, monetized with a small and dedicated team. This summer, we identified a strategy on how to "do" Instagram.
In addition to our Instagram growth hacks that anyone can use, the RebelMouse CMS also makes finding and maintaining social connections on Instagram easy.
Our social amplification tools were built in the age of the influencer, not before. So they are constantly changing and adapting to the industry's current climate.
5. SEO: I'm Still Here
Even though it's become social media's world and we're merely along for the ride, SEO still has a very important part to play. In fact, the two work together. After all, it's an age-old question that's haunted digital marketers for years: Does social media impact search rankings? There's a varying degree of answers, but we've nailed down the details.
Social has changed every aspect of digital publishing. Still, you can leverage social to win in today's age of search. Search is now a space for solutions, rather than a place for discovery and exploration — those now all happen on social. But both need to work together and do so quickly. We've mastered the best ways to leverage social to improve your SEO in this free guide.