How to Submit a Sitemap in Google Search Console
Google is the most commonly used search engine, and if you have a large site — or are working on making it large — you definitely want your sitemaps submitted to it.
A sitemap is a file where you list the webpages of your site that tells Google and other search engines about the organization of your site's content. Search engine web crawlers like Googlebot read this file so your site gets crawled intelligently.
---
Your sitemap can also provide valuable metadata associated with the pages you list in the sitemap: Metadata is information about a web page, such as when the page was last updated, how often the page is changed, and the importance of the page relative to other URLs on your site.
If your site's pages are properly linked, Google web crawlers can usually discover most of your site. Even so, a sitemap can improve the crawling of your site, particularly if your site meets one of the following criteria:
Your site is really large. As a result, it's more likely that Google web crawlers might overlook crawling some of your new or recently updated pages.
Your site has a large archive of content pages that are isolated or not linked well to each other. If your site pages do not naturally reference each other, you can list them in a sitemap to ensure that Google does not overlook some of your pages.
Your site is new and has few external links pointing at it. Googlebot and other web crawlers crawl the web by following links from one page to another. As a result, Google might not discover your pages if no other sites link to them.
Your site uses rich media content, is shown in Google News, or uses other sitemap-compatible annotations. Google can take additional information from sitemaps into account for search, where appropriate.
Below is the list of sitemaps currently supported on RebelMouse:
/sitemap.xml (for published posts)
/sitemap_news.xml (for posts published since two days ago)
/sitemap_video.xml (for published posts with video in the lead media)
/sitemap_pages.xml (for layouts)
/sitemap_sections.xml (for sections)
/sitemap_custom_pages.xml (for intersection)
/sitemap_section_content/section.xml (for a section — example)
/sitemap_section_content/parent_section/child_section.xml (for a child section — example)
/sitemap_tags.xml (for tags)
Regular sitemaps, news sitemaps, and videos sitemaps don't include private posts, posts with direct link outs, suspicious posts, and excluded posts from search results.
Images are also included in regular sitemaps when the following site extra is enabled:
This is such a powerful tool that's so easy to implement. Here's how:
Sign in to Google Search Console
You must have a Google Account in order to connect your site to Google Search Console (formerly known as Google Webmaster Tools). You can sign in here.
Choose your site in Google Search Console and click the Sitemaps button at the bottom of the page.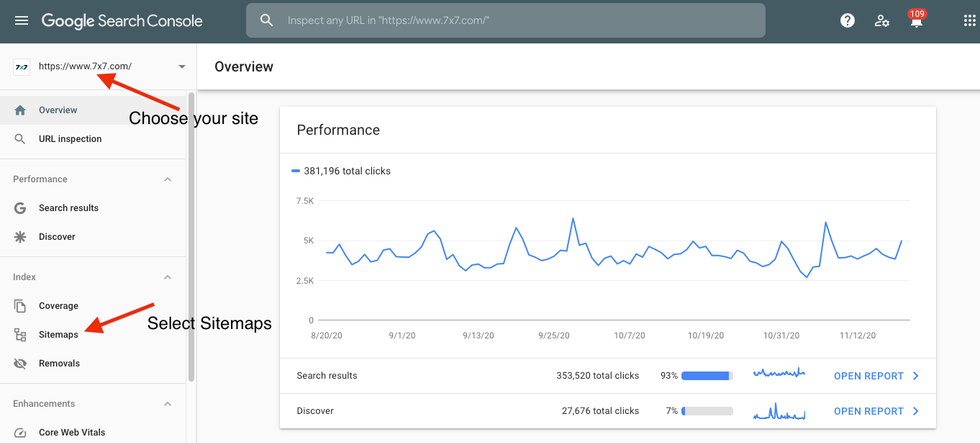 Add a new sitemap and click the blue SUBMIT button.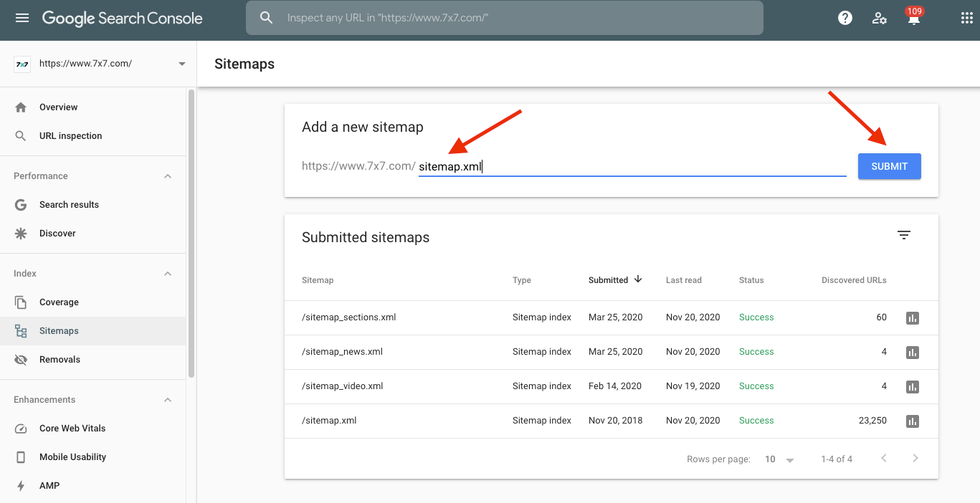 You can enter different types of sitemaps as needed. You can see if they have been successfully submitted in the Status column.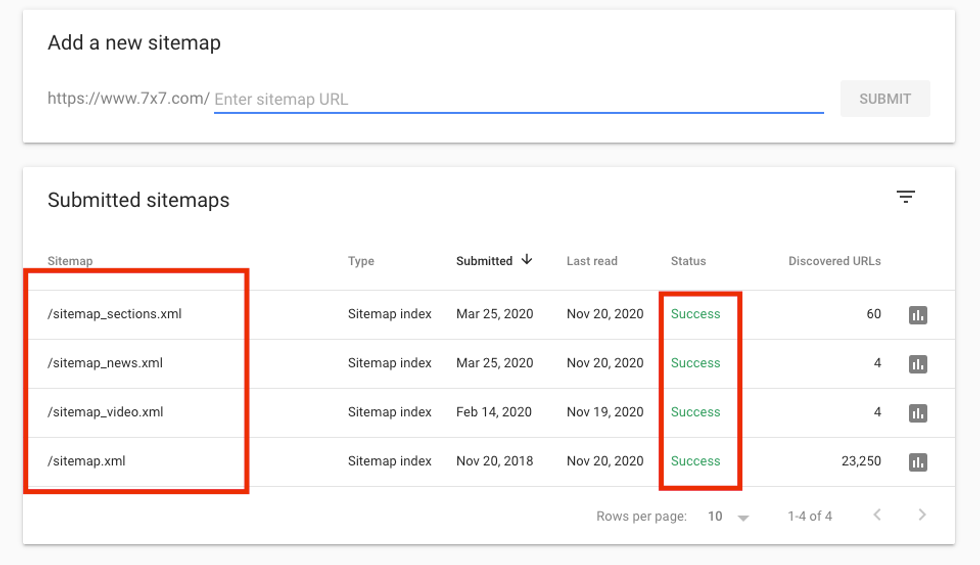 At some point you may also need to remove a sitemap. On the left-side menu in Search Console go to "Sitemaps" and select the sitemap you would like to remove: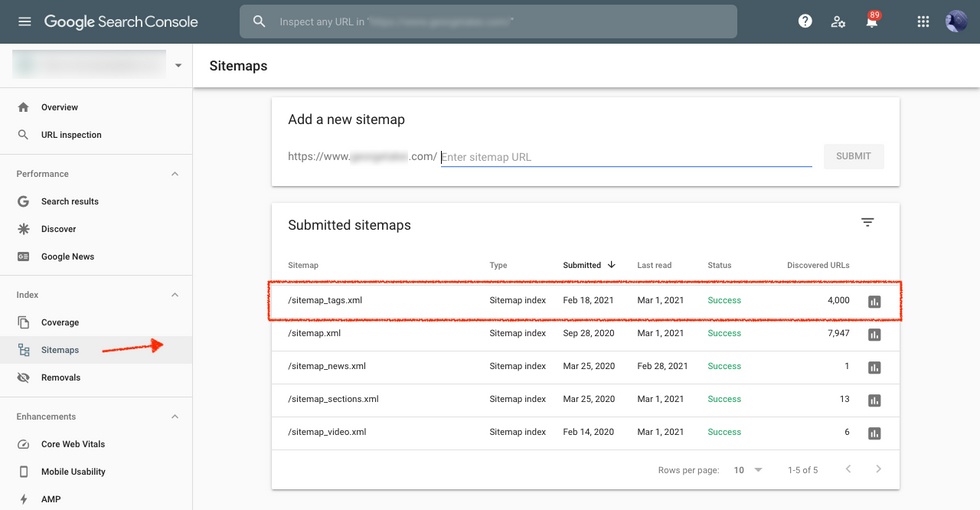 Then just click the 3 vertical dots on the upper right and hit the "Remove sitemap" button:

More on Google Search Console
Click here to learn how to set up your Google Search Console.
Click here to learn more about our SEO Keyword Win feature, which shows you what keywords you've won in the search engines so that you can adjust your URL slug and related articles to improve SEO even further.