How to Know You've Got Viral Content Before It Happens
Velocity Alerts put your content on the fast-track to viral success!
It's awesome when your content takes off and starts to go "viral." But what if you could know the moment your content starts trending so you can take advantage of the momentum and push it even further?
This is where Velocity Alerts, unique to the RebelMouse platform, come into play. With Velocity Alerts, your team is notified when a post starts to trend so you can "add fuel to the fire" by featuring the post more prominently on your site, triggering newsletter alerts, or promoting on social.
---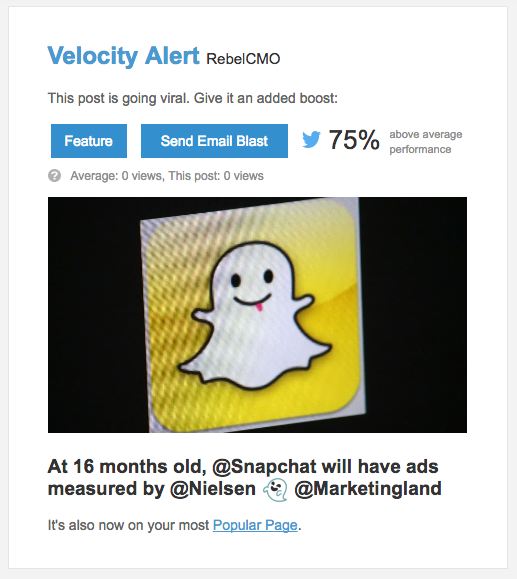 How Velocity Alerts Work
Velocity alerts are automatically emailed to you, and they're determined by tracking how quickly your content is engaged with on your site and on social networks that you've connected to your RebelMouse account.
When you post content, we monitor the average engagement for the first minute, every minute for the first 10 minutes, every 10 minutes for the next two hours, and every hour for the next 24 hours.
We track performance compared to the time of day and the day of the week, so content that is published during a time or day that typically has low engagement rates can be detected early.
We show on which social network (Facebook, Instagram, etc.) your post is going viral and by how much it is over-performing.
We allow you to quickly optimize by giving you the option to feature the content on your site or send out an email blast about it.
Here's an example of a Velocity Alert for a social post: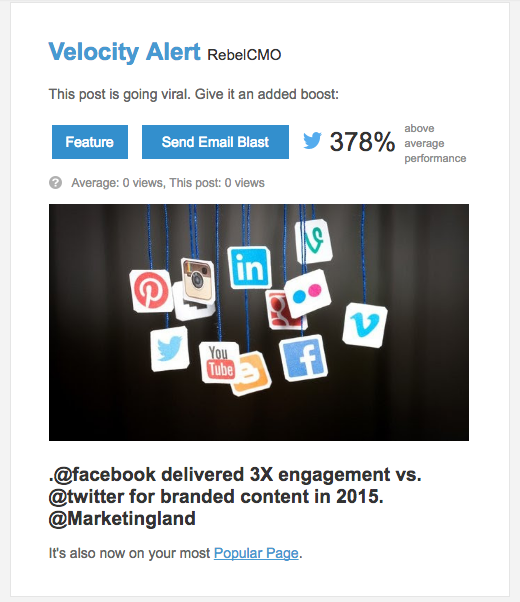 What You Should Do When You See This Alert
Velocity Alerts are intended to point out that a piece of content is gaining popularity fast, instead of just waiting until it has become really popular for the editorial team to notice.
Once you get a Velocity Alert, there are a few things you can do:

Consider boosting that post on social. This is the best time to spend a little money on a viral hit.
Consider sending out an email blast about it — it's working with an audience that you are already reaching and you might be able to amplify it.
Consider doing an ICYMI follow-up post on social. It's a great strategy to reach new audiences that you may have missed in the first place.
Consider spending a little time emailing the link to key traffic partners and outlets.
Here's an example of a Velocity Alert for a site post, with key benchmarking data: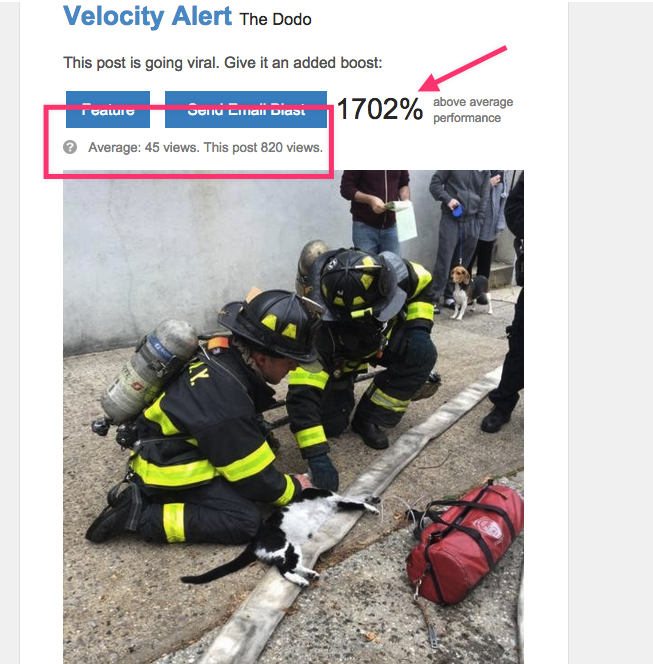 Getting the right information early is very important when creating a viral hit. Velocity Alerts can give your team the advantage by getting you the information you need early, allowing you to get the most out of your content.
Join RebelMouse for more viral moments.
Already have RebelMouse? Here's How to Set Up Velocity Alerts
---
Step 1: Head over to your Account dashboard from the hamburger menu.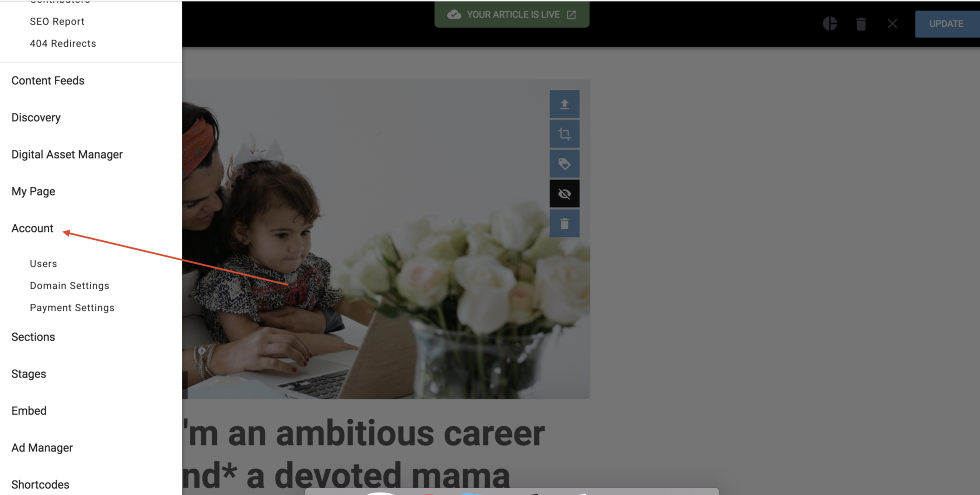 Step 2: Click on 'Email Notifications.'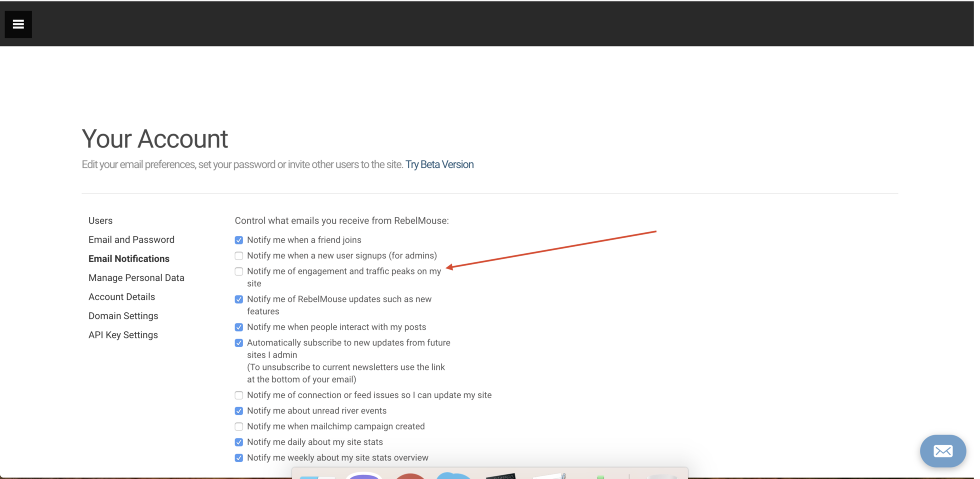 Step 3: Click the check box marked 'Notify me of engagement and traffic peaks on my site.'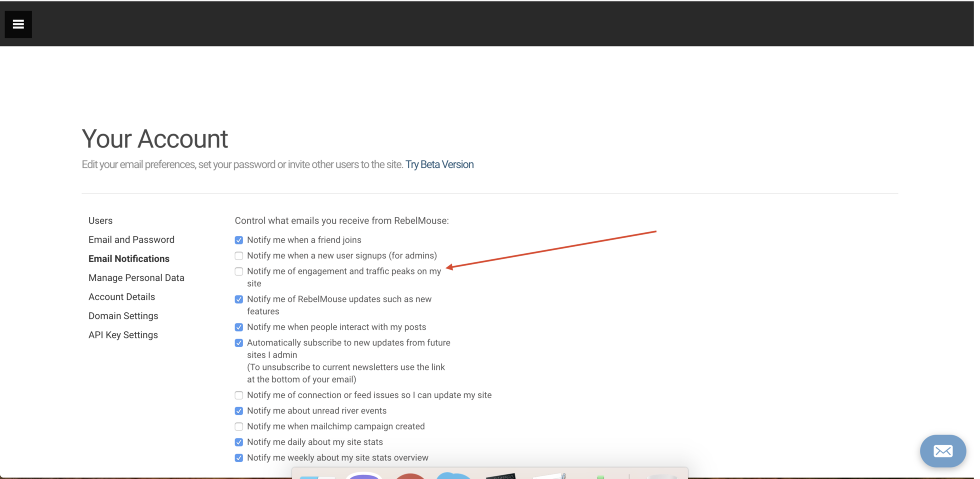 That's it! Happy viral moments, Rebels!