Choose Your URL Structure With Our Permalink Dashboard
Keep your URLs organized with an all-in-one interface
Having an organized URL structure makes it easier for your readers, your team, and Google's web crawler to navigate your site.
RebelMouse's Permalink Dashboard gives users the ability to change the URL structure of their articles and particles. Append r/dashboard/permalink_settings to your site's URL in your browser's address bar to quickly navigate to the dashboard.
Here's what the Permalink Dashboard looks like:
---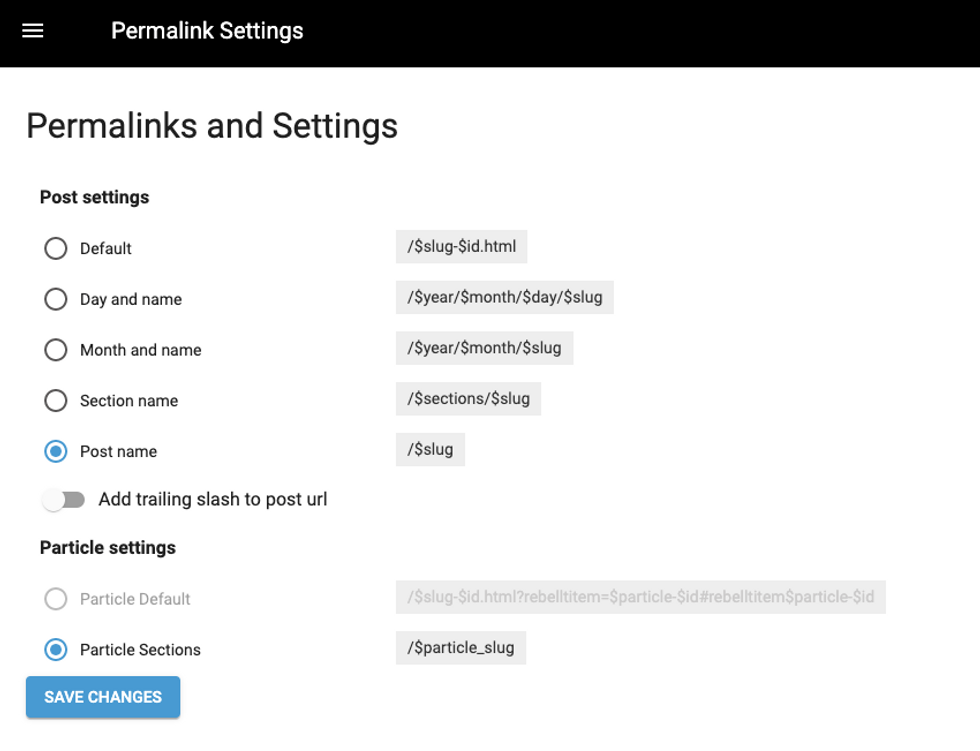 For permalinks in posts, the following options are available:
Default: slug-id.html
Day and Name: /year/month/day/slug
Month and Name: /year/month/slug
Primary Section Name: /sections/slug (this setup is not recommended)
Post Name: /slug (This is the most commonly used option.)
You also have the option to add a trailing slash to the URL (i.e., site.com/post/ vs. site.com/post)
For particle settings, the following options are available:
Particle Default: /slug-id.html?rebelltitem=particle-id#rebelltitemParticle-id
Particle Sections: /particle_slug (We recommend that you use this option for SEO benefits.)
Please note that we can also set particle slugs to either not change during scroll, or to have each particle link point to the main article canonical URL. We recommend this setting as using particle slug URLs can affect Core Web Vitals negatively. Please contact your account manager or email
support@rebelmouse.com
if you would like to make this change.
Here's a screencast of how it works:
We set URL patterns before your site is launched on our platform in order to avoid any redirection issues. However, our team can help you safely switch your site to any slug pattern listed above. If slug patterns are changed post publish, those existing links will automatically be redirected to the correct, new URLs. Be careful though! It's recommended not to simply update your permalink structure without a carefully thought-out plan.
Please note that the permalink settings on AMP articles cannot be changed. By default, an AMP URL will use the following format:
https://www.domain.com/amp/slug-id

If you have any questions about how to use our Permalink Dashboard, email support@rebelmouse.com or talk to your account manager today.