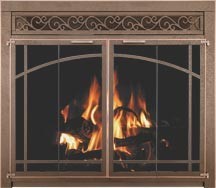 www.southhaventribune.net
Wood Heating Devices Help Beat Spiraling Energy Costs
Published 06 June 2014
Homes and businesses alike must budget an ever-increasing amount to cover heating costs. Gas, oil and electric prices have increased dramatically in recent years, and there is every indication that the upward spiral will continue far into the future. As costs increase, home and business owners are looking for alternatives to lower budget-breaking heating costs. Wood Heating Solutions, a local wood heating company, provides clients with excellent ways to drastically reduce heating bills, even in the worst winters.

Where firewood is readily available, Wood Heating Solutions offers clients arguably the best option for reducing their dependency on traditional gas, oil or electrical options. While home or business who own their firewood source save the most, even those who must purchase firewood or pay for cutting privileges are still in a position to save money. Of course the return on investment is longer for those who must purchase wood, but the volatility of energy costs, and how that may affect future heating costs, must be factored into any decision making process. Heating professionals like those at Wood Heating Solutions Outside Wood Stoves provide a wide array of wood heating options.

Outdoor wood furnaces, for example, have been an excellent heating option for many years. The units are installed outside the home, eliminating the threat of chimney fires and the need to move large amounts of firewood into the home. Outdoor wood furnaces are available in a wide variety of sizes to heat everything from modest homes up to the largest homes in the area. They are also available in models that make use of already installed forced air, hot water and radiant floor heat systems. Retro-fitting of existing homes is routine, with heating professionals trained to handle virtually any issues that might arise.

Of course, another option for homeowners is a pellet stove. Pellet stoves, like other high quality heating devices, are available in different styles and sizes to meet heating and budget needs. Pellets, like firewood, rely on renewable resource, not finite fossil fuels, ensuring there will be a fuel supply in the future. Pellets are typically sold in bags that most homeowners can easily handle, and require only minimal maintenance to keep operating at peak levels. While less expensive models may not include all the amenities, better units are stylish and include thermostats to keep room heat at ideal levels.

Contacting a local wood heating expert is the first step toward reducing home or business heating costs. The professionals can help evaluate actual heating needs, whether or not connecting domestic hot water needs will add even more value, and determine the cost of the required system. For more information, visit Wood Heating Solutions.com.