Altimeter Group founder Charlene Li talks Twitter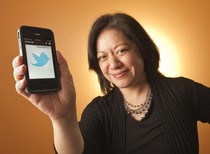 "
Twitter is my informal focus group."
Badgeville's Marketing Director Adena DeMonte talks Twitter for business
"
we look to social media as our "eyes and ears" on what influencers are talking about, and use this to develop our content marketing programs."
Kleiner Perkins Executive in Residence on using Twitter 'round the clock
"even when I'm running on the treadmill, I'll often look at my Twitter feed so I know what's going on in the world. I check it when I have a break. I always check it."
Andreessen Horowitz partner and Paperwheel CEO Elizabeth Weil talks about being in Twitter's first name club
"
I don't even know why I signed up with the name "elizabeth" -- that wasn't my normal screen name anywhere. I tweeted once. Then was dormant for two years."
Box Inc. Director of Communications Ashley Mayer talks about Twitter
"
More than anything, Twitter helps us engage with our customers at Box, and hopefully attract new ones."
Santa Clara University professor Terri Griffith on networking in 140 characters
"
we all have to be thinking about how we present ourselves as contributors into whatever community we are a part of."
Glassdoor PR director Samantha Zupan on Twitter benefits and Justin Bieber
"
We definitely look at engagement but at the larger, strategic goal of Twitter in our business, is that we see it as a valuable platform in which to communicate. "
Public Edge CEO Sarah Granger on what hooked her on Twitter
"This was a real-time tool that really provides value and it doesn't take too much time or effort. That's really what hooked me."
BeMoRe's digital media consultant on generating leads from Twitter
"
Twitter has actually been the No. 1 driver for new clients."
More posts are loading...