Big bags come with big smiles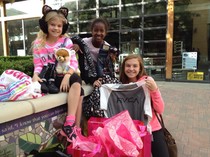 Sometimes shoppers also need a quick break. Sisters Alexis and Katie Jeamby of Phoenix, AZ and their friend Hana Bachelis inspect the deals they found shopping at the Simi Valley Town Center. Alexis, 15, walked away with some clothes from Victoria Secrets, while nine-year old Katie got a pair of sparkly silver combat boots at 60 percent off at Justice. Hana, 11, also get some jeans at 40 percent off.
"I'm all set on clothes... at least until Christmas," Alexis said.
#vcblackfriday