TuneUp Utilities 2013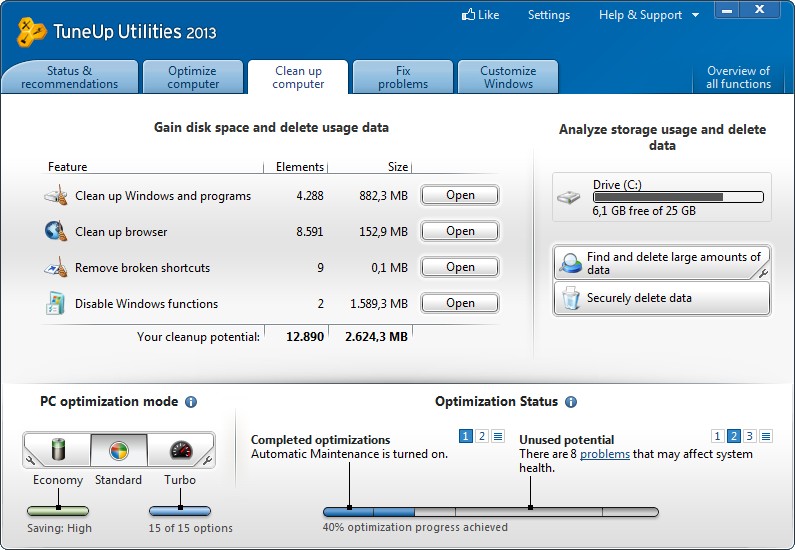 TuneUp Utilities 2013 Cleans and optimizes PCs like never before:
Removes system-clogging clutter 6x more effectively
Removes thousands of accumulated temporary files of 150 programs
Rids 30 Windows-Features of system-clutter fast and safe
The result: Gigabytes and gigabytes of unnecessary files removed, a faster and more reliable PC
Deletes data trails from 25 browsers
Removes browser traces and protects your privacy – automatically!
Cleans up 25 browser, including Internet Explorer, Google Chrome and Firefox
Fixes error messages when loading websites


Real-time tuning for maximum performance
Automatically and intelligently limits the CPU usage of performance-hogging applications
NEW: Allows you to put resource-consuming programs on "standby", increasing performance immediately
Shows you exactly which programs slowed down your PC
Removes broken shortcuts
Finds and deletes old shortcuts and lists of recently used programs
Cleans up your Windows® and many programs safely
Helps to avoid error messages when working with your favorite programs
Clean up your registry
Cleans your Windows® registry and solves problems with Windows® and third-party software
Repairs structural defects
Makes editing the Registry a breeze


Massive performance loss and unbearable slowdowns don't just occur on ancient Windows® XP machines. As a matter of fact, they oftentimes hit even the fastest Windows® 8 laptops and desktops around. But not anymore!
TuneUp Utilities 2013 takes your PC to the next performance level, guaranteeing lightning-fast application load times and extended battery life that can endure even the longest trips.
The perfect PC cleanup in less than 5 minutes? Now it's easier than ever thanks to TuneUp Utilities 2013 which removes thousands of megabytes of Windows® clutter while refreshing your registry and deleting massive disk space hogs. The all-in-one maintenance of TuneUp Utilities 2013 makes sure your PC becomes cleaner and faster than ever before.
Keeping your data private and secure is crucial. TuneUp Utilities top three tools enable you to restore accidentally deleted files, clean out data traces from your hard disk, and securely wipe sensitive files in order to prevent them from falling into the wrong hands.
Tired of calling up PC experts or costly tech hotlines? Then help yourself with TuneUp Utilities. Its easy-to-use wizards and diagnostic tools help you find vulnerabilities, errors, and your PC's untapped performance potential. With TuneUp Utilities you'll get rid of the most annoying Windows® problems of all time with just a few clicks and push your PC to perform better than ever.
Bored with the same Windows® themes, logon screens or icons? Ready to give your PC a makeover? TuneUp Utilities 2013 offers unique customization possibilities that'll transform the same old and boring Windows® XP "Luna" and Windows® 7 "Aero" design to something new, sleek, and exciting. And once you're done with that, TuneUp System Control helps you adjust more than 400 hidden Windows® and program settings.
With its elegant and powerful Start Center interface, TuneUp Utilities guides users through all their optimization steps and helps them solve issues with their PC, Windows®, or 3rd party software. Thanks to our brand new Settings Center, you'll also have instant access to the most important settings and update features of TuneUp Utilities 2013. And once you're done, the Optimization Report provides you with a complete history of problems solved, tuning steps performed, and data clutter removed.
tinyurl.com