Have you ever come across a special shop that just seemed to have an aura of peace and goodness? If so, you have probably happened upon the Treasured Angels Store. Everyone should have the opportunity to experience the essence of the angels which encompasses the joy, comfort, peace, and inspiration. Here you can purchase angel sculptures, angel cards and prints, angel jewelry, crosses, and pins, and a whole lot more. One of the roles of angels is to protect and guide humans throughout their life as well as carrying out the tasks of God. You can choose practically any item from the angel inventory so that you will have a daily reminder of the angels in your life.

The store has a wide selection of archangel sculptures. If you are intrigued by archangels, there are statuettes of the archangels Michael, Gabriel, Raphael, and Uriel. Many people may know of the archangel Michael from the 1996 film of the same name starring John Travolta as the angel. Although the movie is a fantasy, it may have encouraged more folks to look for more information on the angel. According to the New Testament's Book of Revelation, the archangel Michael leads the armies of God against Satan's forces. Michael won! This is hinted at in the movie when Travolta sees the bull and engages the animal in battle. The other archangels also have similar interesting stories.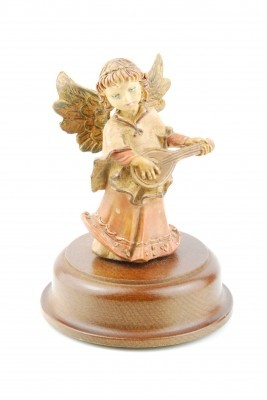 The angel store also has a nice selection of Angel Paintings, prints, and cards. Edward Robert Hughes (1851 - 1914) was an English painter who created an intriguing work of art entitled Midsummer Eve. Midsummer eve itself was associated with supernatural occurrences in Victorian England such as fairy power. The picture itself depicts a young woman at dusk surrounded by fairy figures. This lovely painting is available as a 16 by 20 inch matted print or as a 20 by 28 inch poster. The print is intended to inspire the imagination in the viewer. You can also order a box of 88 beautiful Angel Wisdom Cards that are angelically inspired and appropriate for many different occasions.

Finally, what good is a Treasured Angels Shop without a selection of jewelry, crosses and pins? There are delightful angel sports pins featuring young angels playing a variety of sports. The types of sports include soccer, football, tennis, baseball, fishing, golfing, lacrosse, bowling, and hockey. There are many other fine pieces of jewelry such as gold or silver earrings and gold or silver pendants. You can also order a CD or a tape of angel music. In Company of Angels is all original music that can help bring angel energy into your life.