True Story: Set Clear Goals and State Them in Public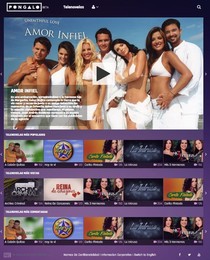 "I didn't realize how much advantage you can get from setting clear goals and stating them outright, in public." So says Jorge Granier, CEO of Latin Everywhere with an example to prove it.
He explains that barely six months ago, radio host, author and small business expert Barry Moltz interviewed him for a Canon MAXIFY promotion and asked him to highlight his next big goal for the next year. Jorge responded with two goals, not one: doubling the audience from 50 million to 100 million views per month; and going from less than 5 million to 10 million subscribers.
And, as it turns out, he's close to exceeding those annual goals in just six months. Latin Everywhere has –
already hit 80 million views per month; and
already passed 8 million subscribers.
I interviewed Granier last week to follow up on that earlier promotion.
"The interaction with Canon made things much easier," he said. "We've grown from six people then, in one office, to become a bi-coastal company, with offices in Los Angeles and Miami, with headquarters in Miami." That growth includes not just the world's largest Spanish-language streaming video site, pongalo.com; but also crossovers from Spanish to English, such as the huge success of Jane the Virgin; and one of the strongest commercial YouTube channels (also named pongalo on YouTube.
In a series of major growth moves, Latin Everywhere started with one of the first big commercially successful YouTube channels carrying mostly telenovelas. As it grew, focusing on streaming content, it also absorbed a library of Mexican original content for the channel, and purchased Inmoo, a web streaming platform, for an undisclosed amount.
Latin Everywhere is a great example of intersecting streams of business. Its position of dominance is based on focused streaming of Spanish content, in multiple markets including the U.S., Mexico, and Latin America. That generates revenue streams including subscriptions and advertising, sparked by careful attention to user data and preferences, to allow tailoring markets for advertisers. And it also offers Spanish content through amazon.com, Hulu, Netflix, and iTunes. And from there it's just a step to curating content and picking opportunities to create new English content from original Spanish material. Granier is the producer of Jane the Virgin, which recently won a Peabody award and it's star, Gina Rodriguez, a Golden Globe award, and is a remake of the successful Spanish-language "Juana la Virgen." It's the first of several, with English language versions of "Mi Gorda Bella" and "Isla Presidencial" coming soon. And Latin America often already has rights negotiated, which eases some of the work of moving into the new market.
Asked about Canon, Granier said his involvement with the previous promotion "made a big difference. And they gave us a really nice printer (MAXIFY model number MB5320), which really helped. As we became a bi-coastal company, with offices in Los Angeles and Miami, the printer's scanning and networking capabilities made it easy to work closely from two different locations. We could react immediately to documents, read them in real time, sign, scan, and send, all fast."