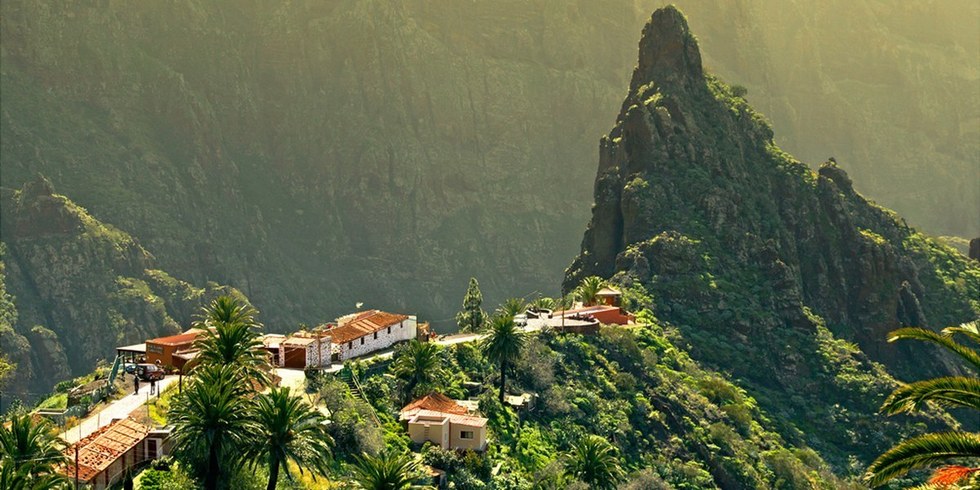 The Stunning Village Of Masca
There are many wonderful things to see when you are visiting the Teide National Park, including the dramatic volcanic scenery. Just as La Gomera offers lush green, clouded forests. Yet, the best is truly yet to come.
We had been driving throughout the northwestern corner of Tenerife, which is a greener, cloudier portion of the island than the more popular, barren and sunny portion to the south. There is still a great deal of sunshine and blue skies in this area as you follow the road that snakes up the mountains to the village known as Masca. Here, you will find scenery that is bathed in beautiful bright light, becoming more magical the higher you go.
The village here is home to about 100 people. Until more recently, it had only been accessible via a dirt track. There is now a twisting, narrow road that features many hair-raising bends that connect Masca, along with a number of smaller mountain village areas like Buenavista del Norte to the north and Sanitago in the south.

Thought to be the most beautiful village in Tenerife, this is a popular stopping point for most coach excursions. The view that you have from the village down through Masca Gorge is truly spellbinding. This is also the beginning of a gruelling, yet spectacular three hour hike down through the gorge to the beach, where it is just perfect for swimming in the clear, crisp waters. From this area, you can climb back up, or you can get a boat to bring you to Los Gigantes, then a bus that brings you back to Masca.

The boat and bus times are known to be infrequent and you should check on them carefully prior to setting out. You will find many details along with photos that show the hike on the website, Tenerife Guide. You will also find an amusing account on driving the roads to Masca on the blog, Real Tenerife.
During my short visit to Masca, I fell in love with the region. I would love to make my way back through to hike the gorge, as it is a wonderful way to see all of the natural splendour that Tenerife has to offer.
There are some excellent Tenerife excursions to this beautiful part of the island and you'll find there is so much more to see and explore outside the main resorts.