Add Content from Any Hashtag or Account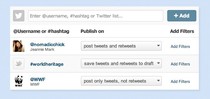 In our Configure Feeds, you may indicate from which platform and account the updates will be taken from.
You have the option to add your own accounts or any hashtag and all the public updates will be added on your site. 
Rebel Alerts: A Newsletter for Every Rebelmouse Site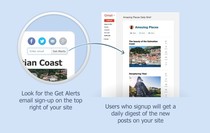 We're incredibly excited to announce that we'll be rolling out Newsletters this week for all RebelMouse sites. You and anyone in your audience who signs up will get daily emails with new activity!
The Easiest Way to Have a Daily Newsletter. Just keep being awesome on Twitter, Facebook, Instagram or any other network you have connected to RebelMouse and you'll have a great newsletter that's easy to share. 
Anyone Can Subscribe on your RebelMouse Site! Look for the email sign-up "Get Alerts" option on the top right of your site. Tell your friends and followers to sign up if they want to receive these updates. 
Read more...
Blog Directly on RebelMouse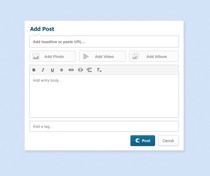 You can blog directly on RebelMouse. We've recently added new fonts for full-length posts that make it easier to read directly on the page. 
Here are some ways to start:
Add more to any tweet or link you've shared. Edit any post on your site to turn it into a full-length blog post you can share with anyone! Often times a link inspires us to write more and this is an easy way to do it on the fly.
Read more...
How Can I Use RebelMouse?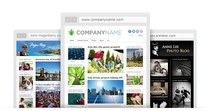 RebelMouse is the first digital publishing platform that is fully wired for social. Its solution enables brands, media companies and individuals to create vibrant content experiences that build communities and continually reach and grow audiences across the social web.
A Front Page for your Blog. RebelMouse can create a dynamic, social front page for your blog that showcases not only your blog posts but what you're sharing on social. Check out BenParr.com and Casiestewart.com for examples. This is possible with our Embed code or Wordpress plugin. 
Read more...
How to Embed RebelMouse on Your Site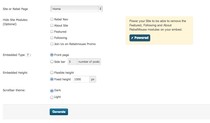 Embed RebelMouse on your site with our easy embed functionality. In your dashboard, you'll find the embed tab where you can get the code to add RebelMouse anywhere you'd like!You have a few options to consider:
blog.rebelmouse.com
More posts are loading...