Welcome to the Spring 2015 Science Club!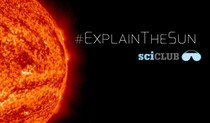 Science Friday's Science Club is an invitation to go out, do science, and share it with others. For this science club, we're mixing up how SciFri normally works. We want you to explain something to us.
Something big.
Really big.
Ready? We want you to explain to us what the Sun does.

Learn more at sciencefriday.com/scienceclub.