Using Tags on RebelMouse
RebelMouse has a powerful taxonomy structure that allows you to use multiple types of organizational tools. Included in these tools are tags, which allow a more fluid, open structure of organization than traditional sections or verticals allow.
---
What Are Tags?
Tags are simple words or phrases that are related to the content in an article that are attached as metadata to the post. For example, an article about the Big Lebowski might have the tags "Coen Brothers," "Jeff Bridges," "Film," and "Lebowski." These are all parts of what the article is about, and can identify the article's overall component pieces.
Tags are an important part of your site for two main reasons: SEO organization and an intuitive taxonomy for your content.
In terms of your site's architecture, tags create structure without requiring explicit sections. This can be helpful if you want to add some organization to your site without making official sections. See
this article
for more information on using tags to create structure.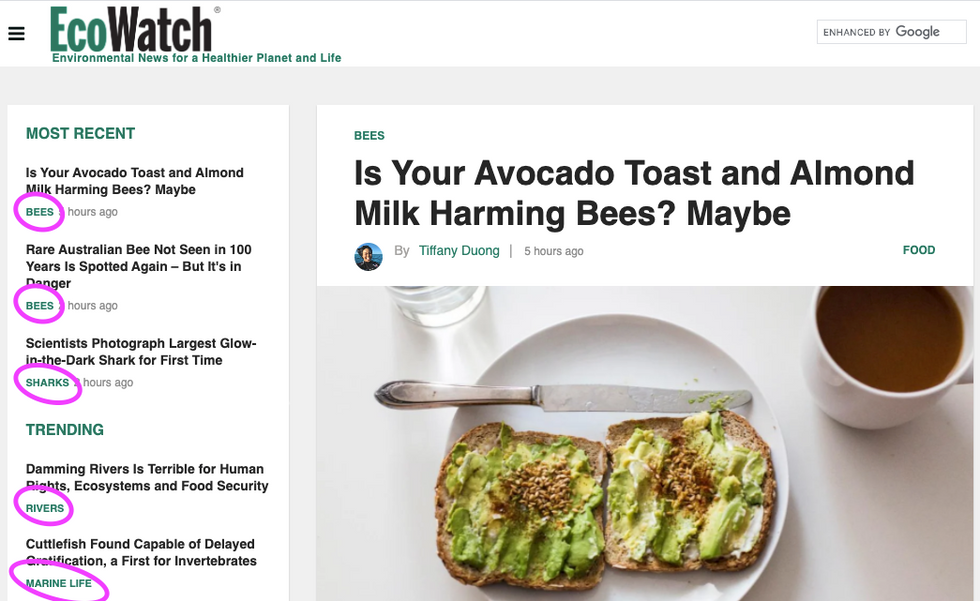 Tagging is vital because of its role in SEO. When you expose tags in a post, it tells search engines what's on the page. The crawlers then see your page as useful and relevant, and reward you by improving your rank for targeted search phrases. Tags add more context and expose more content to be crawled. This was effective for our founder and CEO Andrea Breanna when she was the CTO of The Huffington Post.
Types of Tags
On RebelMouse we have three different types of tags: Primary Tags, Tags, and Private Tags.
Primary Tags indicate what an article is about overall, and you can only add one per article. Think about a Primary Tag like the overarching summary of a post. In our example above, the Primary Tag would likely be either "Big Lebowski," "Coen Brothers," or "Film," depending on the actual thesis of the post.
Tags are very similar in that they should describe what the article is about, but you are not limited in number (though we recommend no more than 5–10 tags, since more can be overwhelming for users). So these tags can be both more specific and more broad than the Primary Tag. Let's say we went with "Big Lebowski" for our Primary Tag. Our tags would then (again, dependent on the actual content of the piece) be "Coen Bros," "Jeff Bridges," "not on the rug, man," and "The Dude."
Private Tags
are generally used in
AdOps
to make sure that you can pass sensitive information to your ad management platform without the details of the tags being shown to your site's visitors.
Why Primary Tags Are So Powerful
Primary Tags are particularly useful because they create an easy-to-manage opportunity for a dynamic taxonomy that exposes more content to both Google and your readers/customers. Sites often make the mistake of repeating the same section name (sometimes called a vertical or category) like "Entertainment" or "Politics" and displaying it on the post or in a sidebar. This not only gets boring for readers to see repeated over and over again, but it also limits the potential surface space of content you are exposing to Google.
For example, if you are writing a bunch of stories about the Oscars, instead of just grouping the content in an "Entertainment" section and calling it a day, you should use a Primary Tag like "The Oscars." This will send your Oscars-related posts to a dedicated tag page for all of the content you have ever published on the topic. This is good for Google because it exposes all of that specific content in a fresh way to crawl again and prioritize in its search results, and it's great for your users who may be in the mood to binge Oscars content, too.
If you'd like to learn more about using tags in your content on RebelMouse, reach out to your account manager or contact
support@rebelmouse.com
today.
Related Articles Around the Web