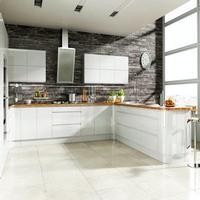 Ultra Modern High Gloss Kitchen Units
Published 08 August 2013
High gloss kitchen units have really taken off and are very in vogue right now, and they really do fit in well with the modern kitchen, the gloss effect makes them seem quite space-age.
These units if you are not familiar with them really do have a very high gloss finish, they are quite reminiscent of lacquered furniture, having the kind of shiny surface that you might see on antique furniture that has been French polished, they have a very deep, almost glassy finish to them.
Usually they have quite rounded corners and edges to the units, the overall effect is amazing and very appealing.

Indeed when we were looking for a new kitchen a couple of years ago we felt incredibly drawn to this kind of sci-fi looking kitchen, there was just something about it that made it stand out over all of the other kitchens in the showroom.
The drawback for us was our concern, even though the salesperson said they are very hard wearing, that over time they would get scratched or scuffed, and if that were to happen, even a slight scratch would make them look shabby and tired and would ruin the overall appearance of the kitchen.
I have to say though that I really do wish we'd gone for this kind of kitchen because I still absolutely love them when I see them!
Another concern we had was that a kitchen with such a striking look would have an equally striking look of being incredibly unfashionable if they ever do go out of vogue, but 3 years later they are probably even more popular now than they were back then!
It can be very difficult to see just how glossy these units are in photographs, but hopefully the picture above will give you a clearer idea, although nothing can compare to seeing them yourself in person.
These types of kitchen units come in a range of colours, so you could have a subtle white or off white, a darker grey or black, or even bright red  if you wanted it!
The photographs about are kindly provided by the Discount Kitchen Factory.
You can see more of this kind of kitchen unit at B&Q, and Magnet

Modern open kitchen with white high gloss kitchen units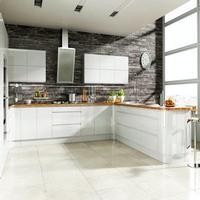 Modern space age kitchen design with high gloss finish in black / grey note the rounded corners.