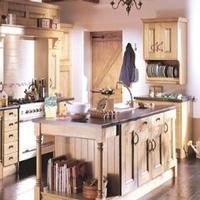 Are Rustic Farmhouse Kitchens Making a Comeback?
Published 08 August 2013
It may seem a little odd on a site about modern kitchen designs to even think about those traditional oak style farmhouse kitchens that seemed to be very popular many moons ago, but are they making something of a comeback today?
Oak kitchens, much like oak furniture remind me of the brown furniture of the antiques world, which fades in and out of vogue, becoming extremely popular, before being consigned to the dark corners of the antiques shop, unloved and forgotten until the next bout of popularity arises.
In some ways the oak or farmhouse kitchen style follows a similar trend, being "in" one year, and then being seen as a bit "naff" then next, but with modern designs and layouts, well designed and functional islands, classy units, fitted with modern appliances like fridges, cookers, hobs, and dishwashers, it seems to be becoming very popular again.
In a modern kitchen, with lots of room and space, and ample light, this kind of design offers a warm, relaxing, and inviting setting, and is particularly well suited for those who do actually enjoy cooking meals, pies, cakes, and other traditional goodies.
Unlike the high gloss units that can appear to be made to look at but not touch, these solid oak style kitchens are made to be used, and so fit very well in a setting where cooking will be one of it's primary uses, as well as giving a wonderful setting for socializing, or just relaxing with a glass of wine after a hard day at the office.
Another kind of farmhouse type kitchen style that has really taken off is the French style kitchen, with the kind of painted kitchen and centerpiece that you might have seen while watching World War 2 movies, and having a link with today in the form of the ever fashionable shabby chic painted furniture.

These designs really do have a homely and rustic feel to them, they take the traditional features of those French village farmhouse kitchens, and bring them into the modern home with units and cupboards that ooze charm, warmth, and class, while at the same time being understated in their design.
Of course for both of these designs you really need to have the right kind of house, they fit perfectly well in older homes, or in homes with beams, giving it that touch of class that keeps a link with the age and past of the property.

They really are a design classic that will stand the test of time, and they are an ever more popular choice for the modern kitchen.
You can see more of these styles of kitchen at Howdens, and Wickes.

traditional farmhouse style kitchen in oak, with a modern twist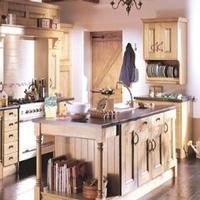 French style farmhouse kitchen with painted furniture.