Main Dashboard
The main dashboard is your default first stop anytime you log in as an admin. Check the real-time status of your site + key optimizations you can make to improve content performance.
---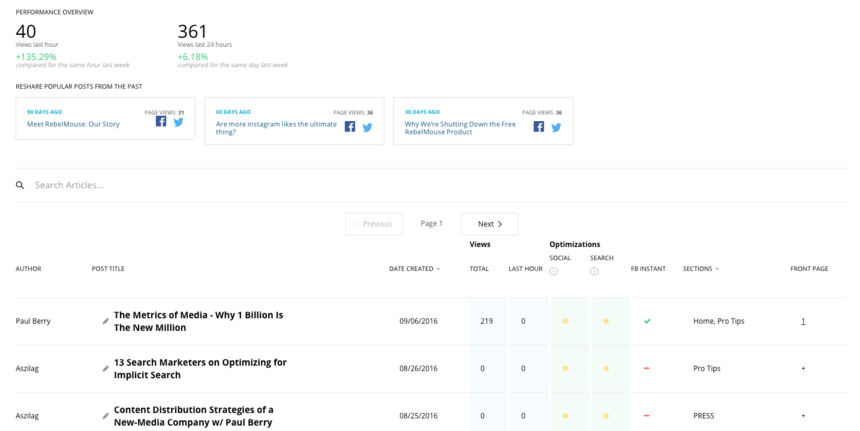 The main dashboard is a great environment to take key actions and track important optimizations, specifically:
View site performance snapshot
Reshare popular posts
Search for posts by title/ keywords
Sort posts by DATE CREATED, VIEWS, or SECTIONS
Check your optimization report card
Reorganize the homepage
---
Directly access the main dashboard from the the left admin panel OR by typing YourDomain/core/dashboard/overview: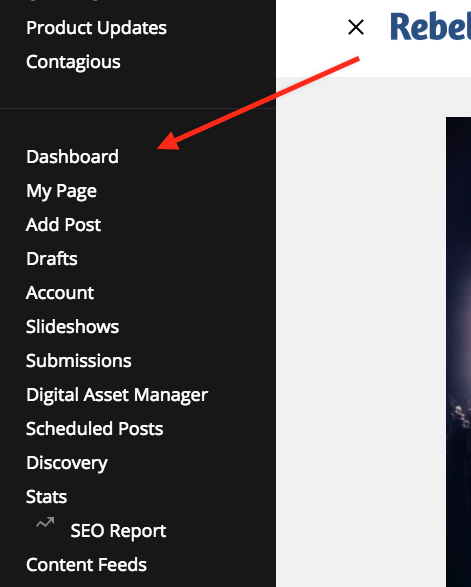 ---
View a performance snapshot
The performance overview shows total content views from the last hour and 24 hours. Stats are compared to the same period from the previous week, rather than previous day -- this allows you to compare data from similar circumstances:

---
Reshare popular posts
The dashboard surfaces your most popular content from the past 30/60/90 days:

Easily post to Facebook or Twitter with one tap on the appropriate social icon: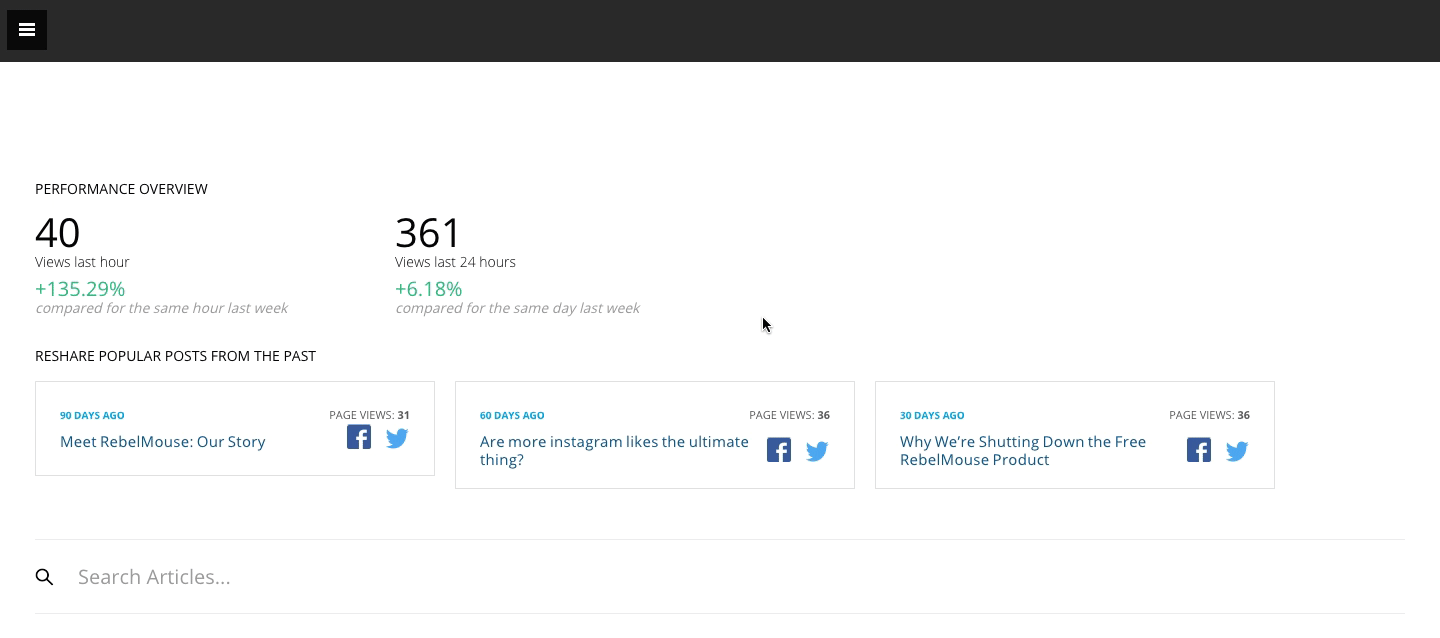 ---
Search for posts by title or keywords: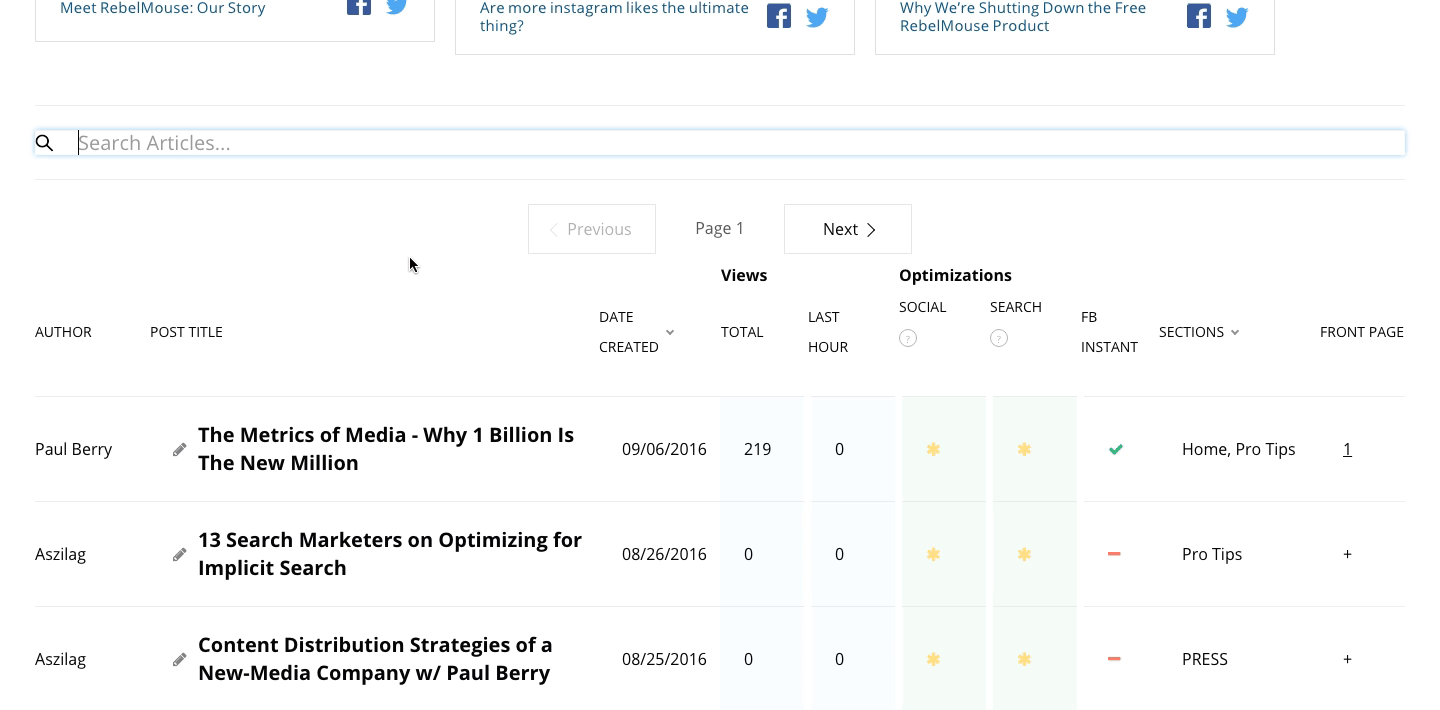 ---
Sort posts by Date Published, Views, or Sections: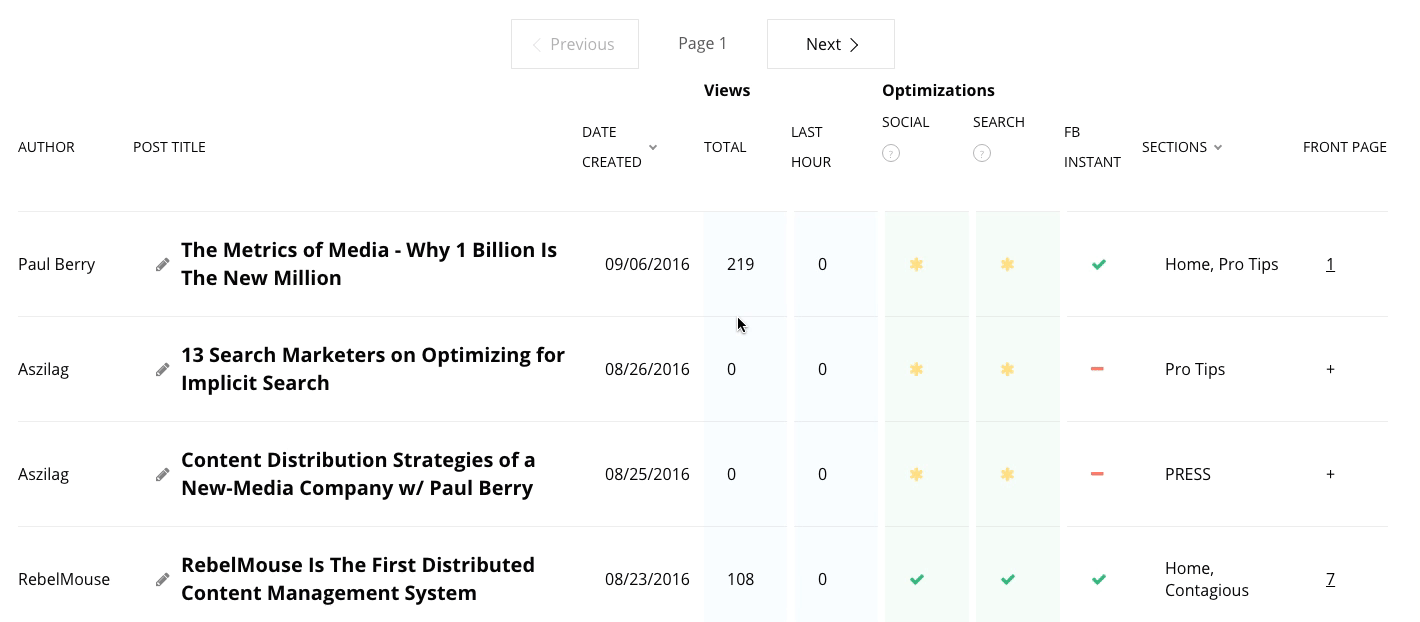 ---
Check your optimization report card
Your optimization report card clearly surfaces how well your team has leveraged key RebelMouse platform levers and enables you take immediate action.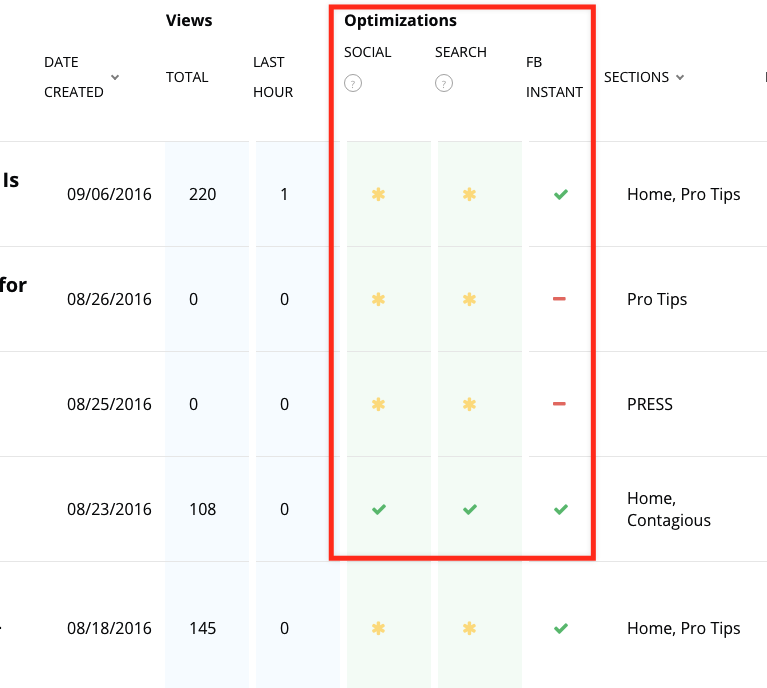 The SOCIAL column helps you gauge how well you're maximizing the following social optimization features:
Social Headline, where you can enter a social headline to increase your viral factor
Social Discovery, where you can surface like-minded social pages + reach out to let them know you have amazing articles
Learn more about social optimization with RebelMouse


The FB INSTANT column helps you check if you've distributed content as a Facebook Instant Article.
Learn more about RebelMouse + Instant Articles

The SEARCH column helps you gauge how well you're maximizing the following search optimization features:
Search Discovery, where you can enter keywords to maximize your post's SEO
Search Optimization, where you can update your SEO headline, SEO URL keywords or SEO description
Learn more about search optimization with RebelMouse

What do the symbols mean?
Green checkif you've taken advantage of ALL these tools
Yellow star (only applicable to Social and Search optimization) if you've used ONE of the two features
Red dash if none of these features have been used
Clicking the red or yellow icon will redirect you to the specific tool in the entry editor that needs your attention: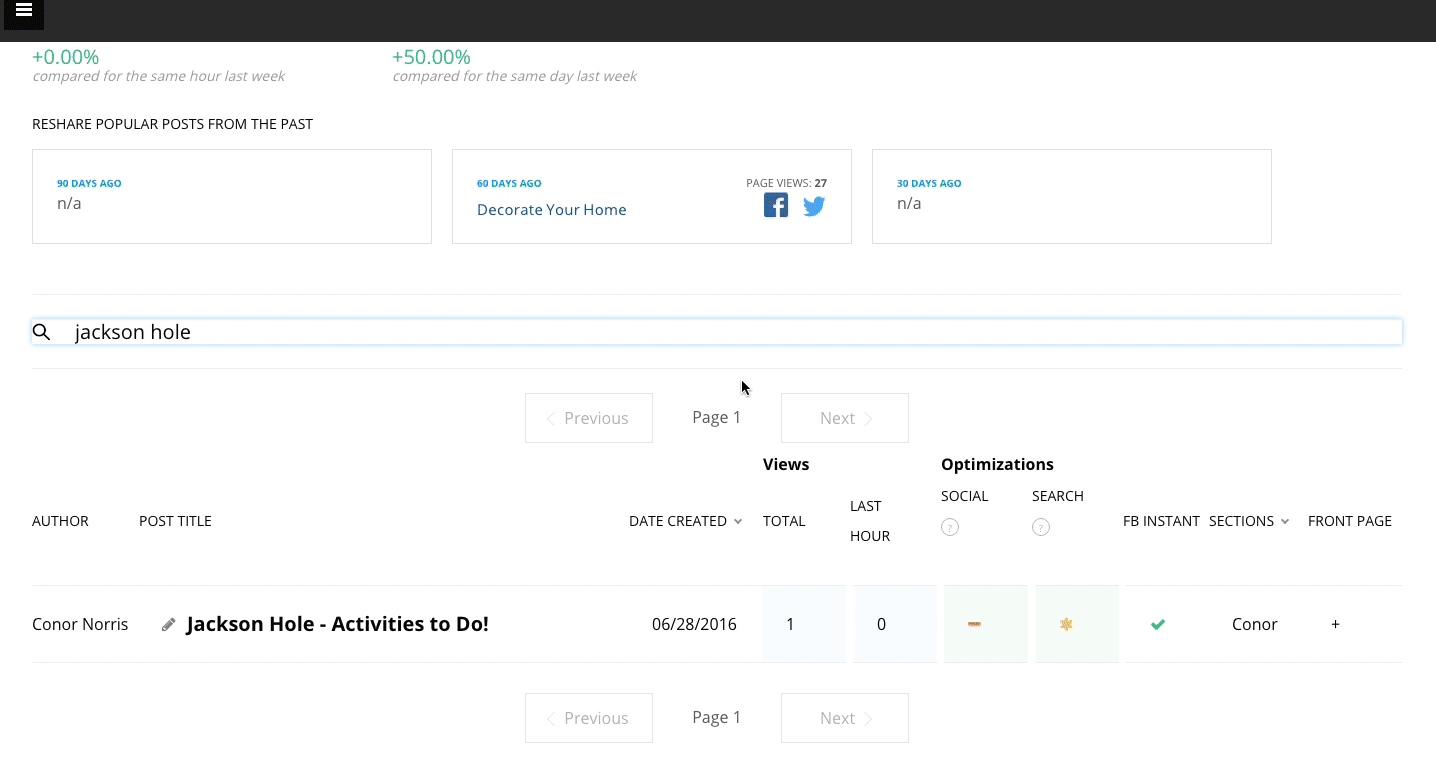 ---
Reorganize your front page
Lastly, you can easily switch up the placement of any front page post. The number indicates the front page placement and you can click to change the positioning:

A "+" indicates that the post is not published on the front page. Again, you can easily click to move it to a preferred position on the front page .
Based on the above example, here's the post in its original #1 front page positioning: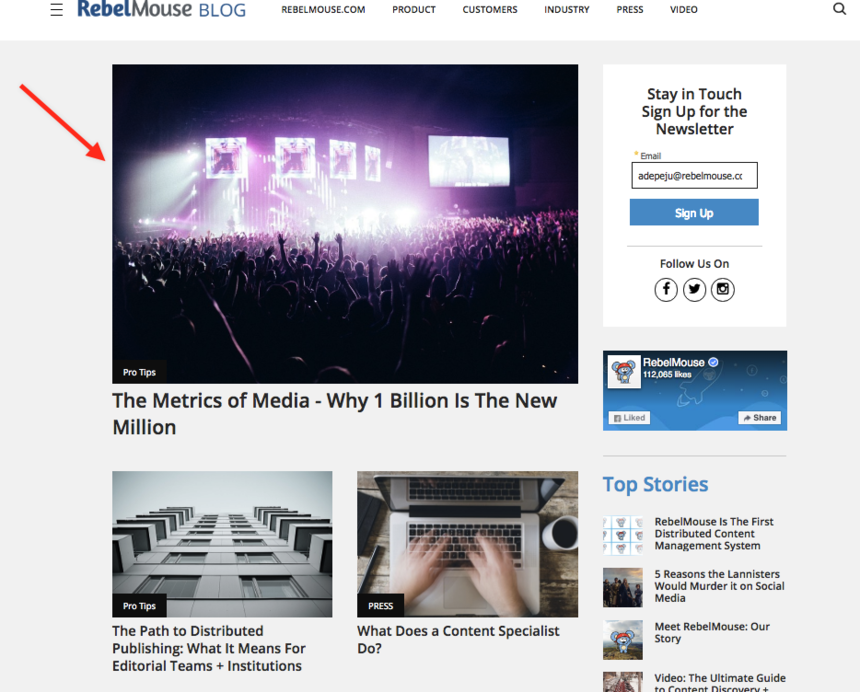 Here's the post in its updated #2 front page positioning: