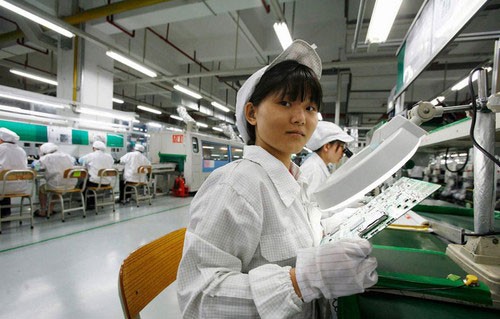 Allegations Chinese Students Forced to Work on iPhone 5s
Published 06 September 2012
In what may be the most compulsory internship experience you've ever heard of, the Shanghai Daily is reporting that thousands of Chinese students from schools neighboring a Foxconn factory in the city of Huai'an
were forced to help fulfill iPhone 5 orders
. 
According to the paper, students were taken by bus to the plant, and started working on the production line last Thursday after the Taiwanese-owned company was badly in need of extra hands to keep up with assembly of the hotly anticipated new version of Apple's iPhone line. 
Teachers from nearby schools confirmed via a radio report that classes had been interrupted, as these internships would fulfill their pupils' need to "experience working conditions." The student workers received the equivalent of $243.97 per month as compensation for working six days a week, and clocking in 12 hours per day. 
More:
A Huai'an University student posting under the name of Dalingzhuimengnan said Foxconn was badly in need of 10,000 workers but students were looking forward to returning to classrooms to continue their academic studies which had been seriously disrupted. 
MengniuIQ84 wrote that the authorities had ordered the schools to send students to assist Foxconn but said that the factory neither informed parents nor signed agreements with students.
… 
Yu Fangqiang, executive director of Nanjing-based Tianxiagong, a non-government organization focusing on policy advocacy regarding social issues, said he wanted to help students take legal action against their schools.
But some refused for fear of schools taking revenge by not allowing them to graduate, he said.
Note: Stock photo of Foxconn assembly worker used.