Volleyball, cross country teams ready for action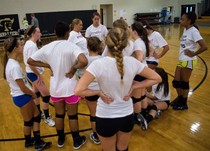 By Dave Lawrence
Sports Editor
CENTRAL GARAGE – The 2015 girls volleyball and cross country seasons are to begin, and King William's teams hope to continue the progress they were making last year.
In both cases, though, the Cavaliers face some challenges filling the shoes of a cohort of talented senior athletes that led their respective teams and graduated last year.
Girls volleyball
While the girls volleyball team will greatly miss the presence of Kayla Isaac and Eric Anderson, Isaac – was arguably their best player the last couple of years and who has graduated and is now attending Virginia Commonwealth University – has not entirely left a vacuum, coming back to help the Cavaliers in the preseason.
"Kayla was my best player," said King William head volleyball coach Bianca Cabrera. "She came on tryouts and she became my assistant. … She said that she'll be back in four years – or one year – to coach. We'll see if that's true."
While Isaac will not now be able to be quite so free with her time now that the fall semester at Virginia Commonwealth University has started, she and Anderson laid a solid foundation for the 2015 Cavaliers to build on.
This year's Cavaliers will have one advantage over last years' talented but at times fractious team, however.
"Last year we had the talent, but we had the attitude," Cabrera said. "We could have won more, but the attitude killed us. This year, we have talent … but we're happier. We try to work with each other, to understand what we need to do, when we have to move. … They stop the practice and try to help the ones that are new, to say, 'No, this is where you have to be.' They're starting to understand when you leave, there's somebody coming up."
King William's likely starters include outside hitters Caliegh Agee and Hannah Ratliffe, middle hitters Kyleigh Bell and Sheniya Johnson, setters Emily Glazebook and Delaney McKinney, and libero Devin Jenkins.
Cabrera expects a good season, especially because of one on-court skill this team is stressing this season.
"It's going to be a good season, no matter what," Cabrera said. "What we're working on is passing. If you have a team that can pass the ball, that's all you [need]. Forget about hitting. If you can bring that ball up every single time, you make that other hitter mad and you can win the game."
Cross country
The Cavaliers' cross country teams have been gutted by graduations, so they are, as head cross country coach Tommy Tupponce said, most definitely in rebuilding mode.
"We've got one senior girl this year who hasn't run before, and I've got one senior boy who ran as a junior last year," Tupponce said. "Then I've got mostly freshmen and sophomores – some that are new to the sport, and some that have been around. I've got two girls returning that ran varsity last year, and I've got three boys returning. Everybody else is new, so we're just working out the kinks right now. We'll see what we get at the end. It's going to be an interesting season."
Tupponce is optimistic, though, as he has until the end of the season to get everyone in shape.
For the most part, King William's elder leadership is rather young. The team captains, Parker Slack and Clayton Walsh, are just sophomores. On the girls' side, Haley Reed, who was their No. 2 runner last year, will be in the first or second position for the Cavaliers this year. Grace Topham, however, has been running strong so far this year and may claim the No. 1 spot for the King William girls.
"It's going to be a back-and-forth battle for them to be my No. 1 and No. 2," Tupponce said. "After that, it's anybody's game."
Dave Lawrence can be reached at dlawrence@mechlocal.com.