Summer is the season of fun out of doors, and of playing in the water. It's also the time to raise everyone's awareness of the need for water safety. Drowning is the second greatest cause of accidental death in children in the 1-14 age group, following automobile accidents. Toddlers are attracted to bodies of water, be they natural or artificial, and are unaware of the danger they represent. It is essential that adults unite in taking responsibility to watch children whenever they find themselves in a setting that includes both kids and water. Additionally, every child should learn to swim, and have access to age-appropriate swimming lessons from a well-regarded provider such as SwimEasy.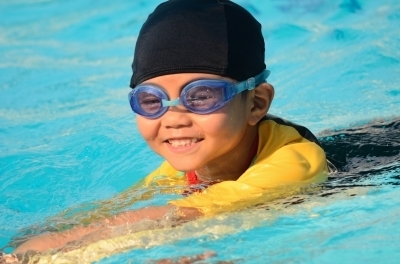 Often, it doesn't occur to people that children can drown in relatively small amounts of water as easily as in a pool or the ocean. Every year, young children drown in bathtubs, buckets, and even toilets. The number one way to prevent child drowning is to provide adequate supervision. Additionally, teach children not to dive into shallow water or water of unknown depth. 90% of water-related neck and spinal cord injuries result from diving into water that is 6 feet or less in depth. Also teach kids to avoid the grated filtration areas at the bottom of pools. The suction of some pools and hot tubs is so strong that it traps children, disemboweling and/or drowning them.
Education and supervision are fundamental, but low-tech ways to help keep children safe, as are common-sense measures like securely fencing pool areas and removing attractions such as toys from the water after swimming. Today, parents have also technological aids to help avoid drowning. Wearable monitors are available that keep a count on kids' submersion times. Once such device is the iSwimband, which can be attached to a child's goggles, headband or wrist. Then there is the Seal system, which provides a SealBand for the child, a GuardBand for the responsible adult, and a hub to create a wireless network between the two. The system monitors the time children spend below the surface of the water and alerts the when too much time elapses without the child surfacing.
Unlike many other causes of death, drowning is 100% preventable. Many adults are unaware that children drown silently, unable to call for help. The Top Tips to Prevent Your Child from Drowning are worth repeating frequently, and should be posted at access points near bodies of water for both educational purposes, and awareness. Of all the lessons you might choose to provide your child: dance, drawing, gymnastics and the like, only swimming lessons have the potential to save his life. Swimming is an essential life skill, and all children should have the opportunity to take swimming lessons. Furthermore, they should remain enrolled until they can demonstrate proficiency in the water.