Retweeted by Jay Norman, PhD
twitter.com
My Shark Tank Recap: Season 6, Episode 25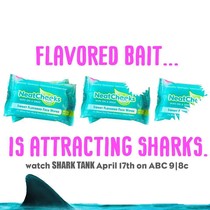 Every single pitch on Shark Tank has been a learning experience for me. Now that I'm taking Wharton's Marketing 101, I'm watching the show with an even more discerning eye.
Here are the marketing principles I extracted from the most recent show:
NeatCheeks. Two mothers enter the Tank to pitch their product, Neat Cheeks: a facial/skin wipe for babies and children that contains Stevia, a natural sweetener. The premise is that the tasty flavor would make for a more pleasant face-wiping experience.
From personal experience, it is true that children don't like getting their faces wiped. And here are the likely reasons why: The wipe is cold; the fragrance is "untasty;" and having someone shove a wet tissue in your face is rude and jarring.
This product primarily solves the second problem. But it does not solve the first; the third is unsolvable, unless you trust the kid to do a good job of it by him or herself. Also, I share Kevin O'Leary's concerns that the concept can be easily knocked off. However, the entrepreneur-moms (and I LOVE entrepreneur-parents) get a deal from Barbara Corcoran, who is much smarter than me in business. But as a parent, and a scientist, I don't see the long-term value.
Marketing Principle. At a premium price point, the Neat Cheeks owners will have to figure out how to generate buzz and customer loyalty for their product. I can see parents rallying around the brand and its flavored wipes (which might introduce the problem of children eating the wipe; some children already have pica). But because the problem it solves is not of major consequence in my mind—what's wrong with having babies suffer for the few seconds it takes to wipe their faces?— I cannot not see myself developing brand loyalty to a skin wipe. Nonetheless, this product could succeed by going viral based on positive reviews from mom bloggers and morning TV show appearances.
Beneath the Ink. Two entrepreneurs enter the Tank to pitch their e-reader annotation technology. Basically, authors can upload their manuscripts to their platform and choose what words to hyperlink to multimedia that would appear on the digital page.
I agree with Mark Cuban: This is probably not a major innovation. Also, as Robert Herjavec said, the entrepreneurs seemed to be searching for a revenue model: Presenting a complicated, three-pronged model—and stating that you're "pre-revenue"—is probably not a recipe for success in the Tank.
(However, they do have a new product coming out in May that has me sufficiently intrigued.)
Marketing Principle. Their best play, in my opinion, is to license the technology to a major hardware or software player in the e-reading industry, while there's still interest. But if they have some sort of market lead on this technology, then they should go for Operational Excellence and Customer Intimacy by streamlining--and actively engaging in--the process for author, publisher, and reader. Just one happy mega-author customer can put them over the top.
Melni Connectors. Three men walk into the Tank. One of them, a veteran utility worker—and initial investor of the presenting business—proceeds to successfully demonstrate the company's primary product: A device that enables a simpler, faster, safer way to connect transmission power lines. Although all the sharks thought the presentation was unfocused—except for the demonstration—Mark Cuban made a FOMO (Fear of Missing Out) investment that the business accepted.
Marketing Principles. Assuming their patents are bulletproof, this clearly seems to be a better mousetrap. Perhaps there's still room for performance enhancements, but at this stage, Mark Cuban's investment on marketing the product and on optimizing manufacturing process.
PittMoss. Perhaps the most touching of all the pitches, a middle-aged man walks into the Tank to present his product: a cheaper, more efficient alternative to peat moss, which releases carbon into the atmosphere when it is harvested for agricultural applications. The alternative, PittMoss (the inventor is from Pittsburgh), is made from recycled paper and "a secret mix of organic additives."
This not only sounds like a gold-ribbon science fair project. The claim that it's cheaper AND better than peat moss makes it a business no-brainer. Fellow Pittsburgh native Mark Cuban agrees—and so do Robert Herjavec and Kevin O'Leary. PittMoss receives an investment from all three male sharks; the founder and inventor (to the left in the pic below) cries when he leaves the Tank, overwhelmed that his 20-year idea is finally taking off. (Apparently, his own mother discouraged him from becoming an entrepreneur.)
Marketing Principles. The lady sharks were concerned that PittMoss barely had any sales. I am, too. Although this also seems like performance-superior product, low sales makes me question the inventor's hustle or the market demand. There should be relatively little consumer education and customer acquisition costs required for this product. The product is suppedly superior, and judging from their website and social media platforms, the PittMoss company is doing a decent job of being customer centric. Now it's time for them to focus on Operational Excellence—scaling up and lowering the manufacturing costs and optimizing the distribution process.
The new and improved TED.com is live! Now you can dig deeper into ideas, see your influence & more:
Retweeted by Jay Norman, PhD
www.ted.com
EXCLUSIVE: Chinese scientists genetically modify human embryos for the first time
Retweeted by Jay Norman, PhD
ow.ly
This is MY fav sport! Petition: Track and Field Video Game
I took Zimbio's 'Game of Thrones' quiz and I'm Ned! Who are you? #ZimbioQuiz
More posts are loading...