•
•
•
•
© 2015 RebelMouse
www.lifehack.org
Using RebelMouse as a blogging platform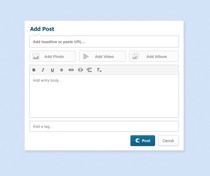 You can blog directly on RebelMouse. We've recently added new fonts for full-length posts that make it easier to read directly on the page. Here are some ways to start:
Add more to any tweet or link you've shared. 

Edit any post on your site to turn it into a full-length blog post you can share with anyone! Often times a link inspires us to write more and this is an easy way to do it on the fly.


Read more...
The new and improved TED.com is live! Now you can dig deeper into ideas, see your influence & more:
Retweeted by Jay Norman, PhD
www.ted.com
I took Zimbio's 'Game of Thrones' quiz and I'm Ned! Who are you? #ZimbioQuiz
This is MY fav sport! Petition: Track and Field Video Game
More posts are loading...