•
•
•
•
© 2015 RebelMouse
twitter.com
My Shark Tank Recap: Season 6, Episode 25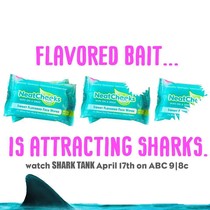 Every single pitch on Shark Tank has been a learning experience for me. Now that I'm taking Wharton's Marketing 101, I'm watching the show with an even more discerning eye.
Here are the marketing principles I extracted from the most recent show:
NeatCheeks. Two mothers enter the Tank to pitch their product, Neat Cheeks: a facial/skin wipe for babies and children that contains Stevia, a natural sweetener. The premise is that the tasty flavor would make for a more pleasant face-wiping experience.
From personal experience, it is true that children don't like getting their faces wiped. And here are the likely reasons why: The wipe is cold; the fragrance is "untasty;" and having someone shove a wet tissue in your face is rude and jarring.
This product primarily solves the second problem. But it does not solve the first; the third is unsolvable, unless you trust the kid to do a good job of it by him or herself. Also, I share Kevin O'Leary's concerns that the concept can be easily knocked off. However, the entrepreneur-moms (and I LOVE entrepreneur-parents) get a deal from Barbara Corcoran, who is much smarter than me in business. But as a parent, and a scientist, I don't see the long-term value.
Marketing Principle. At a premium price point, the Neat Cheeks owners will have to figure out how to generate buzz and customer loyalty for their product. I can see parents rallying around the brand and its flavored wipes (which might introduce the problem of children eating the wipe; some children already have pica). But because the problem it solves is not of major consequence in my mind—what's wrong with having babies suffer for the few seconds it takes to wipe their faces?— I cannot not see myself developing brand loyalty to a skin wipe. Nonetheless, this product could succeed by going viral based on positive reviews from mom bloggers and morning TV show appearances.
Beneath the Ink. Two entrepreneurs enter the Tank to pitch their e-reader annotation technology. Basically, authors can upload their manuscripts to their platform and choose what words to hyperlink to multimedia that would appear on the digital page.
I agree with Mark Cuban: This is probably not a major innovation. Also, as Robert Herjavec said, the entrepreneurs seemed to be searching for a revenue model: Presenting a complicated, three-pronged model—and stating that you're "pre-revenue"—is probably not a recipe for success in the Tank.
(However, they do have a new product coming out in May that has me sufficiently intrigued.)
Marketing Principle. Their best play, in my opinion, is to license the technology to a major hardware or software player in the e-reading industry, while there's still interest. But if they have some sort of market lead on this technology, then they should go for Operational Excellence and Customer Intimacy by streamlining--and actively engaging in--the process for author, publisher, and reader. Just one happy mega-author customer can put them over the top.
Melni Connectors. Three men walk into the Tank. One of them, a veteran utility worker—and initial investor of the presenting business—proceeds to successfully demonstrate the company's primary product: A device that enables a simpler, faster, safer way to connect transmission power lines. Although all the sharks thought the presentation was unfocused—except for the demonstration—Mark Cuban made a FOMO (Fear of Missing Out) investment that the business accepted.
Marketing Principles. Assuming their patents are bulletproof, this clearly seems to be a better mousetrap. Perhaps there's still room for performance enhancements, but at this stage, Mark Cuban's investment on marketing the product and on optimizing manufacturing process.
PittMoss. Perhaps the most touching of all the pitches, a middle-aged man walks into the Tank to present his product: a cheaper, more efficient alternative to peat moss, which releases carbon into the atmosphere when it is harvested for agricultural applications. The alternative, PittMoss (the inventor is from Pittsburgh), is made from recycled paper and "a secret mix of organic additives."
This not only sounds like a gold-ribbon science fair project. The claim that it's cheaper AND better than peat moss makes it a business no-brainer. Fellow Pittsburgh native Mark Cuban agrees—and so do Robert Herjavec and Kevin O'Leary. PittMoss receives an investment from all three male sharks; the founder and inventor (to the left in the pic below) cries when he leaves the Tank, overwhelmed that his 20-year idea is finally taking off. (Apparently, his own mother discouraged him from becoming an entrepreneur.)
Marketing Principles. The lady sharks were concerned that PittMoss barely had any sales. I am, too. Although this also seems like performance-superior product, low sales makes me question the inventor's hustle or the market demand. There should be relatively little consumer education and customer acquisition costs required for this product. The product is suppedly superior, and judging from their website and social media platforms, the PittMoss company is doing a decent job of being customer centric. Now it's time for them to focus on Operational Excellence—scaling up and lowering the manufacturing costs and optimizing the distribution process.
The new and improved TED.com is live! Now you can dig deeper into ideas, see your influence & more:
Retweeted by Jay Norman, PhD
www.ted.com
EXCLUSIVE: Chinese scientists genetically modify human embryos for the first time
Retweeted by Jay Norman, PhD
ow.ly
This is MY fav sport! Petition: Track and Field Video Game
I took Zimbio's 'Game of Thrones' quiz and I'm Ned! Who are you? #ZimbioQuiz
Using RebelMouse as a blogging platform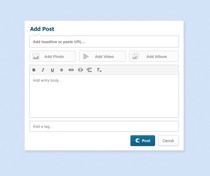 You can blog directly on RebelMouse. We've recently added new fonts for full-length posts that make it easier to read directly on the page. Here are some ways to start:
Add more to any tweet or link you've shared. 

Edit any post on your site to turn it into a full-length blog post you can share with anyone! Often times a link inspires us to write more and this is an easy way to do it on the fly.


Read more...
Leaders pick their lane and stick to it
In the third lecture of Wharton's Introduction to Marketing course, Dr. Khan introduced a framework for "figuring out how to think competitively to become a leader in your market." The framework is based on the book The Discipline of Market Leaders: Choose Your Customers, Narrow Your Focus, Dominate Your Market (Basic Books, 1997) by Michael Treacy and Fred Wiersema."
The first principle in the framework is to know your markets: do market research, focus on the customer, anticipate their reactions, etc.
The second principle, in a nutshell, is to be great at one of the categories in the figure above and "pretty good" at the other two.
How did these categories come about? Khan claims that the framework is built on the assumption that these are the categories, or "bundles" as she calls them, that customers use when making market-based decisions. I can't argue with these bundles; it seems reasonable that these are what I use when evaluating a potential transaction.
Here's how I understand the three bundles:
Operations: This involves such factors as deliver, service, and reliability. I would summarize this is operations efficiency, which general results in being cost competitive. In this bundle, pretty good is called "Operational Competence." Great is called "Operational Excellence," and I would put the following companies in that category: Amazon; UPS; Ikea; Carmax; Spirit Airlines; and Aldi's.
Performance: This covers the features and attributes of a product, including design. A pretty good product would be a least distinguishable; perhaps one of its features stands out. But a great product would be best in class. I'm no Apple fan (only because I swear my allegiance to Android), but the iPhone is best in class. Other companies, besides Apple, that strive for "Performance Superiority" include: BMW; Nike; and HBO.
Customization: In the third bundle, customers look for products or services that are most tailored to them. For example, hiring a financial advisor would lead to a more customizable experience than getting advice from Mint.com. But customization comes at a cost! Companies that I find to strive for "Customer Intimacy" include: Nordstroms; Wegmans; and Allen Edmonds.
But is Dr. Khan right? Should you just strive be great at just one and settle for pretty good at the other two? She may be right for three reasons:
Even if you're pretty good, or great, at all three, the customer, who is always right, puts more weight one bundle and settles for "good enough" on the others. For example, BMW and Kia may both be pretty good at Customization, but I may make my decision based on Cost, so I would go with Kia. But if I were a Performance-driven customer, I'd buy a BMW.
But if, let's say BMW, decides to cut costs, more than likely, customization and or Performance will suffer. That's why BMW doesn't try to compete with Chevy on cost, and Chevy does not try to compete with BMW on Performance.
It's probably impossible logistically and financially to be a leader at all three.
In summary, know what your customers want, then pick your lane and stick in it.
What is Marketing?
If you can think of a blog as a market, then this (and future blog posts) represents the product that I am putting into the exchange. Your reading it is the price you pay (but I really hope my writing isn't that bad).
In each blog, I'll summarize the lectures and mention examples from my own experiences with business marketing. See what I just did there? I promoted my product! The places I will deliver AND promote my product are on Twitter and in the Coursera discussion forums--and, of course, this RebelMouse blog itself.
Now that I've subtly introduced the Four P's of Marketing, I will return to beginning: What is marketing? Professor Kahn defined it as the study of markets, with markets representing an exchange, usually between a buyer and a seller, of some good or service. Although simple, that definition doesn't quite align with my virgin view of marketing as a verb (that's almost synonymous with advertising) and not a field of study.

So based on Dr. Kahn's otherwise solid lecture notes,* here is my definition of marketing:
Marketing is all the things you do when you're trying to sell something, including, but not limited to, how you promote or place it.
What are some things sellers do? Focusing on for-profit companies, I'll attempt to explain Dr. Kahn's four types of marketing orientations:
Product Orientation. A product-focused company focuses on--surprise--the product. It tries to increase profit margins and gain larger market share by innovating, selling in volume, lowering operational and manufacturing costs, and convincing the customer why its product is better than the competition's. From personal experience, I would put McDonald's, Google, GM Motors, and Spirit Airlines in this category. These are all companies I patronize mainly because I like their product, not because they like me. Such companies focus on Product Differentiation, one of the three principles of marketing.
Customer Orientation. Customer-focused companies focus on delivering "value" (still not quite sure how to neatly define this word) to its chosen set (or segment) of customers. By doing so, it can charge a premium price, commensurate with the "value" the customer perceives he or she is getting in exchange. Instead of market share, such companies aim to increase customer loyalty (thus reducing customer acquisition costs) and to cross-sell to its repeat customers. Customer-focused companies I've dealt with include Allen Edmonds, Costco, and Amazon. (I'm happy to defend these choices, but not right now.) These companies in particular apply the marketing principles of Customer Value and Segmentation, Targeting, and Positioning.
Experience Orientation. Thanks to globalization, the internet, and social media, some companies are wise enough to know they need to be transparent and manage the customer's entire experience, not just the transaction/exchange. In this way, the customer becomes a co-creator of the product. I would put Southwest Airlines (see image above), Amazon, Hampton Inn, and most mobile app developers into this category.
Trust Orientation. I'm not 100% sure on this one, but I suppose that Trust-based companies go a step further by developing relationships with their customers, not just responding to isolated experiences. They deliver "genuine value" by cutting costs and being disciplined. I suppose I would put Aldi's and Uber into this category? Companies in this category would likely focus on all three marketing principles.
So there you have: the basic principles of marketing in a nutshell. Leave a comment, please. I want us to develop trust, and that can only happen if you supply feedback.
*All due respect to Dr. Kahn and the other instructors, Wharton, and Coursera. Any glib comment that appears above (or below) is only done for reading effect and not to insult or criticize. In fact, I invite critiques from them, my fellow classmates, and the real experts out there.
Case Study from Shark Tank: Forus Athletics
I should let it be known right now: I LOVE the ABC TV show Shark Tank. It is one of the major reasons I'm taking this course. Every weekend, I sit in front of my television devouring the latest Shark Tank episode. And when it's done, I just sit in silence for a few minutes completely inspired and pondering how much more I could be doing with my life.
But enough about me. One pitch from the most recent episode perfectly highlighted a lesson from week one's lectures. It's the lesson of excelling at one of three leadership strategies, and settling for being good enough in the other two: I call it picking your lane and sticking to it.
The company pitching the sharks was Forus Athletics. They design and sell running shoes. The company got some interest from technology shark and avid runner Robert Herjavec, but could not convince fashion shark Daymond John to join the deal. Why? Ultimately, because they are trying to drive in several leadership lanes at the same time. Here are five lessons I learned from the Forus Athletics pitch:


You can get one foot in the door (or the shark tank) with a good looking product. Judge for yourself (see above), but the Forus shoes are eye-catching. They certainly stand out from the ones made by many of the traditional running-shoe companies. My first impression: This is a product driven company focused on becoming a fashion brand.
Building a (slightly) better mousetrap can get your other foot in the door. As a runner, I'm aware that there is currently a tug-of-war in the running shoe category between the minimalist/barefoot trend and the super-cushioning trend. Forus appears to embrace both: They make a cushioned running shoe that's supposedly ALSO lighter than others in its class. The Forus VP states at the beginning of the pitch that Forus is "...the most comfortable, running,/walking/workout shoe known to mankind." My second impression: This is a company that's trying to focus on performance superiority in the comfort AND style categories. Sounds difficult, but fine.
Gaining market share requires extreme focus. Even from the company's display on the show, it was evident that they are trying to compete with the big players: Nike, Under Armour, Adidas, New Balance, Asics, Puma, etc. They had various colors and styles to choose from, not to mention sizes. They also market a "Pride Collection" featuring shoes in the flag colors of 15 countries. And they have an "IU" line, featuring the logo of Indiana University (was IU alum and technology shark Mark Cuban impressed? Not enough, apparently.) They even bragged about making a line of shoes for NASCAR drivers--but the sharks did not get the relevance of that opportunity. My third impression: They don't exactly know who they are.




Sometimes, it's too soon to cross-sell. Especially if you haven't establish customer loyalty. Forus sells backpacks (albeit good-looking, high-quality ones) on its website. And even beyond that, the VP pitched the company's ownership of an email marketing software. Most likely, that's when they lost most of the sharks.
Operational excellence is key to gaining market share. Although Robert was interested in doing a deal, he was only willing to do so with Daymond as his partner. But both Robert and Daymond had problems with the distribution challenges the company would face. Daymond couldn't see how the company's business model would succeed in them wresting market share from the top players. My takeaway: It's difficult, if not impossible, to be operationally excellent if you're a small player AND you have too many product lines (aka SKUs).
My Recommendations
In my opinion, Forus Athletics should take one of three approaches:
Beef up the performance aspects, then license the technology. Why try to compete with companies that have much bigger R&D budgets and brainpower?
Keep the business, but focus on fashion. The Country Pride Collection is promising. They could also slowly expand the University collection (although it's probably hard getting the university licensing rights).
Become a customer-centric fashion (or performance) brand. Be it sneakerheads, or avid runners, Forus needs to develop relationships with people who could become their customers for life. Actually, this approach could also work with the second approach.
In the end, Robert put it best by giving the Forus team some advice about being focused.
Business Insider tells the story
of how Herjavec tried to get a world-class 100-meter sprinter to go jogging five miles with him.
"I don't run five miles," the sprinter replied. "I run 100 meters as fast as I can. That's my job."
Because athletes know to stay in their lane.
More posts are loading...