How to Use Google's Metadata Descriptions
Increase your organic search with custom snippets
To increase your ranking on Google, it is important for your site to have a clear and concise metadata description. Also called "snippets," these organic pieces of text can help boost click-through rates to your page.

For example, here is what the metadata description is for the search query, "BuzzFeed."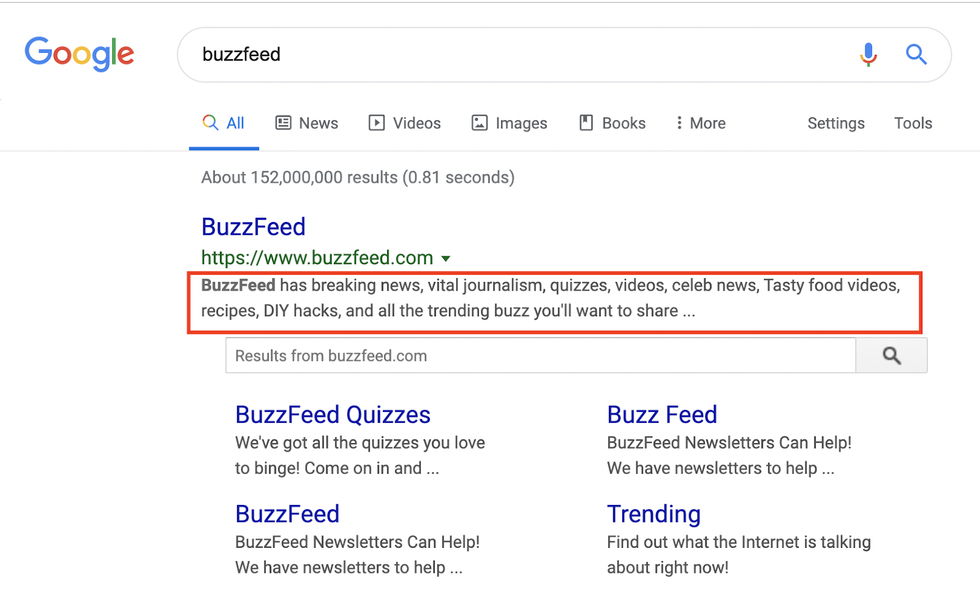 However, sometimes your site's metadata description will not reflect the content you intended to use.

According to Google, metadata descriptions are generated automatically. Google's goal is to answer questions relevant to each individual search query. The engine's crawler takes into consideration not just the metadata, but also the natural language of every page's content.
Here is more information from Google:
Google's generation of page titles and descriptions (or "snippets") is completely automated and takes into account both the content of a page as well as references to it that appear on the web. The goal of the snippet and title is to best represent and describe each result and explain how it relates to the user's query.

We use a number of different sources for this information, including descriptive information in the title and meta tags for each page. We may also use publicly available information, or create rich results based on markup on the page.

While we can't manually change titles or snippets for individual sites, we're always working to make them as relevant as possible.

In the link above, Google provides several strategies for creating a link structure that will help the algorithm create effective search snippets, including writing relevant metadata descriptions. On the RebelMouse platform, you can create your own metadata with the Header Code elements in the Layout and Design Tool.

For example:
Writing your own metadata descriptions doesn't guarantee that Google will generate the perfect search snippet, but it is a best practice in order to optimize your content for search.

If you have any questions, feel free to reach out to the support team at support@rebelmouse.com.