How to Add Ads.txt to Your Site
What Is Ads.txt?
Ads.txt stands for "Authorized Digital Sellers," and is a simple, flexible, and secure method that publishers and distributors can use to publicly declare the companies they authorize to sell their digital inventory. The mission of the ads.txt project is straightforward: increase transparency in the programmatic advertising ecosystem. You can find more information on ads.txt here.
---
How to Add Ads.txt to Your Site
In the Ad Manager dashboard, you can add content from any .txt file digital sellers have sent to you. It's a simple process we've outlined below:
1. Open the lefthand-side navigation menu (☰) and click on Ad Manager.

2. Click on the Ads.txt tab and copy/paste the content of the .txt file(s) you've received from your ad providers.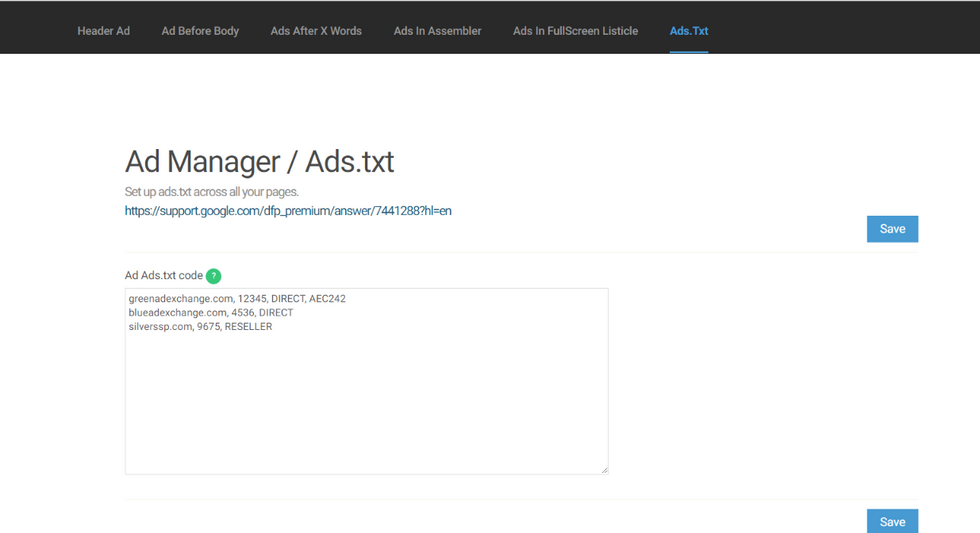 3. Click Save.
4. RebelMouse will generate a URL ending in /ads.txt where you can see the list of your authorized digital sellers. Here's an example: https://www.azula.com/ads.txt.