SET UP + STAFF TRAINING   -   JUNE 2015: OUR INAUGURAL HAY DRYER, COMPACT IN NORTH AMERICA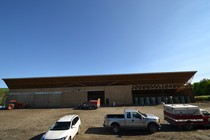 #AgriCompact Technologies GmbH - Energy & Technology, Germany proudly announces the successful set up of our Inaugural Hay Dryer, COMPACT in #Vermont, East Craftsbury, at Jasper Hill Farm's new Cropping Center: #Hay Drying and Storage.
A huge thank you for the trustful collaboration in every phase of our innovative, durable and sustainable project and for the warm hospitality goes to the owners of Cellars at Jasper Hill/Jasper Hill Farm: Mateo and Andy Kehler, Andersonville Farm: James Coe (architect, project leader) and to all of the highly professional team.
The set-up and staff training was a great pleasure and experience for everybody involved and we are absolutely satisfied with the achievement:


Vermont's first cut is safe'n'dry!
Have a good Hay!
Sabine Zastrow & Marco Tonelli
www.haydryers.com
www.agricompact-technologies.com
info@agri7.de
Photo taken in June 2015, East Craftsbury, Vermont, USA,
New Cropping Center: Hay Drying + Storage of
Jasper Hill Farm / Cellars at Jasper Hill -
Fina artisanal raw milk cheesemakers
Photo by: AgriCompact Technologies GmbH - Energy & Technology, Germany