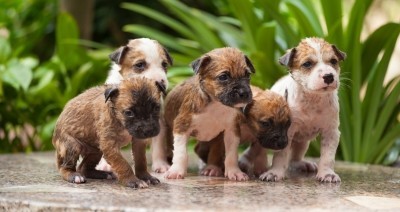 Goldendoodle Puppies: A Basic Guide
Published 04 June 2014
Many dog lovers who want to own golden retrievers cannot because the dogs' coats irritate allergies. That is one of the reasons that breeders began crossing golden retrievers with poodles in the 1990's. They successfully created "designer dogs" with allergy-friendly coats and golden retriever personalities. The resulting pups, which are known as goldendoodles, vary in color, size, and coat. They are becoming a popular family dog, because of their people-friendly temperaments. The best Goldendoodle puppies are supplied by reputable breeders, such as BlueRidgeGoldendoodlePuppies.com. These professionals offer important benefits to their customers.

CAREFULLY CHOSEN PARENTS

Quality breeders are very careful about the sires and dams they use to produce Goldendoodle puppies for sale. Professionals make sure that the puppies' parents are healthy, have good temperaments, and are raised lovingly, in family environments. They also make sure that the dogs are not over bred, which ensures that parents have an excellent quality of life and health. The best breeders carefully monitor expectant mothers during pregnancy, labor, and delivery. Puppies are kept with their mothers, and are socialized.

QUALITY PUPPIES

A quality Goldendoodle puppy breeder provides a nurturing environment. They are careful to make sure that pups are surrounded by children and companion animals, which help them socialize. Customers can choose from healthy, friendly, Toy, Mini, and Standard sizes. When puppies are 5-6 weeks old, breeders use an aptitude test to gauge their personalities. Some of the traits that are measured include:

SOCIAL ATTRACTION: This determines how confident puppies are, and whether they are attracted to people, among other things.

FOLLOWING: Pups are tested to see whether they will follow a person.

RESTRAINT: Breeders determine the dog's submissive or dominant tendencies, and whether they are easy to handle in difficult situations.

TOUCH SENSITIVITY: Puppies are tested, to determine how sensitive they will be to touch. This lets breeders know how much training and equipment will be needed to teach them.

SIGHT SENSITIVITY: Tests are performed, to determine how pups respond to moving objects, children on bikes, and animals.

STABILITY: Dogs' fight or flight drives are evaluated. This lets breeders know how they respond to strange objects, or when startled.

NEW OWNER HELP

Experienced professional breeders, such as Blue Ridge Goldendoodles, have years of experience with both dogs and new pet parents. They carefully match puppies with owners, to ensure the best experience for everyone. However, many people do not realize that even sweet-tempered and gentle goldendoodles can be just as energetic and rowdy as small children. Experts ease the transition by letting owners know what to expect from their new pups, and offering training tips. They will teach customers how to help their goldendoodles grow into loving members of the family. Breeders provide advice in person and online.

Goldendoodgles' allergy-friendly coats and warm personalities have made them a popular "designer" breed. Pups provided by experienced breeders are healthy, socialized, and well matched with their owners.