Customers
For the love of animals: The Dodo's story of distributed content success
In January 2014, Izzie Lerer wanted to transform her love of animals--and animal rights issues--into something positive, informative and entertaining.

The world of content surrounding animals and pets was crowded to say the least, but Lerer wanted something that could be easily managed with contributions across editors, content partners and community members.
RebelMouse's Rebel Roar was the solution. Lerer launched The Dodo as a participatory community platform - not just for animal lovers, but for everyone with a soft spot for a good story.
What happened next was extraordinary...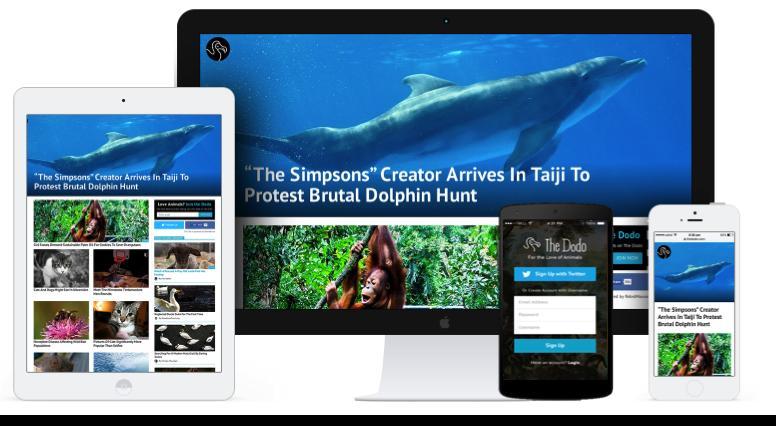 Easy to ♥ content + distribution = The Dodo receives an average of 4 million views each video!
Videos like Orphaned Animals Get A Second Chance and Cats Knocking Stuff on the Floorgo viral across platforms on the daily.
YUP! (From GIPHY)(Here is more info on what it takes to win at distribution).

Oh and this happened: "Granny Orca" Reaches Oceans of People
Every post on The Dodo reaches millions of people. Here's just one example: A story about a 103-year-old Orca whale spotted in the wild. Through the power of content distribution, the story put the issue of whales in captivity out of animal rights advocates circles and into the everyday feeds of the masses.
Thanks to the power of social sharing, " Recently Spotted 103-Year-Old Orca is Bad News for Sea World" reached 7 million people.
Read more about this in Business Insider's story, "How an animal lover turned her passion into The Dodo, a booming ~$40 million startup, in 2 years."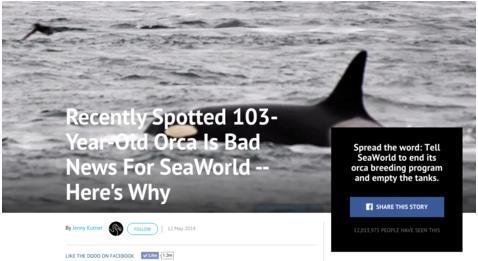 Since launch, The Dodo has seen...
High-paced, sustainable social growth:The Dodo now has 15 million unique visitors on site and 100 million monthly unique impressions across social platforms.
Breakthrough engagement: The Dodo also has a 64% higher Facebook engagement rate vs. BuzzFeed Animals
Building uber fans and contributors: There have been 100K community signups since launch; 5K avg. new signups monthly.
Social activity growth: 419% increase in social shares from petition CTAs in the last 3 months.
SEO growth:35% increase in organic search traffic in the last 3 months; 100% increase since January.
"To power the sharing of stories, pictures, media, anything animal related and to create an unprecedented community we turned to RebelMouse – their publishing platform truly lifts the publishing experience and helps our community and their stories gain the amplification they need to make a difference." -Izzie Lerer, Founder of The Dodo
Just like The Dodo, properties on our platform grow at mind-boggling rates, and are built in a way that allows companies to focus on producing great content and turning that into sustainable, high growth social traffic and loyal, lasting communities.Trust your brand to the experts in distributed content and beeverywhere first.
Let's start working together.