Facebook Description: Advanced Tactics
The Facebook description is easily customized within RebelMouse. You want your Facebook description to give the user enough extra info to tempt them to click, but not to make clicking the article redundant.
In Facebook the description looks like this: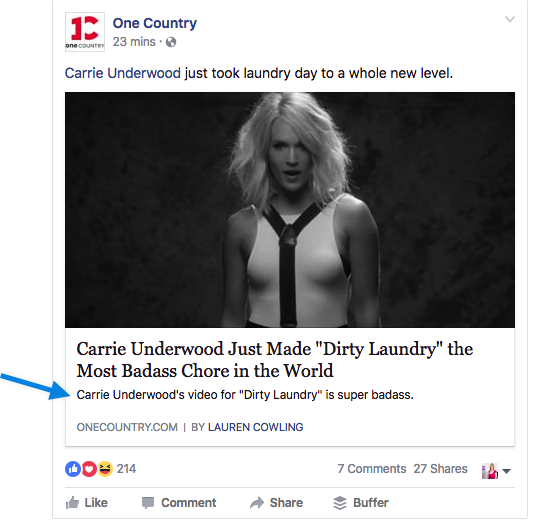 There are a few ways we suggest handling it:
1. You might use the same description for every article. There may be an important tagline that defines every article on your site that you decide to put instead of a customized description per article. One of our clients, The Dodo, does this and has seen really great success with it. The article headline defines what they're clicking, but they use the article description to define themselves. Here is how that looks: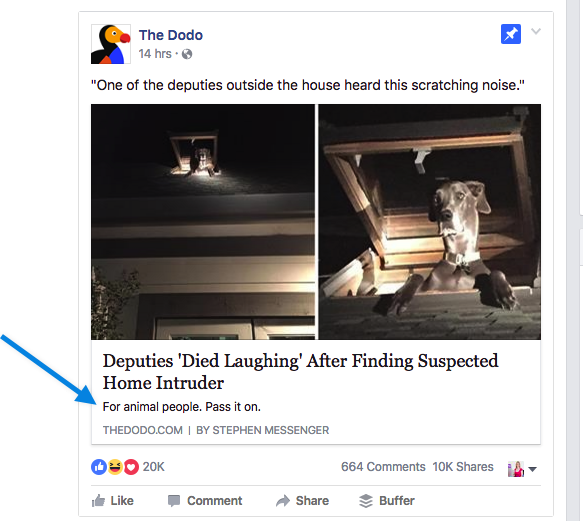 If you want to set this up you can go to our share copy dashboard at /core/dashboard/sharing/post. Then you set it here:
2. You might use an attention grabbing phrase or question. Keep in mind the ideal length of a Facebook description is about 30 characters, so don't make it too long. If you've forgotten how to customize your description per article, catch up on that in our article on Optimizing for Social Distribution.
2. You might use the first sentence of your article. If the first sentence of your article is already set up well to pull the user in, you might simply use it in your Facebook description.