Everyday Roots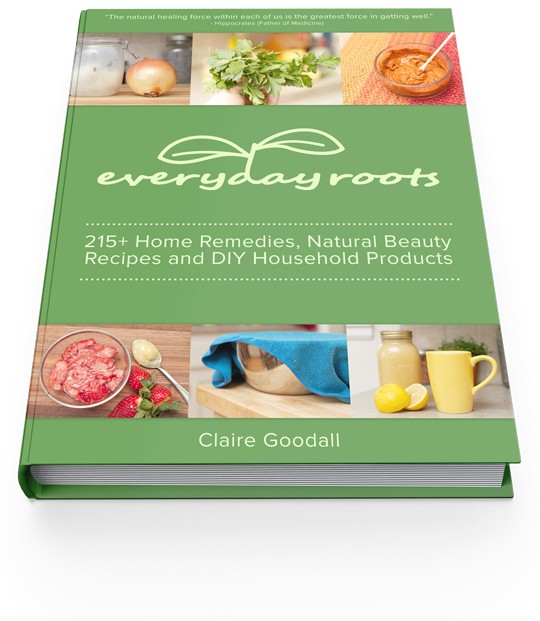 Everyday Roots
Everyday Roots Book - Live a Healthier, Natural Life
"This popular book includes 215+ home remedies, natural beauty recipes and DIY household product tutorials.
I started Everyday Roots to share my thoughts and experiences, and quickly people began to open up about themselves and share their own stories.
Teach you how to live a healthier, more natural life with remedies you can make at home.
Learn how to treat coughs, headaches, seasonal allergies and other health conditions using natural ingredients like honey, coconut oil and apple cider vinegar.
Show you how to make your own chemical-free household and beauty products.
You will finally have the tools to stop using chemical-filled products to wash your hair, brush your teeth, do the laundry and clean your hands.
Your home will be filled with natural products you made yourself and you'll be confident in knowing exactly what's in the products your family uses.
These are just a few of the home remedies, natural beauty recipes and DIY household products you will learn how to make and use everyday.
Sore Throat - soothe your sore throat with simple natural remedies & help it heal faster.
Sleep - get a more restful & deep sleep using remedies with common ingredients you can find at your local grocery store.
Acne - treat your acne naturally without using anymore chemical filled scrubs, exfoliants and medicated creams.
Nausea - alleviate the symptoms of nausea with soothing herbal teas and natural drinks.
Constipation - keep things regular and\/or get things moving by drinking simple drinks and making small changes with your diet.
Motion Sickness - make it through a car, plane or boat trip without emptying your stomach by using natural aids and ancient techniques.
Face Masks - smooth, tone and moisturize your skin with DIY face masks you can make at home.
Learn how to use natural ingredients like strawberries and oatmeal in your skin care routine.
Homemade Laundry Detergents & Fabric Softeners - make your own homemade laundry detergent and fabric softener with natural ingredients.
Learn how to make aromatic & fresh simmering scents and spray air fresheners.
Household Cleaners - clean your carpets, bathroom, kitchen, sink and any other surface with simple all-natural cleaners that won't leave a toxic film throughout your house.
BONUS: Get the Everyday Roots Book today and you'll receive every new edition of the book for FREE forever!
Get access to all future versions of the Everyday Roots Book for FREE when you buy it today.
Being a naturally skeptical person myself, I offer a full refund within 60 days of purchase if for any reason you aren't satisfied with the book.
If you have any questions or have any problems with your purchase please feel free to send us an email to support@everydayrootsbook.com.
A Note on the Format: The Everyday Roots Book is an eBook.
Bragg's is a trademark of Bragg Live Foods and is in no way associated with Everyday Roots.
Everyday Roots is intended for informational purposes only.
Everyday Roots makes no claims that anything presented is true, accurate, proven, and\/or not harmful to your health or wellbeing.
Any information on or associated with this website should NOT be considered a substitute for medical advice from a healthcare professional.
If you are experiencing any form of health problem, always consult a doctor before attempting any treatment on your own.
Everyday Roots will not be held liable or responsible in any way for any harm, injury, illness, or death that may result from the use of its content or anything related to it.
ClickBank's role as retailer does not constitute an endorsement, approval or review of these products or any claim, statement or opinion used in promotion of these products."
tinyurl.com