rebloggy.com
Safety and Security with Style
Providing safety and security during renovations, construction projects, or building repairs does not have to be ugly. There are several event fencing options that are durable, yet attractive. Increased privacy, decreased risk of liability, and protection from theft and vandalism can be stylish. A temporary fencing company in California that has been in business for a long time can offer advice regarding options that will best suit the needs, and look great. Whether short-term, long-term, or permanent fencing is needed, materials, features, and add-on components are available that can keep the property safe while remaining appealing.
The most cost-effective option is chain link fencing. It is sturdy, easy to install and is available in pounded posts or free-standing panels. The most commonly used heights are six and eight feet, but it is also available in twelve feet heights. Posts are drilled into any surface and work best for long-term uses. Panels are easily moved and are used more for short-term projects, like small renovations or sidewalk repair. Horizontal and vertical cross bars make this fencing durable. Barbed wire, tension wire, and screens can be added for increased security and privacy. Screens are available in many colors and finishes, so the appearance of the fence itself can be altered to look like a stone wall or a wooden fence.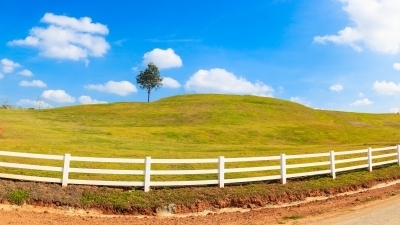 Vinyl fencing is another option that is cost-effective and versatile. It is also virtually maintenance free, so it will look great during longer projects. It does not have to be repainted and is available in several colors. Fencing can also have customized designs and patterns painted on it. Wood fencing is a classic choice and is available in many styles and options. Pickets can be spaced at different intervals, depending on the desired privacy level.
This is used a lot in residential areas during new construction or extended renovations to preserve the look of the neighborhood. Ornamental metal temporary fencing is a top-of-the-line option. It costs a bit more to rent, but it can be customized in several different ways. There is a variety of picket designs, rings, rails, scrolls, posts, and decorations. Any material option can be adapted to suit the needs for safety, security, and style.