Decorating for Christmas doesn't have to mean going all out and covering every inch of the house in red and green Christmas-themed items. It can be as simple as putting a wreath on the door and a lighted and decorated tree in the window. However, many people choose to do something in between.
To get both the look and the smell of the season, consider hanging a christmas wreath handmade in maine to the front door. The best are made of fragrant balsam branches that remind everyone of the holiday. Choose either red and green for the bow and decorations, or more natural colors. Crafty people can make their own reusable wreaths with a styrofoam wreath base covered in the materials of their choice, but these won't give off the pleasing scent of wreaths made out of evergreen branches.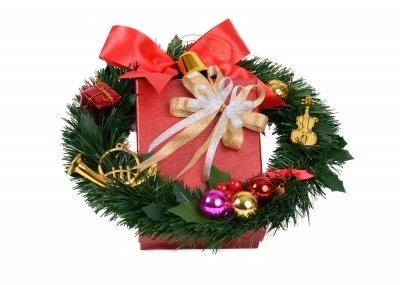 Many people are turning to prelit artificial trees to make the decorating easier, as then there's no need to string a lot of lights around the tree and you don't need to worry about needles dropping of the tree as is the case with a real tree. Some people are also opting for non-traditional trees, such as those made from books stacked to look like a tree, bare sticks of wood hooked together to look like a tree or even trees cut out of cardboard. Decorations can be chosen to evoke memories handmade in maine, such as those made by children in school over the years, or based on a theme, such as white and gold. The first gives a more homey feel to the tree, while the second is more elegant.
Another good way to decorate for the holidays is to string lights outside around the edges of the house or around one or more trees in the front yard, or use prelit outdoor holiday decorations in the shape of snowmen, reindeer or Santa and his sleigh, any of which delight people passing by.
For added fun, consider an advent calendar. Each day people open a box to find the "treat" behind the opening. In some cases, this may be just a picture, while in others in could be a small toy or piece of chocolate. Reusable versions of these calendars could also have pockets with ornaments to add one each day to the Advent calendar tree, or each filled with stuffed versions of toys to add to an Advent calendar Santa's bag.