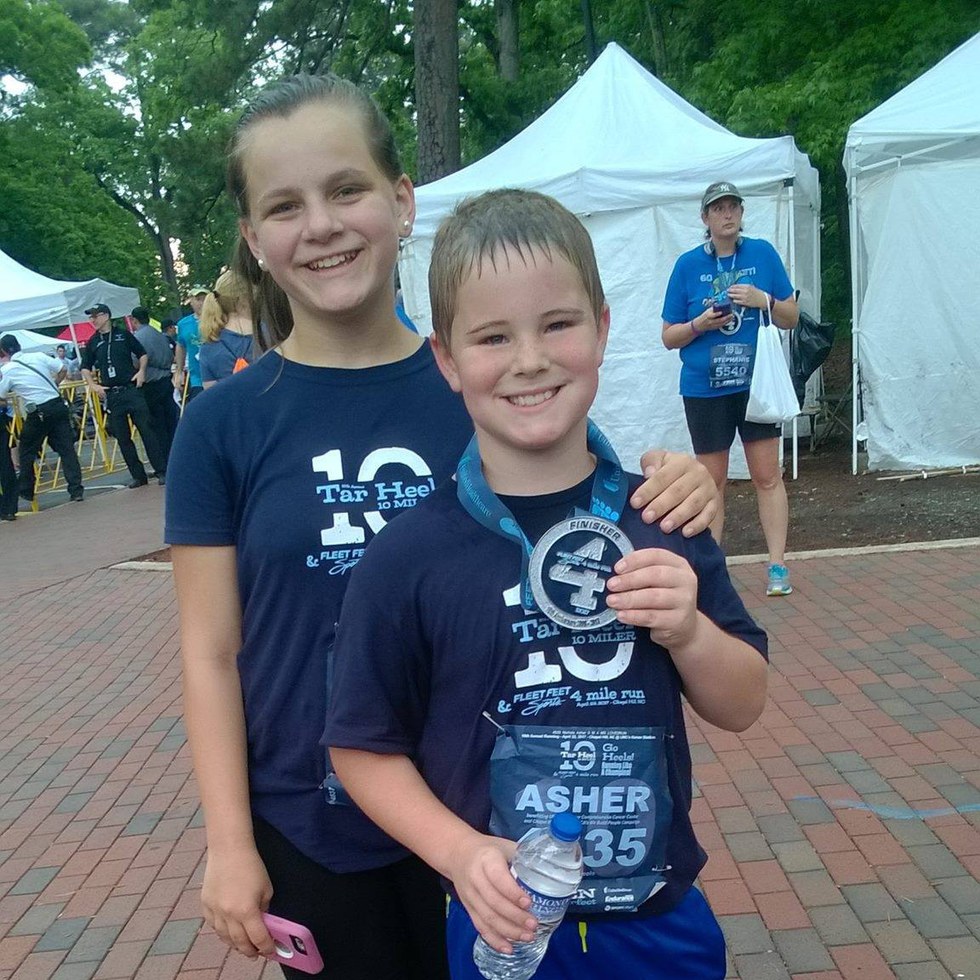 "To be the TEAM, you gotta beat the TEAM, and you'll never beat the HEELS!!"  -A conversation with Beth Herndon, on her first experience with the Blue Blood Rivalry 5k run  ​
Published 20 July 2017
Early memories of the rivalry

Beth grew up in Durham, North Carolina but has been a lifelong Carolina fan. Her dad and brother started early teaching her to properly hate...lol. She recalls an event in the fifth grade where Duke greats Mike Gminski and Gene Banks visited her elementary school for something and she couldn't understand what all the fuss was about. "Who cares, they're just Duke players" and she remembers thinking that no one should want to see or hear them! That early hate just grew from there and is now safely ingrained in her two children and her niece.
Experience with the Blue Blood Rivalry 5k
Beth ran in her first 5k in 2016 and was looking for other interesting runs in the area to participate in. She really enjoyed her first experience and came across a social post about the Blue Blood Rivalry 5k which sounded to her like a mix of exercise, showing love for her Heels, and offering some disdain for Duke all at the same time. More than all of that, the run was a way for her to include her kids in something she enjoyed.
Her 13 year old daughter and 10 year old son had a great time in the race with her. One of the standout memories was the basketball dribble division that her son participated in. Seeing him running with such gusto, dribbling his basketball is a memory she won't forget. Her teenaged daughter had a great time walking and talking with her throughout the 5k. Imagine a teenager talking to her mom, for miles!
The entire race was a great experience for Beth and her family and it's a great opportunity to connect with the community. Although Beth lives in Durham and the event was in Chapel Hill, she saw people that she knew would be there, but was also pleasantly surprised when she saw a ton of others that she wasn't expecting like neighbors, teachers from the kids' schools, and former co-workers.
The Blue Blood Rivalry 5k was a friendly, encouraging, and family oriented environment. She plans to make the run an annual family tradition and encourages everyone to sign up for the Gridiron edition in September.
Blue Blood Rivalry 5K Run/Walk - Gridiron Edition
We are TAKING THE RIVALRY TO THE STREETS!!! Ready to take your GAME DAY activities to the next level? Join us for the fall Blue Blood Rivalry 5K Run/Walk - Gridiron Edition.
To register visit www.bluebloodrivalryrun.com
About Greatest Fan LLC (Blue Blood Rivalry brand owners)
GreatestFan is a technology and marketing company that provides the following services:
Social Sites - The future of fans' involvement in sport is changing. With the influx of larger than life HD televisions, tablets and phones, a fan's experience away from the live event can be captured just as well, if not better, than in the stadium itself. GF social sites aggregate the most compelling content from the Internet, Facebook, Twitter, Instagram, Vine, etc. all in one place. We usher fans onto the field, backstage and behind the velvet rope and into the lives of the athletes and celebrities. You don't need to use Twitter, Instagram or whatever the latest fad of the day is. Our social sites gather all relevant content for you in one place.
GFan Live Events - GreatestFan creates sponsor driven branded live events to extend its corporate partners to fans.
Blue Blood Rivalry Ale - We've teamed up with the Aviator Brewery to bring you a crisp and flavorful Pilsner, handcrafted for the loyal fans of the Duke-Carolina rivalry.
Film / TV - GFan Films creates full length feature films, documentaries and television content. We are dedicated to working with creative clients to produce thoughtful and unique content.
eBooks - GreatestFan distributes eBooks on all digital platforms, allowing authors to broaden their audience and take advantage of the tablet market, while adding pictures and video to further enhance the narrative.
The 100 year old rivalry between the Duke University Blue Devils and the University of North Carolina Tar heels is hand down the best rivalry in sports. Greatest Fan LLC was founded in 2012 by Hassan Pinto, a UNC alumnus and a fan of all things sports. Blue Blood Rivalry strives to give fans all over the chance to participate in rivalry events year round. Fans (of age) can partake in the Blue Blood Rivalry Ale, available at various retail centers across North Carolina.