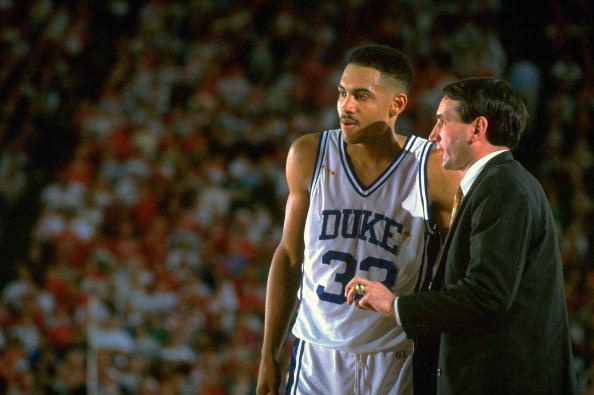 "They don't like us, and we don't like them"​​ Duke legend Grant Hill recounts his memories of the greatest rivalry in sports​​
Published 13 July 2017
The Rivalry as a Fan
In 1982, a very young kid in Reston, Virginia remembers watching the NCAA championship game between the University of North Carolina Tarheels and the Georgetown Hoyas. With stars on one side like Michael Jordan, James Worthy, and Dean Smith and on the other side Patrick Ewing and John Thompson - this was Grant Hill's earliest memory of becoming a college basketball fan. A few years later, he started watching the 1985 Duke Blue Devil team that included Johnny Dawkins and Tommy Amaker as well as the legendary Coach K. This was the year that Duke proved to be a formidable opponent to UNC and memories of this great rivalry were deep in the mind of future Blue Devil, Grant Hill.
The Rivalry as a Player
Real rivalries can turn friends into foes. Grant was a very close friend of Brian Reese during their high school years. Even though they were both from different areas of the country, they developed a genuine friendship and their families were close. That all changed when Grant chose Duke and Brian chose Carolina. As Grant recalls a time during freshman year when Brian hardly spoke to him at a party in Chapel Hill, he remembers, "There was no real bad blood, but the rivalry didn't allow us to be friendly [while we were in school]."
Grant went on to accomplish numerous accolades while at Duke - two national championships, ACC Player of the Year, NCAA All American, and others. While playing at Duke, his team was hated by many - fans and other players alike. But the only hatred the Duke players had, was for the team right down the road, the UNC Tarheels. Everyone else was just an opponent.
Grant recounted his first time playing Carolina. It was his freshman year, in January 1991 and they were at home. The lead up to the game was crazy and the build up is all over campus. It's actually bigger than the build up to a championship game! Coach K's intensity was unlike anything he'd ever experienced and the whole experience is something you can never really prepare for. There is nothing quite like the first game of this rivalry. Duke beat Carolina pretty good in that first game.
Advice for current players
Today's game is different. Players are more aware of everything, including rivalries, because of social media, stories & highlights of the rivalry are so available. But for any new players coming into this, just enjoy it. Enjoy the atmosphere and the build up around the game, but just don't put too much pressure on yourself. It's the best environment in all of sports and a special thing to be a part of it.
Life after basketball
Being a student-athlete at Duke taught Grant a lot of life lessons, and also how to problem solve, think, and endure. One of the most important lessons learned was the power of celebrity and using your platform to help others. Coach K was very demanding, but he also made sure his players spent time in the Durham community helping others. Proud of his philanthropy accomplishments, it's one area that Grant shares with his wife and children today.
Grant is glad that back then, he didn't feel the pressure of leaving early for the NBA like so many of today's athletes. Spending four years at Duke was a lot work, but the bonds with his teammates and the lessons learned from Coach K are irreplaceable.
After Duke, Grant spent almost twenty years as an NBA player, spent some time doing NBA analyst work, and in 2015 became part owner of the Atlanta Hawks. Grant and his family reside in the Orlando, FL area.
About Greatest Fan LLC (Blue Blood Rivalry brand owners)
GreatestFan is a technology and marketing company that provides the following services:
Social Sites - The future of fans' involvement in sport is changing. With the influx of larger than life HD televisions, tablets and phones, a fan's experience away from the live event can be captured just as well, if not better, than in the stadium itself. GF social sites aggregate the most compelling content from the Internet, Facebook, Twitter, Instagram, Vine, etc. all in one place. We usher fans onto the field, backstage and behind the velvet rope and into the lives of the athletes and celebrities. You don't need to use Twitter, Instagram or whatever the latest fad of the day is. Our social sites gather all relevant content for you in one place.
GFan Live Events - GreatestFan creates sponsor driven branded live events to extend its corporate partners to fans.
Blue Blood Rivalry Ale - We've teamed up with the Aviator Brewery to bring you a crisp and flavorful Pilsner, handcrafted for the loyal fans of the Duke-Carolina rivalry.
Film / TV - GFan Films creates full length feature films, documentaries and television content. We are dedicated to working with creative clients to produce thoughtful and unique content.
eBooks - GreatestFan distributes eBooks on all digital platforms, allowing authors to broaden their audience and take advantage of the tablet market, while adding pictures and video to further enhance the narrative.
The 100 year old rivalry between the Duke University Blue Devils and the University of North Carolina Tar heels is hands down the best rivalry in sports. Greatest Fan LLC was founded in 2012 by Hassan Pinto, a UNC alumnus and a fan of all things sports. Blue Blood Rivalry strives to give fans all over the chance to participate in rivalry events year round. Fans (of age) can partake in the Blue Blood Rivalry Ale, available at various retail centers across North Carolina. Fans (of all ages) can also participate in the biannual 5k run that takes place in March and September each year. To learn the history of the rivalry, fans can download Duke-Carolina, the Blue Blood Rivalry eBook and film (Search Blue Blood Rivalry), available on iTunes, Google Play, Amazon.com and all other video on demand and ebook outlets. The Blue Blood Rivalry Blog weekly series will bring you different insights from players, coaches, and fans to talk about the best rivalry in sports.