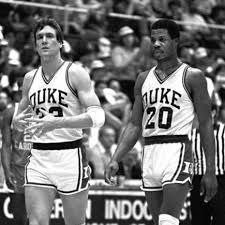 The real back story behind the 1981 Duke-Carolina game at Cameron
Published 27 July 2017
-Duke Legend Kenny Dennard reflects on his memories of the best rivalry in sports
Duke Basketball legend is renowned both for his presence on the court and for his role in the fight against cancer off the court. Kenny or as most of his teammates called him, 'Crash' because of his aggressiveness on the court - recently agreed to be a guest blogger for us. Below, Kenny Dennard writes about his experience on the court, his battle with cancer, and even his admiration and respect for the late Dean Smith.
Earliest memories of the rivalry
K.D. One of life's constants growing up in Winston-Salem in the 1960s and King, NC in the '70s -- a constant that has been with me through all my travels in the '80, '90s, and these 17 years into the new millennium – a constant that is known as The Duke-Carolina Rivalry.
Just think: black and white television; color television; color television with a wireless remote; cable television; satellite television; high definition television; 3-D television; and now 4K television, have all evolved during this 50+ year constant. We can now watch the Duke-Carolina game in higher resolution and with more replay control than ever before.
I grew up in Winston-Salem a few miles from the Wake Forest campus. So being a Wake fan, I really didn't have any standout memories of the Duke-UNC games until I arrived on the Duke campus in the summer of 1977.
Why I chose Duke over Wake Forest
K.D. First of all, I played B.C. (Before Cable) and recruiting was way different than it is today. There were no computers, no online scouting services, no NIKE Camps everywhere -- there was only FIVE STAR CAMP. But I will step back a bit to set all this up for you.
I began playing basketball in 1965, but I truly learned how to "compete" in the Women's Gym at Wake Forest University during the summers of 1975 and 1976. I would drive down 25 miles from King, NC every day during those two summers and play pick up games with all the Wake Forest players of that era; guys like Rod Griffin, Frank Johnson, Jerry Schellenberg, Skip Brown, Lee Foye and Henry Hicks, to name a few. These guys were the first to embrace a gangly 16-year-old high school kid from King, let him play with them, and then proceed to beat the shit out of him.
I learned how to play the physical game that summer of '75, which in turn helped me earn my place in the rotation of these pick up games, while at the same time gaining the respect of these college players.
Playing with the Wake Forest guys was the reason I wanted to go to Wake before the summer of '76. And the desire to play there was made even more compelling by Neil McGeachy, then an assistant coach at WFU, who after watching me play all summer in '75 got me invited to the ONLY basketball camp of my era, FIVE STAR BASKETBALL CAMP, in 1976. FIVE STAR was run by the late Howard Garfinkel, the original high school talent scout and, who back in those days, was THE MAN who said who was a Division 1 player or who wasn't a D-1 player.
FIVE STAR was my Schwab's Drug Store. I went to FIVE STAR a nobody in June 1976 and left the camp a D-1 player and forever a changed pup. FIVE STAR was played outdoors on asphalt courts, and we played shirts and skins. I had averaged between 15-20 points per game my junior year in high school, but at FIVE STAR I couldn't score at all the very first day. You see, the backboards were metal, the rims were bent and, even worse, that asphalt was tough for a suburban kid like me who had never played outdoors on these playground hoops like the New York City kids at FIVE STAR.
So during the first night at camp sleeping in my cabin with guys who were huge names in high school in 1976, I decided a new tactic was necessary to get noticed. The next day I was the only kid diving for loose balls and taking charges on the asphalt -- I would literally be bleeding profusely in every game, while never stopping running and playing defense like a possessed person.
It worked. By Wednesday of the camp, I had the attention of most of the 200 college coaches that were scouting the camp. And by Thursday, my Mom was besieged at home with the phone ringing off the hook, including several scholarship offers for me made directly to her.
When Wake Forest's Carl Tacy got involved in recruiting me, I had over 150 schools writing and calling. And once I actually spoke to Coach Tacy, that's when I knew I could never go to Wake.
Coach Tacy couldn't communicate at all. I would go into his office on campus and he wouldn't say anything. Really, he was a mute. He would call me on the phone while recruiting and I would think it was a prank caller, because no one would say a word. He was very strange in that way and a total contrast that to Coach Foster, who would enter into witty conversations like he's been vaccinated with a phonograph needle.
The final factor for me choosing Duke was my official recruiting visit to the Duke campus the Fall of 1976. Deep down, I got that "gut feel" that the whole Duke package was for me: the coaches, the players, the opportunity, the edgy intellect, the Gothic architecture, the entirety of it all just felt right. I realized the chemistry the moment I arrived on campus the Summer of 1977. In fact, I think I still have the Bunsen Burner and lab coat that was issued to me on Day One, but that's another series of stories all together!
My favorite memory of the rivalry as a player
Gene Banks and I (along with Al Wood at UNC) played in fourteen (14) Duke-UNC rivalry games, which is a record and will probably never be broken. My first game against UNC was in the Big Four in Greensboro in December 1977 and we lost. But we beat them a month later at Duke, and that win heated back up the rivalry that had cooled down over the prior decade. Over those next four years, we had some great rivalry games.
However, the most memorable rivalry game brought Coach K his first ever win over UNC in his first season at Duke in 1980-81. It was against a star-studded Tar Heel squad, a team that eventually made it to the Final Four and was National Runner-Up to Indiana. But before all that, it was Senior Day for me, Gene Banks, Jim Suddath and Larry Linney. We were not favored to win. And as you probably know, we did win. But you don't probably know the "Back Stories" on how we won this game, so here's the truth, Truth.
My 14th Duke-UNC rivalry game, and Gene's and my last regular season home game in Cameron Indoor EVER, was tied at 56 and Sam Perkins was at the line for two foul shots with just two seconds on the clock. It may have looked pretty bleak to our fans, but we were focused. For four long years, three under Coach Bill Foster and one under Coach K, we ran drills over and over for these exact game situations every single practice. I looked over to Coach K and he signaled for me to call timeout if he makes them both or misses the second shot, either way. And we only had one timeout remaining. Focus. Block out. Get the ball. Call timeout. The drill!
But then something happened; I did something I rarely do. I looked around Cameron Indoor and it was surreal, just surreal. Fans began jumping up and down screaming in slow motion – like in a movie. I noticed a small child in a Blue Devil costume playing with a small blue plastic ball. I then turned my head gradually and saw a wall of students wearing these crazy tee-shirts that read – "Dennard and Banks, so long and THANKS!"
… and then? Bam, I was right back into the present, feeling the moment, feeling the adrenaline, and knowing instinctively something amazing was about to take place!
Perkins made both free throws, and before I even had the chance to call timeout, Coach Smith called a timeout! Wow, I was stunned. That saved us our only timeout, and that helped set up for an once-in-a-lifetime buzzer beater.
http://www.youtube.com/watch?v=aV1B2Bp0EIg
In the above video clip, Billy Packer credits Coach K for calling the timeout to set up the pass to half court. But it was actually Coach Smith who made a tactical mistake by calling timeout and making the last second play, and then our victory, remotely possible.
I loved Coach Smith. He recruited me and was always complimentary of my play. I remember how before every game and during halftimes, Dean would be out in the hallway between our two locker rooms smoking a cigarette with his cheeks all sucked in to get every last puff before he went out on the floor. He convinced Denver Nuggets' head coach Doug Moe to trade for me with the Kansas City Kings in the summer of 1983 after my cancer surgery, radiation therapy and pending lawsuit against the Kings and the NBA. Coach Smith was my first reference on my first resume, and he later got me into the Kenan Flagler Executive MBA program in 1994 when I returned to Durham for an IR position at Coastal Healthcare Group. While I loved Coach Smith; however, very few have spoken about that lamentable Tar Heel timeout publicly.
But that's just one of the back stories. The second part that you may not know is the fact that Coach K told us during our timeout, "Everyone thinks the ball is going to go to Gene." So he drew the play up for Banks to set a pick down for sophomore guard, Chip Engelland, on the baseline and for me to pass the ball to Chip in the corner for the shot. Don't get me wrong, Chip was a great shooter, and it looked good on paper, but that wasn't gonna happen.
When we broke the huddle after the timeout, Tinker Bell and I looked at each other with the "LOOK" – the "LOOK" that we first developed while battling in fierce pick-up games in the steamy, rubber-floored, intramural gym in August 1977 before our freshman year – and I said, "Tink, fake and pop." Tink grinned and winked.
With every eye in Cameron on me as I prepare to pass the ball in from half court, I gave a slight ball fake to Chip in the corner. That slight ball fake made the entire UNC team lean just a little to my right -- and the rest became my definition of perfection. With one perfect second remaining in regulation, I made the perfect inbounds toss that one expert described as me "passing Gene open"; Tinker Bell made the perfect catch, the perfect turn and launched the perfect rainbow jumper just over the outstretched arms and extended fingers of Sam Perkins; and the perfect ball swished through the perfect net; and we went on to win our perfect Senior Day in perfect overtime. Coach K was happy, we were happy, the fans went crazy!
And later that night in Greensboro, I found myself perfectly vibrating at the perfect Bruce Springsteen concert on the perfect 10th row, which capped off the most perfect day of my life up to that perfect moment!
I have won and lost my share of life's contests; but that was undoubtedly the greatest and most perfect "winning feeling" that I have ever experienced.
Oh yeah, there's one more perfect little back story from that perfect day. My gal pal and fabulous author, Jamie Krzyzewski, was conceived that perfect night in the House of K!!!!! Good thing for us all I didn't pass the ball to Chip!
The annual Blue Blood Rivalry 5K takes place March 9, 2019 in Chapel Hill. We want all fans to join together in a fun and competitive atmosphere while raising money for the Special Olympics. After the race, we will donate 100% of our profits . Help us support them and register now!